DISCOUNTS
Discounts Available For Bulk Purchases
No. of licences
per course
% saving
1 - 9
-
10 - 19
10%
20 - 49
20%
50 - 99
25%
100 - 149
30%
150 - 999
35%
Data Protection and the GDPR Course
Certified by CPD
Audio voiceover
Approximate course duration 1-2 Hours
Downloadable certificate on completion
100% online training
Our Data Protection and GDPR online training course gives an overview of the purpose and scope of GDPR principles. The course describes how the regulations protect personal data and how they affect organisations and individuals. This online GDPR course also explains data protection principles and subject rights. It is the perfect course to jump into all things GDPR and data protection to gain an understanding of the subject.
This online GDPR and data protection course incorporates guidance from the Information Commissioner's Office and the EU's Article 29 Working Party. It identifies critical differences between the requirements of the GDPR and the Data Protection Act 1998 (DPA) that it replaces.
The approximate length of this course is 1 to 2 hours.
Please note: Our course Data Protection and the GDPR (Advanced) includes all the material in this course and additional material.
The importance of GDPR and data protection
GDPR was developed to "harmonise" laws surrounding data protection and privacy laws across all participating countries – providing improved security and personal rights for individuals. GDPR has changed how businesses process and store information, and if you do not adhere to these rules, you can receive a hefty fine on top of reputational damage.
With data protection and GDPR laws in place, companies and individuals must minimise and limit data, show data transparency, ensure data confidentiality, and take accountability for everything to do with the data. Having these laws in place means that your data becomes safer and not exposed to third-party companies.
Our Data Protection and GDPR course details how vital the legislation is, what it means for companies collecting data, and your data rights.
Who is GDPR & Data protection training for?
The training course is suitable for all individuals who need to be aware of the data protection regulations and how personal data must be treated, but whose work does not involve access to sensitive personal data.
We have helped hundreds of companies across multiple sectors, including education, finance, construction, retail, technology, and marketing. This course is the perfect starting place if you're unfamiliar with data protection laws and practices.
Almost every company in the UK will use customer or leads data – which means someone in the company will have to take responsibility for data protection. Whoever you decide will undertake this role in your organisation, this course will expand their knowledge and give them a firm basis to develop from.
What are the learning outcomes for the Data Protection and the GDPR course?
After completion of the GDPR & data protection online course, you will be able to explain the following:
The purpose and scope of the GDPR.
The difference between personal data and sensitive personal data.
How the GDPR protects personal data.
The role of the Information Commissioner's Office.
The role and responsibilities of a data controller and a data processor.
The 7 principles for storing and processing personal data.
The 8 rights of data subjects.
When personal data is exempt or partially exempt from the GDPR.
What a breach of personal data is and what must be done if one occurs.
When do I get my GDPR course certificate?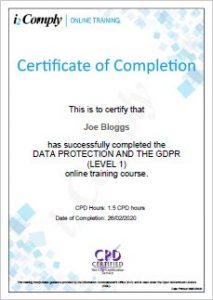 After a successful pass mark on our online Data Protection and GDPR course, you will be able to receive your certificate immediately as a PDF.
All of our courses conform to the Continuing Professional Development (CPD) guidelines and have been accredited by the CPD Certification Service. Your certificate will include the CPD logo and therefore, you can use it to provide evidence for compliance.

How long is the GDPR course certificate valid for?
Your course certificate does not include an expiry date. To ensure knowledge of GDPR and data protection is maintained, we recommend an employee who has previously completed the training to renew after two years.
If you forget when you should be taking the refresher course, the recommended renewal date will be on your certificate for reference.
Example Screens from Data Protection and the GDPR course
Below we have included some example slides from our online GDPR training course. They are designed to be simple and easy to read. Our previous GDPR course participants have told us this "no fluff" approach to training makes it more straightforward to follow.
(Click on the example screens below to view)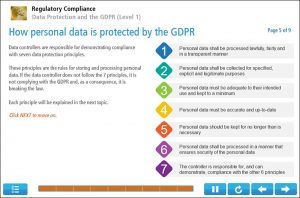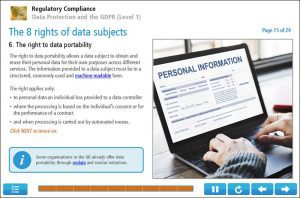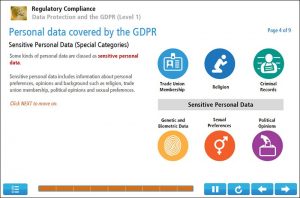 What does the Data Protection and the GDPR course cover?
The online course contains the following 7 topics:
1 – Background to the GDPR
The first topic describes the background to the GDPR. You will learn about why it is necessary to protect personal data. The topic identifies where and when the GDPR applies.
2 – Personal data covered by the GDPR
The second topic describes the categories of personal data covered by the GDPR. You will learn about the difference between personal data and sensitive personal data. The topic also covers online identifiers, which are personal data in some circumstances.
3 – How personal data is protected by the GDPR
The third topic outlines the purpose of the GDPR and identifies who is responsible for enforcing the GDPR. You will learn about what information you must register with the ICO. The topic also defines some important terms – Data Controller, Data Processor and Data Subject.
4 – The 7 data protection principles
Topic 4 describes the seven data protection principles of the GDPR.
5 – The 8 rights of data subjects
Topic 5 outlines eight data subject rights with examples. You will learn about what can happen when you ignore a data subject's rights.
6 – Exemptions and partial exemptions
In topic 6 you will learn about the categories of data that are exempt or partially exempt under the GDPR. The topic also identifies what is meant by a derogation from the GDPR.
7 – Data breaches and the GDPR
The final topic defines the concept of a personal data breach. You will learn when to report breaches and who to report to.
GDPR online course Assessment
Whenever you have completed all seven topics, you will be allowed to sit the online assessment. Questions are generated from a question bank, so they will change every time you do the test. This makes it the perfect refresher course.
We don't limit the number of attempts you can have at the assessment. Unlike many other training providers, we give candidates detailed feedback to learn and develop their knowledge from incorrect answers to questions.
GDPR online course reviews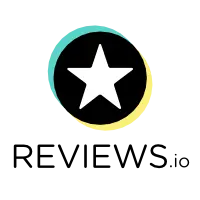 Need to know what other people thought of this online course? Have a look at what previous learners have said about this GDPR training – click on the stars under the page heading at the top of the page.
Feedback is very important to us, we want to know whether you have enjoyed the training course or if there are areas to improve on. Please spare a few minutes and leave a review, it would be very much appreciated.
More online Regulatory Compliance courses
As you have expressed interest in our online GDPR training, we have singled out some regulatory compliance training courses that can be purchased along with this one.
I2Comply also provide online training solutions across many different categories, including fire safety, health and safety, food hygiene and health & social care.
Why i2Comply for online training?
All courses supplied by i2Comply are developed to be engaging, interactive and straightforward. This does not change with our online GDPR course. The materials provided set you up for a successful assessment.
Course licences purchased from i2Comply do not expire. They remain in your account until a time when you are ready to start e-learning. This means there is an opportunity to save money on our bulk purchases.
Everything you need to access this course can be done remotely, as it is completely online. There is no need to sit in a dull training centre in the middle of nowhere to sit your GDPR assessment. Complete the course and review at a time that is convenient for you.
Any questions about our course?
Still unsure if you want to purchase our online GDPR training course? Have some questions yet to be answered? Contact our dedicated team today, who are always on hand to help.
DISCOUNTS
Discounts Available For Bulk Purchases
No. of licences
per course
% saving
1 - 9
-
10 - 19
10%
20 - 49
20%
50 - 99
25%
100 - 149
30%
150 - 999
35%