DISCOUNTS
Discounts Available For Bulk Purchases
No. of licences
per course
% saving
1 - 9
-
10 - 19
10%
20 - 49
20%
50 - 99
25%
100 - 149
30%
150 - 999
35%
For 200+ licences, please email us at sales@i2comply.com or call us on 0333 577 5016.
Assured by RoSPA Qualifications
Certified by CPD
Audio voiceover
Approximate duration 1-2 hours
Downloadable certificate on completion
This Food Allergen Awareness online training course is designed to help learners identify fourteen important food allergens, recognise the common signs of an allergic reaction, understand why foods containing allergens must be handled carefully and understand what people who work in a food business must do to protect people from harm due to allergens in food.
This Food Allergen Awareness online training course has been assured by The Royal Society for the Prevention of Accidents (RoSPA) Qualifications and certified by The Continuing Professional Development Certification Service (CPD).

Other Courses
Who is it for?
The information contained in this Food Allergen Awareness training is relevant to everyone whose role involves handling or preparing food or anyone who wants to learn about food allergies.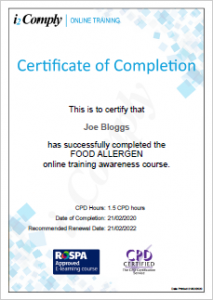 When do I get my certificate?
When you have successfully passed the course you will be able to download
As this Food Allergen Awareness online training course has been accredited by the CPD Certification Service and assured by RoSPA Qualifications, your certificate will contain both logos and can be used to provide evidence for compliance. and print your certificate straight away.
Example Screens
(Click on the example screens below to view)

What does the course cover?
The course contains the following 4 topics and includes an assessment:
Introduction to allergens
What an allergy is and what happens in your body when you are exposed to an allergen.
 The types of things people can be allergic to.
The distinction between food allergy, food intolerance and Coeliac's disease.
The lack of a cure for food allergy.
How common food allergies are.
Consequences of food allergies
What people can be allergic to.
The common allergy symptoms.
What you should do in the event of anaphylaxis.
Providing Allergen Information to Consumers
The UK Food Information Regulations.
How information about pre-packed and non-pre-packed food should be presented to consumers.
The 14 key allergens that you must inform consumers about.
The penalties for failure to comply with the regulations.
How to avoid cross-contamination
Management strategies to reduce the risk of cross-contamination of allergens.
What staff training must be carried out.
The importance of good storage, equipment cleaning and personal hygiene.
Assessment
The assessment is generated from question banks so that the questions change each time a candidate takes the assessment – making the training suitable for initial and refresher training.
There is no limit on the number of attempts at the assessment and informative feedback is given so candidates can learn from their incorrect responses.
DISCOUNTS
Discounts Available For Bulk Purchases
No. of licences
per course
% saving
1 - 9
-
10 - 19
10%
20 - 49
20%
50 - 99
25%
100 - 149
30%
150 - 999
35%
For 200+ licences, please email us at sales@i2comply.com or call us on 0333 577 5016.