A Level 3 Food Hygiene training course is essential for managers and supervisors in the catering industry. You need to have this certification if you are a catering business owner, general manager or supervisor. This applies to people working in school kitchens, nurseries, hospitals, prisons, colleges, not-for-profit organisations, restaurants, takeaways, food trucks, cafes, pubs, and more.
Why Do You Need A Food Hygiene Certificate?
Food allergy deaths in the UK are rare and declining. But despite the progress made, food hygiene remains a matter of life and death. If you own a food and drinks business, bad hygiene practices at your establishment could lead to fines, business closure, or even jail time.
In 2018, two takeaway bosses were sentenced to jail for the manslaughter of a 15-year-old girl who suffered an allergic reaction to a meal in Lancashire. Despite the customer signalling her allergies when she ordered, she received a meal containing high peanut protein levels, which triggered a fatal asthma attack. A jury found the takeaway owners guilty of unlawfully killing the child by gross negligence. Unbelievably, the inquest discovered no systems or processes to manage allergen control, and the menu didn't display allergen information. This situation would not have happened if the owners had implemented the practices found in a Level 3 Food Hygiene Course.
Are you an owner, manager, supervisor, or head chef of an organisation that serves food and drink to the public? If so, you must take a level 3 food hygiene course and implement what you learn in your business.
If you are likely to come into contact with food at work, your employer has a legal obligation to make sure you know how to do this safely.
What level of training do I need?
Most people only need a Level 1, 2 or 3 food hygiene certificate, but there are more advanced courses which delve even deeper into the topic.
Here are the main differences between food hygiene certificate levels:
Level 1 is for people working with food but not directly preparing it.
Level 2 are for people helping to prepare food.
Level 3 courses are for owners, managers, and supervisors.
Level 4 and upwards are typically for large business owners and specialists.
Level 1 Food Hygiene course
Food Hygiene Level 1 is the most basic food hygiene course. It is an introductory certificate for front-of-house employees such as check-out staff, kitchen porters, servers, bartenders, warehouse staff, and food delivery workers. Food Hygiene Level 1 helps staff safely package, deliver, and serve food. But it is not detailed enough for people directly handling or preparing food.
In a Food Hygiene Level 1 course, you will typically learn the basics around food hygiene, such as some of the most common food hazards and how to make sure food is stored safely. You can typically complete an online Level 1 course in about an hour. Classroom courses will generally be longer than this.
Level 2 Food Hygiene course
Food Hygiene Level 2 is for anyone directly handling and preparing food. As well as a chef, this includes any staff member who could prepare food, such as a bartender or server that helps in the kitchen. It is also the right course for a childminder, teacher or barista. In a Food Hygiene Level 2 course, you will typically learn about food safety legislation, allergens, food storage, personal hygiene, and how to appropriately prepare and clean the food premises.
You can typically complete an online Level 2 course in about 2 hours. A classroom course will take a bit longer.
Level 3 Food Hygiene course
Food Hygiene Level 3 is for anyone in a supervisory role in the food and drinks industry. The amount of time you need to take this course varies. This is because some course providers will expect you to take Food Hygiene Levels 1 and 2 before taking Food Hygiene Level 3. Other providers will include all the information from the three courses together. If there's any doubt, it's a good idea to contact the training provider to check whether you need to know anything about food hygiene before taking the course.
You should be able to finish an online Food Hygiene Level 3 course in less than a day.
Level 4+ Food Hygiene course
Some training providers offer food hygiene courses such as Level 4, 5, or beyond. You would learn more about developing food hygiene programmes and procedures in these advanced courses. Most people working within the food and drink industry won't need more than a Level 3 Food Hygiene Course.
Food Hygiene Ratings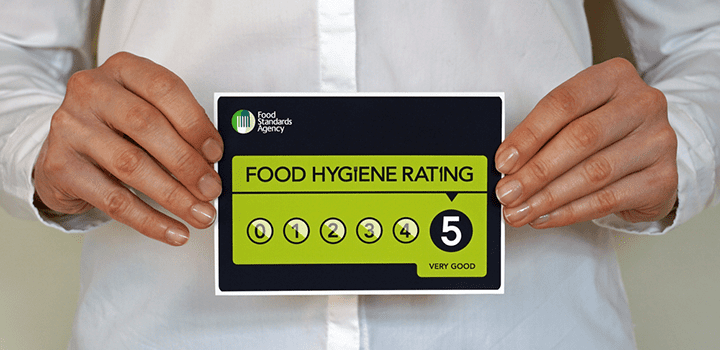 Food Hygiene Level Certificates shouldn't be confused with Food Hygiene Ratings. These are the score given to a business providing food or drink on the day the Food Standards Agency inspected it.
The food hygiene rating runs from 0 to 5, with 0 meaning urgent improvement is necessary and 5 indicating the business fully complies with the law. The Food Hygiene Rating is often displayed clearly in any establishment serving food and drink. If it isn't, you can ask a server for the most recent rating or find it online on the Food Standards Agency website.
What Does Level 3 Food Hygiene Cover?
The exact curriculum of a Level 3 food hygiene course will depend on the provider. But any good quality course should teach you about the following:
Why food safety is important
What the law says about food safety
Microbiology relevant to food
How food gets contaminated
Sources and symptoms of food poisoning
HACCP food systems
How to purchase food, check deliveries, and store food safely
How to control food pests
Personal hygiene for food handlers
Appropriate cleaning methods for food premises
After taking a Level 3 food hygiene course, you should understand how to keep staff and customers safe and know your responsibilities regarding food hygiene on your premises.
How Long Is A Level 3 Food Hygiene Certificate Valid?
Level 3 Food hygiene certificates should be renewed every three years from the day of completion. As the law evolves, there may be significant differences in the training, affecting how you need to do business.
How Much Is A Level 3 Food Hygiene Course?
The price of a Level 3 Food Hygiene Course varies depending on the provider. A good quality online course should be accredited and can cost between £25 and £150 per licence.
At i2comply, our Level 3 Food Hygiene Course is fully accredited by CPD and costs £70 per licence. We offer discounts for bulk orders.
Typically speaking, Level 2 courses will cost less than Level 3, and Level 1 should be the cheapest.
How To Train For Level 3 Food Hygiene
You can complete a Level 3 Food Hygiene course in person or online.
The benefits of an online course include the following:
Training is self-paced so that you can organise it around your schedule
You can study from the comfort of your own home without travelling to a training centre
Online courses are typically more affordable than face-to-face training
Look out for certification like the CPD Certification Scheme or RoSPA as a mark of quality.
Doing Food Hygiene training online
If you are looking for an affordable, quality, and CPD-certified online Food Hygiene courses, you can browse our training. You can study the i2comply food hygiene courses at your own pace, and you should take breaks from time to time, but you can probably complete it in one day.
On successful completion of the course, you can download and print your certificate directly.
If you have any further questions about the training, or for discounts with larger orders, please get in touch at [email protected] or give us a call at 0333 577 5016. We'll be more than happy to help.