DISCOUNTS
Discounts Available For Bulk Purchases
No. of licences
per course
% saving
1 - 9
-
10 - 19
10%
20 - 49
20%
50 - 99
25%
100 - 149
30%
150 - 999
35%
Food Hygiene Course Level 3
Assured by RoSPA Qualifications
Certified by CPD
Meets UK & EU legal requirements
Audio voiceover
Approximate course duration of 5 hours
Downloadable certificate on completion
100% online training
No time limits
This Online Food Hygiene and Safety course (Level 3) includes both level 1 and level 2 content. The comprehensive course is suitable for senior-level roles, such as business owners, managers or supervisors, who need a thorough understanding of food hygiene in the workplace, in compliance with the Food Safety Act 1990.
The course explains how to implement and monitor an effective HACCP food safety management system to minimise the risk of food hazards, such as pests and food poisoning. It covers ways to avoid cross-contamination, appropriate cleaning methods and the importance of excellent personal hygiene for all staff.
After taking this training course, you should have an understanding of good food hygiene practices and know your legal responsibilities regarding food hygiene on your premises.
The Food Hygiene Level 3 course duration is around 5 hours.
Which Food Hygiene course should I take?
We provide three levels of food hygiene certificates:
Level 1 is for people working with food but not directly preparing it
Level 2 is for people helping to prepare food
Level 3 is for owners, managers, and supervisors
For more information on the different food hygiene levels, please read our article Who needs a level 3 food hygiene certificate.
Who should complete an online Food Hygiene Level 3 course?
This Level 3 Food Hygiene course is suitable if you are a business owner, general manager or supervisor in the catering industry. It provides a solid understanding of the risks and hazards involved in preparing and serving food.
It applies to people working in school kitchens, nurseries, hospitals, prisons, colleges, not-for-profit organisations, restaurants, takeaways, food trucks, cafes, pubs, and more.
If your role is below the level of manager or supervisor, then we would recommend our Level 2 Food Hygiene and Safety training course.
Food Hygiene Level 3 course learning outcomes
After completing the online Food Hygiene Level 3 course, you will be able to describe:
Why food safety is important
What the law says about food safety
Some microbiology relevant to food
How food gets contaminated
Sources and symptoms of food poisoning
HACCP food systems
How to purchase food, check deliveries and store food safely
Prepare a variety of foods safely
How to control food pests
Personal hygiene for food handlers
Appropriate cleaning methods for food premises
When do I get my Level 3 Food Hygiene course certificate?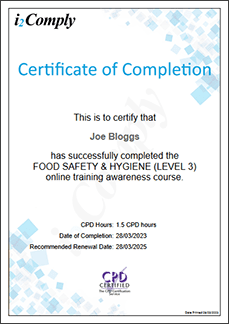 The short answer is straight away. You can download your certificate right after completing and passing the Food Hygiene training, when you exit the course.
All of our courses conform to the Continuing Professional Development (CPD) guidelines. The CPD Certification Service has accredited the course. This Food Hygiene Level 3 course is also assured by the Royal Society for the Prevention of Accidents through their RoSPA Qualifications Assurance System. This means you can be sure the training is up-to-date and high quality.
Your certificate will include the both logos, therefore you can use it to provide evidence for compliance.


How long is the Level 3 Food Hygiene course certificate valid?
We recommend that you refresh your knowledge after 3 years. Our Level 3 Food Hygiene certificate doesn't have an expiry date but we include a recommended renewal date instead.
Example Screens from the online Level 3 Food Hygiene course
See below some sample screens from our online Food Hygiene course. The training contains clear course objectives, easy-to-follow material and interactive activities, which will keep you engaged with learning about food safety.
(Click on the example screens below to view)

What does the Food Hygiene Level 3 training course cover?
The online Level 3 Food Hygiene training course contains the following 12 topics:
1 – Why food safety is important
The first topic explains why food safety is important for a range of different people. It identifies 4 Cs of food safety, some high risk foods and some groups of people who are especially vulnerable to food poisoning. Finally it outlines the role of the supervisor in food safety.
2 – The law and food safety
The second topic is about food safety and the law. It outlines what the law says food businesses must do, including specific guidelines for food preparation. The topic also describes the defence of due diligence.
3 – Microbiology
The third topic is about micro-organisms. You will learn about bacteria, viruses, fungi, enzymes and protozoa, all of which can make food harmful.
4 – Food poisoning
Topic 4 is about food poisoning. It explains how micro-organisms make food unsafe to eat and identifies common food poisoning symptoms. You will learn about foods that are common source of food poisoning and how long it takes to become ill after eating infected food.
5 – Contamination
Topic 5 outlines 4 types of food contamination – physical, chemical, biological and allergenic. You will learn about how to reduce the risk of these types of contamination.
6 – HACCP
Topic 6 is about the food safety system called HACCP. It describes the purpose of HACCP and identifies the 7 principles on which it is based. You will learn how to prepare for, and implement, a HACCP plan.
7 – Purchasing and deliveries
Topic 7 is about food safety in relation to purchasing and receiving food deliveries. It identifies the importance of traceability in food systems. You will learn about Use By and other dates on food. You will also learn about how to check deliveries properly and when to reject them.
8 – Food storage
Topic 8 is about how to store food safely. You will learn how to refrigerate, freeze and defrost food safely.
9 – Preparing and cooking food
Topic 9 is about preparing and cooking food. You will learn how to prepare food in a way that reduces the risk of contamination. The topic identifies which types of meat and fish can be eaten rare and which need to be cooked all the way through. There are tips about how to barbecue safely, and you will learn how to cook eggs, rice and pulses safely.
10 – Food pests
Topic 10 is about how to prevent pests from contaminating food. The topic identifies the kinds of animals that can contaminate food and explains how to recognise the signs of food pests. You will learn what you should do to deal with food pests.
11 – Personal Hygiene
Topic 11 is about personal hygiene requirements when you work with food. You will learn about rules of personal hygiene for food handlers. The topic explains how to wash your hands effectively and identifies when you need to wash your hands.
12 – Cleaning methods
Topic 12 is about cleaning methods appropriate in a food preparation environment. You will learn about the standard cleaning process for food preparation areas, and how and when to clean surfaces and equipment.
Level 3 Food Hygiene training online course assessment
The course consists of 4 short multiple choice assessment after every three topics. Each assessment consists of 10 multiple choice questions taken from banks of questions. Using question banks means that each time you take an assessment you will face a different set of questions. We also do not limit the number of times you can take the assessment.
This makes the training course perfect for both initial and refresher training.
Level 3 Food Hygiene training online course reviews
You can take a look at what other customers have said about our courses here.
Your reviews are important to us – we would really appreciate if you could share your feedback on our Food Hygiene Level 3 course. We pay close attention to reviews and continuously improve our training courses.
Want to start a Level 3 Food Hygiene course today?
If you are ready to start the Level 3 Food Hygiene course, add the course to your basket via the Add to basket button at the top or bottom of the page. You can buy it now and complete it later. Once you have made the purchase, we will set up your account, and your training course will be ready to take when you need to.
Have a question?
Wondering if we can import leaners into the system for you? Want to know if you can pay by BACS? Whatever the question our team are only an email or a phone call away. So contact us on 0333 577 5016 or email us at [email protected].
DISCOUNTS
Discounts Available For Bulk Purchases
No. of licences
per course
% saving
1 - 9
-
10 - 19
10%
20 - 49
20%
50 - 99
25%
100 - 149
30%
150 - 999
35%