DISCOUNTS
Discounts Available For Bulk Purchases
No. of licences
per course
% saving
1 - 9
-
10 - 19
10%
20 - 49
20%
50 - 99
25%
100 - 149
30%
150 - 999
35%
For 200+ licences, please email us at sales@i2comply.com or call us on 0333 577 5016.
Infection Prevention and Control Course
Assured by RoSPA Qualifications
Certified by CPD
Audio voiceover
Approximate duration 2 hours
Downloadable certificate on completion
This Infection Control and Prevention course will make you aware of the hazard posed by infections, how infections are spread and how to break the chain of infection. For employers, it is an easy way to ensure that they comply with the legal responsibilities under the Public Health Regulations and the Health and Safety at Work Act 1974.
RoSPA Qualifications has assured this online training course and the CPD Certification Service has certified it.

Who is Infection Prevention and Control for?
The course is relevant to everyone who works in adult health and social care. It covers the essential underpinning knowledge required by Care Certificate Standard 15 – Infection Prevention and Control.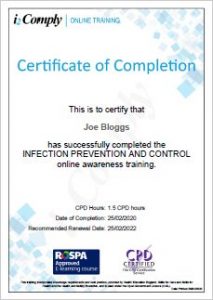 When do I get my Infection Prevention and Control certificate?
When you have successfully passed the course you will be able to download and print your certificate straight away.
Your certificate will include the ROSPA and CPD Certification Service logos. Therefore you can use it to provide evidence for compliance.
Example Screens from the Infection Prevention and Control course
(Click on the example screens below to view)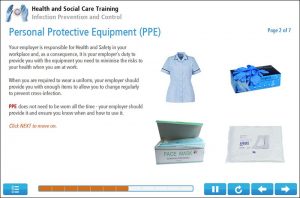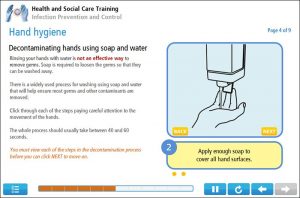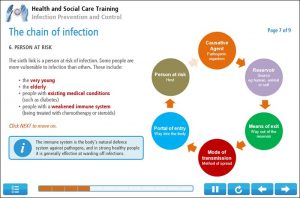 What does the Infection Prevention and Control course cover?
The course contains the following 10 topics:
1 – The need for infection prevention and control
The first topic explains why there is a high risk of illness and infection in healthcare and care home settings. You will learn about how your duty of care includes infection prevention and control.
2 – Infections and their causes
The second topic describes the meaning of the terms pathogen, host and outbreak. The topic gives examples of pathogenic organisms and explains the difference between infectious and non-infectious diseases.
3 – The chain of infection
The third topic explains the term 'chain of infection'. You will learn about the six links in the chain of infection. The topic also presents examples of how infections enter and exit a human host.
4 – Outbreaks of infection
Topic 4 identifies the symptoms of a fever. You will learn about what is meant by an outbreak of infection and the steps that you should take when an outbreak occurs.
5 – Hand Hygiene
Topic 5 explains why good hand hygiene is essential. You will learn about the terms contamination and decontamination. The topic describes good hand decontamination technique.
6 – Personal Protective Equipment (PPE)
Topic 6 explains the purpose of PPE that will probably be used in your workplace. You will learn about your responsibilities and your employer's responsibilities regarding PPE. The topic also covers why your employer might offer you vaccinations.
7 – Handling waste
Topic 7 describes the difference between hazardous and non-hazardous clinical waste. It also covers the regulations that classify waste and explains how to dispose of unwanted and out-of-date medicines.
8 – Disposal of sharps
This topic explains how to handle 'sharps' and identifies the action you should take if you suffer a sharps injury.
9 – Soiled linen
This topic is about how and why you should decontaminate soiled linen.
10 – Personal responsibilities
The final topic outlines your personal responsibilities regarding vaccinations, sickness and personal hygiene.
Assessment
Once you have completed the ten topics, you will be allowed to take the assessment. The course generates an assessment from question banks so that the questions change each time a candidate takes the assessment. This makes the training suitable for initial and refresher training.
There is no limit on the number of attempts at the assessment. In addition, the course gives informative feedback so candidates can learn from incorrect responses.
DISCOUNTS
Discounts Available For Bulk Purchases
No. of licences
per course
% saving
1 - 9
-
10 - 19
10%
20 - 49
20%
50 - 99
25%
100 - 149
30%
150 - 999
35%
For 200+ licences, please email us at sales@i2comply.com or call us on 0333 577 5016.
Course reviews