DISCOUNTS
Discounts Available For Bulk Purchases
No. of licences
per course
% saving
1 - 9
-
10 - 19
10%
20 - 49
20%
50 - 99
25%
100 - 149
30%
150 - 999
35%
Infection Prevention & Control Course Online
Assured by RoSPA Qualifications
Certified by CPD
Audio voiceover
Approximate course duration 2 hours
Downloadable certificate on completion
100% online training
This Infection Control and Prevention course will make you aware of the hazard posed by infections. It will also make you aware of how infections are spread and how to break the chain of infection.
The most effective way of preventing infection from spreading is to have clean hands. The course covers good hand washing technique and at identifies when you should clean your hands.
For employers, the course is an easy way to ensure that they comply with the legal responsibilities under the Public Health Regulations and the Health and Safety at Work Act 1974.
The approximate duration of this online training course is 2 hours.
Why is infection control training important?
Time, money, and productivity lost from illness can have a drastic impact on any business. Therefore, making your workforce aware of the risks will help to protect them and the colleagues around them, which will reduce the risk of infection in your workplace.
Infection prevention and control training is important to any workplace, but especially in healthcare settings. Good practice in this area protects both patients and healthcare workers. Infections in healthcare settings can be serious, and, in some cases, life-threatening. People in care have contact with staff, other residents, family and friends, which means infection can easily be passed around. Therefore, it is vital to take the steps that help prevent infection occurring.
Infection Control training makes you aware of what Infection Control is, how to prevent infections, what to do if someone has an infection and, most importantly, how to prevent it spreading.
Who is the Infection Prevention & Control course for?
The Infection Control course is relevant to everyone whose job exposes them to the risk of infection.
This course is aimed at staff such as:
Healthcare assistants
Carers
Volunteers
Cleaning staff
Porters
Administrative staff
Receptionists
Health and social care workers can be assured that the course covers the essential underpinning knowledge required by Care Certificate Standard 15 – Infection Prevention and Control.
Infection Prevention & Control course outcomes
After completing the course you will be able to describe:
The terms pathogen, host, contamination and decontamination
How infections spread
What an outbreak of infection means
Responsibilities with regard to infection control
When you should wash your hands
Good hand washing technique
When to use PPE
How to handle sharps
How to handle soiled linen
When do I get my infection prevention and control course certificate?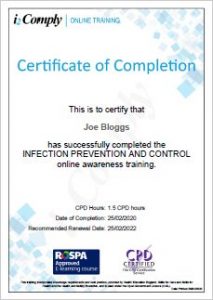 When you have successfully passed the online course, you will be able to download and print your Infection Prevention and Control certificate straight away.
All of our courses conform to the Continuing Professional Development (CPD) guidelines and are accredited by the CPD Certification Service.
This infection prevention and control course is also assured by the Royal Society for the Prevention of Accidents through their RoSPA Qualifications Assurance System, as providing up-to-date, quality and content-approved training.
Your infection prevention & control course certificate will include both logos, so you can use it to provide evidence for compliance.


How long is my infection prevention and control course certificate valid for?
Your infection prevention and control course certificate will not expire. However, to ensure your knowledge of infection control is maintained, we recommend refreshing the course 2 years after completion. This recommended renewal date will be printed on your certificate.
Example Screens from the infection prevention and control course
Below you can see some example screens from our Infection Control online training course. The course contains clear and structured learning material to help you to understand the contents and be aware of the hazard posed by infections.
(Click on the example screens below to view)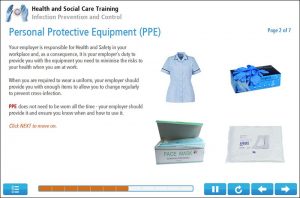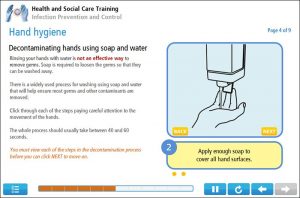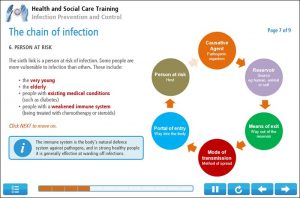 What does the infection prevention and control course cover?
The infection protection & control course contains the following 10 topics:
1 – The need for infection prevention and control training
The first course topic explains why there is a high risk of illness and infection in healthcare and care home settings. You will also learn about how your duty of care includes infection prevention and control.
2 – Infections and their causes
The second topic describes the meaning of the terms pathogen, host and outbreak. The topic also gives examples of pathogenic organisms and explains the difference between infectious and non-infectious diseases.
3 – The chain of infection
The third topic explains the term 'chain of infection'. You will learn about the six links in the chain of infection. The topic also presents examples of how infections enter and exit a human host.
4 – Outbreaks of infection
Topic 4 identifies the symptoms of a fever. You will also learn about what is meant by an outbreak of infection and the steps that you should take when an outbreak occurs.
5 – Hand Hygiene
Topic 5 explains why good hand hygiene is essential. You will also learn about the terms contamination and decontamination. The topic also describes good hand decontamination technique.
6 – Personal Protective Equipment (PPE)
Topic 6 explains the purpose of PPE that will probably be used in your workplace. You will learn about your responsibilities and your employer's responsibilities regarding PPE. The topic also covers why your employer might offer you vaccinations.
7 – Handling waste
Topic 7 describes the difference between hazardous and non-hazardous clinical waste. It also covers the regulations that classify waste and explains how to dispose of unwanted and out-of-date medicines.
8 – Disposal of sharps
This topic explains how to handle 'sharps' and also identifies the action you should take if you suffer a sharps injury.
9 – Soiled linen
This topic is about how and why you should decontaminate soiled linen.
10 – Personal responsibilities of infection prevention & control
The final topic outlines your personal responsibilities regarding vaccinations, sickness and personal hygiene.
Infection prevention & control online course assessment
After the ten topics there is an assessment. We select the assessment questions from question banks and the questions will be different each time a candidate takes the assessment. Our customers use this e-learning course both as initial training and as a refresher.
There is no limit on the number of times candidates can take the Infection Prevention & Control course assessment. They will receive useful feedback and will be able to learn from any mistakes they make.
Infection Prevention & Control online course reviews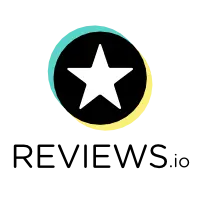 We understand people like to see how other people found the training before deciding to purchase. Read our customers' reviews on our Infection Prevention & Control online course.
This online course has 4.6 out of 5 stars and some comments are listed below:
"Very informative. Much detail and helpful points. Clear and concise learning."
"Great presentation slides with fantastic use of diagrams and screen pop ups. Information was presented in a way that even someone one without much science background could thoroughly understand."
Why online training is the best option
Online training comes with many benefits, here are some of the biggest:
No time limits – Take as long as you like to read the content and before starting the course assessment.
Same training content delivered to everyone – You can rest assured that all of your staff members will receive identical training resources.
No need for travel – Save time and money spent on trains or car journeys, as you do not need to travel.
Save money – Our online training courses cost from £10 per employee, which means you can afford to train more staff for less money.
Anytime, anywhere – Everyone has different work schedules. Online training means people can take the training at a time which suits them.
Book our online Infection Prevention & Control course today
Once you are ready to purchase our online course, simply add the training course to your basket by clicking the Add to Basket button, then proceed to purchase.
If you are looking to take advantage of our online bulk discounts, take a look at our list of available discounts at the left hand side of the page. Discounts will be applied at checkout.
Still have a question?
If you are still unsure and have unanswered questions, feel free to contact our team by emailing [email protected] or calling 0333 5775 017. We will be happy to help.
We also have a knowledge centre available which has answers to FAQs. Please take a look, it includes replies to questions regarding licences, account settings, discounts, payment options and more.
DISCOUNTS
Discounts Available For Bulk Purchases
No. of licences
per course
% saving
1 - 9
-
10 - 19
10%
20 - 49
20%
50 - 99
25%
100 - 149
30%
150 - 999
35%