DISCOUNTS
Discounts Available For Bulk Purchases
No. of licences
per course
% saving
1 - 9
-
10 - 19
10%
20 - 49
20%
50 - 99
25%
100 - 149
30%
150 - 999
35%
Legionella Testing
FROM £43.75
Legionella Testing using a UKAS accredited laboratory is available from
Safewater Solutions
at
£43.75+VAT.
Legionella testing kits are available to suit any type of property, from small two bed care homes, dentists and GP surgeries to large commercial buildings and factories.
Read more
Online Legionella Awareness Training
Assured by RoSPA Qualifications
Certified by CPD
Audio voiceover
Approximate course duration 1-2 hours
Downloadable certificate on completion
100% online training
No time limits
This Legionella Awareness online training course aims to ensure employers, managers and those with responsibility for the control of premises, understand what legionella is and what their legal duties are. It also ensures employees are aware of the risk posed by legionella and the measures taken to comply with UK health and safety legislation.
On average, this course is estimated to take around 1 to 2 hours to complete. Remember, this is just an average time estimation – you can take as long as you want before sitting the assessment.
The importance of Legionella Awareness training
Cases of Legionnaires' disease are on the rise in the UK. Cases usually peak between July and September. Warmer weather makes it easier for the deadly waterborne bacteria to grow. Although Legionnaire's disease is usually easily treated with antibiotics, it can lead to long term health problems and even death.
Legionella bacteria grow in large numbers in warmed water systems that remain idle for long periods of time. This is why buildings with large and more complex water systems, such as hotels, hospitals, office blocks, schools and other large buildings are most at risk of Legionella infection.
For more information, take a look at our article What is Legionnaires' disease, which explains what legionella is, introduces UK legislation in regard to legionella and explains how legionella awareness training can help you to minimise legionella risks in your workplace.
Who is Legionella Awareness training for?
The legionella awareness course is suitable for anyone responsible for a water system on premises, no matter how big or small the premises are. This includes employers, the self-employed, landlords, letting agents and more. The course explains legal duties concerning water systems and the control measures that building operators need to implement.
There is no specific industry that needs Legionella Awareness training, the knowledge is needed anywhere there is a water system.
What are the learning outcomes for the Legionella Awareness course?
After you've completed our online legionella awareness course, you'll be able to explain:
What Legionnaires' disease is and how legionellosis is contracted.
The groups at greater risk of contracting Legionnaires' disease.
When and how the bacteria become a danger in a water system.
The key factors determining the type of water hygiene system that is put in place.
The important legislation and guidelines relevant to preventing outbreaks of Legionnaires' disease.
Who might be dutyholders.
Key dutyholder responsibilities.
When do I get my Legionella Awareness certificate?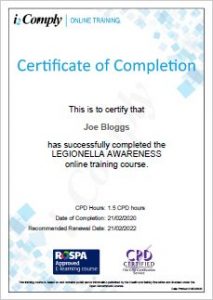 You'll be able to save, download and print your legionella awareness certificate right after completing the online assessment.
All of our courses conform to the Continuing Professional Development (CPD) guidelines. The CPD Certification Service accredits the courses.
This Legionella Awareness course is also assured by the Royal Society for the Prevention of Accidents, through their RoSPA Qualifications Assurance System, as providing up-to-date, quality and content-approved training.
Your certificate will include both logos, therefore you can use it to provide evidence for compliance.


How long is this Legionella Awareness certificate valid for?
Your Legionella Awareness certificate doesn't include an expiry date. However, to ensure knowledge of the risk posed by legionella is maintained, we recommend a renewal period of 2 years.
This recommended renewal date will be on your certificate. Since we use question banks to generate different questions for every assessment, the course is the perfect choice for refresher training.
Can this training course act as evidence for SSIP accreditations like CHAS, SafeContractor and ConstructionLine?
Yes, you can use our Legionella Awareness training course certificate as evidence of industry-related training. This evidence is important for SSIP accreditations. The course helps you to ensure your staff all receive appropriate training and that you have the certificates to prove it. However, each individual accreditation body will decide whether our online courses are sufficient for your company's training requirements.
Example Screens from the Legionella Awareness course
Below are three examples of our course slides. We build our course materials with simplicity and minimalism in mind.
Customers who have previously completed our online Legionella Awareness course say that our slides are straightforward to follow and easy to retain information from.
(Click on the example screens below to view)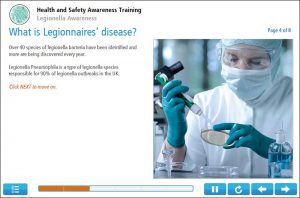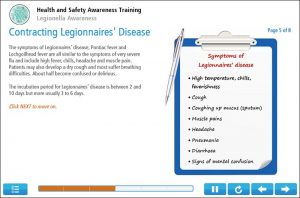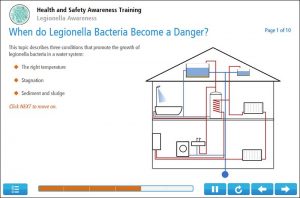 What does the Legionella Awareness course cover?
The online Legionella Awareness course covers the following four topics:
1 – What is Legionnaires' disease
The first topic describes Legionnaires' disease and other forms of legionellosis. You will also learn about where legionella bacteria occur.
2 – Contracting Legionnaires' Disease
The second topic identifies the groups of people most at risk of legionellosis. You will learn about how people contract Legionnaires' Disease and how common the disease is. The topic also describes symptoms and treatment for the disease.
3 – When do Legionella Bacteria Become a Danger
The third topic describes the conditions that promote the growth of legionella bacteria in a water system.
4 – Your Water Hygiene Programme
Finally, the final topic outlines the essential elements of a water hygiene programme. The topic defines dutyholder responsibilities and outlines the relevant legislation and guidance. You will learn how to manage legionella risks. The topic also covers the requirements of a written scheme and your record keeping duties.
Legionella Awareness online course assessment
Once you have completed the four topics, you can take the assessment. The course generates an assessment from question banks so that the questions change each time a candidate takes the assessment. This makes the Legionella Awareness course suitable for both initial and refresher training.
There is no limit on the number of attempts at the assessment. Unlike many other training providers, at i2Comply we give candidates helpful feedback to learn from incorrect answers to questions and develop their knowledge.
Legionella Awareness online course reviews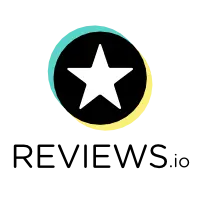 We understand that before committing to a training course, it's always reassuring to see positive reviews. That's why we've included a link to our Legionella Awareness course reviews under the page title.
Our highly rated online course includes review comments such as "Well presented and easy to navigate through course content, with clear directions for assessment" and "Very informative and easy to follow".
Why use i2Comply for online training?
Finding a training provider who produces engaging and interactive courses is hard, especially on a budget. That's where i2Comply comes in – our study materials are designed to be straightforward and concise—starting at just £15 per person.
Our course licences don't expire. They'll remain in your account until you or your staff members have time to begin learning. Therefore, you can take advantage of our bulk discounts, knowing you won't have any time limits to complete the training.
All our resources are accessible from anywhere online. You pick a time that works for you and fits your schedule.
More Legionella Awareness resources
The HSE provides a free book aimed at duty holders, employees, and others in control of premises to help them comply with legal issues related to legionella. Use the resource if you'd like to learn about  legionella bacteria in water systems before you start your Legionella Awareness training.
Have any more questions?
Have you read through our information and still have a few questions regarding our online Legionella Awareness training? Not to worry, our team members are on hand to answer any questions. You can contact us via phone, email or our enquiries form.
We also supply answers to FAQs in our help and knowledge base. It's always worth having a look to see if your question has previously been answered.
DISCOUNTS
Discounts Available For Bulk Purchases
No. of licences
per course
% saving
1 - 9
-
10 - 19
10%
20 - 49
20%
50 - 99
25%
100 - 149
30%
150 - 999
35%