DISCOUNTS
Discounts Available For Bulk Purchases
No. of licences
per course
% saving
1 - 9
-
10 - 19
10%
20 - 49
20%
50 - 99
25%
100 - 149
30%
150 - 999
35%
For 200+ licences, please email us at sales@i2comply.com or call us on 0333 577 5016.
Legionella Testing
FROM £43.75
Legionella Testing using a UKAS accredited laboratory is available from
Safewater Solutions
at
£43.75+VAT.
Legionella testing kits are available to suit any type of property, from small two bed care homes, dentists and GP surgeries to large commercial buildings and factories.
Read more
Legionella Awareness Course
Assured by RoSPA Qualifications
Certified by CPD
Audio voiceover
Approximate course duration 1-2 hours
Downloadable certificate on completion
This Legionella Awareness online training course aims to ensure employers, managers and those with responsibility for the control of premises, understand what legionella is and what their duties are. It also ensures employees are aware of the risk posed by legionella and the measures taken to comply with UK health and safety legislation.
Who is Legionella Awareness training for?
This course should be taken by those in a position of responsibility for a water system on a property, including employers, employees, landlords and letting agents.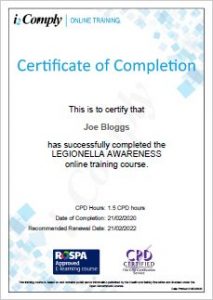 When do I get my Legionella Awareness certificate?
When you have successfully passed the course you will be able to download and print your certificate straight away.
All of our courses conform to the Continuing Professional Development (CPD) guidelines and are accredited by the CPD Certification Service.
This Legionella Awareness course is also assured by the Royal Society for the Prevention of Accidents through their RoSPA Qualifications Assurance System, as providing up-to-date, quality and content-approved training.
Your certificate will include both logos, therefore you can use it to provide evidence for compliance.

Example Screens from the Legionella Awareness course
(Click on the example screens below to view)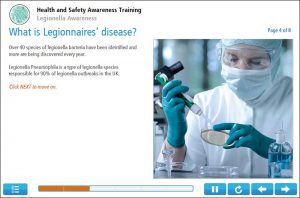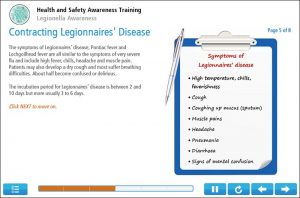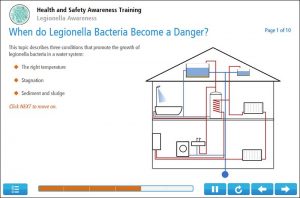 What does the Legionella Awareness course cover?
The online course contains the following 4 topics:
1 – What is Legionnaires' disease
The first topic describes Legionnaires' disease and other forms of legionellosis. You will also learn about where legionella bacteria are found.
2 – Contracting Legionnaires' Disease
The second topic identifies the groups of people most at risk of legionellosis. You will learn about how Legionnaires' Disease is contracted and how common it is. The topic also describes symptoms and treatment for the disease.
3 – When do Legionella Bacteria Become a Danger
The third topic describes the conditions that promote the growth of legionella bacteria in a water system.
4 – Your Water Hygiene Programme
The final topic outlines the required elements of a water hygiene programme. The topic defines dutyholder responsibilities and outlines the relevant legislation and guidance. You will learn how to manage legionella risks. The topic also covers the requirements of a written scheme and your record keeping duties.
Online Assessment
Once you have completed the four topics, you will be allowed to take the assessment. The course generates an assessment from question banks so that the questions change each time a candidate takes the assessment. This makes the training suitable for initial and refresher training.
There is no limit on the number of attempts at the assessment. In addition, the training course gives informative feedback so candidates can learn from incorrect responses.
DISCOUNTS
Discounts Available For Bulk Purchases
No. of licences
per course
% saving
1 - 9
-
10 - 19
10%
20 - 49
20%
50 - 99
25%
100 - 149
30%
150 - 999
35%
For 200+ licences, please email us at sales@i2comply.com or call us on 0333 577 5016.