DISCOUNTS
Discounts Available For Bulk Purchases
No. of licences
per course
% saving
1 - 9
-
10 - 19
10%
20 - 49
20%
50 - 99
25%
100 - 149
30%
150 - 999
35%
For 200+ licences, please email us at sales@i2comply.com or call us on 0333 577 5016.
Dementia Awareness Course
Certified by CPD
Audio voiceover
Approximate duration of 2 hours
Downloadable certificate on completion
This Dementia Awareness online training course explains what dementia is, the types of dementia and looks at the many different kinds of help that are needed by people with dementia.
If you are a carer or a care worker who supports individuals with dementia you need an awareness of the condition so that you can show compassion and understanding. You are likely to experience behaviour that you find difficult to understand and you need to know the best way to respond to that behaviour.
If you are a carer or a care worker who does not work with dementia sufferers then you still need an awareness of the condition so you can spot early signs and pass information about that on to other care professionals.
The CPD Certification Service has certified this training course.

Who is Dementia Awareness for?
This Dementia Awareness online training course is relevant to everyone involved in Adult Health and Social Care and covers part of the essential underpinning knowledge required by Care Certificate Standard 9 – Mental Health, Dementia and Learning Disability.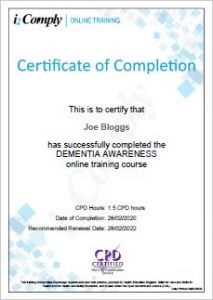 When do I get my Dementia Awareness certificate?
When you have successfully passed the course you will be able to download and print your certificate straight away.
Your certificate will include the CPD Certification Service logo. Therefore you can use it to provide evidence for compliance.
Example Screens from the Dementia Awareness course
(Click on the example screens below to view)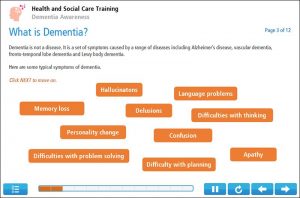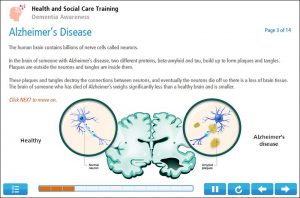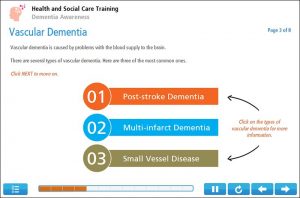 What does the Dementia Awareness course cover?
The course contains the following 11 topics:
1 – What is Dementia?
The first topic explains why you need to be aware of dementia issues. It identifies the prevalence of dementia and descries symptoms that are common to most types of dementia.
2 – Alzheimer's Disease
The second topic is about Alzheimer's disease. It covers the prevalence, causes, symptoms and progression of the disease.
3 – Vascular Dementia
The third topic is about vascular dementia. It describes three types of this form of dementia.
4 – Frontotemporal Dementia
Topic 4 covers frontotemporal dementia. It outlines the prevalence, causes and symptoms of this disease.
5 – Dementia with Lewy Bodies
Topc 5 describes Dementia with Lewy Bodies and explains how it relates to Parkinson's disease.
6 – Other Conditions Related To Dementia
Topic 6 outlines other diseases that cause dementia symptoms. This includes health conditions that can look like dementia but are treatable. You will learn about why it is important to recognise the early signs of dementia.
7 – Medication
Topic 7 describes two types of medicine that are often prescribed for Alzheimer's disease. It also covers medicines used to treat other types of dementia.
8 – Other Support and Treatment
Topic 8 outlines the differences between the medical model and the social model of disability and describes person-centred care. You will learn about tools that can help a person with memory problems and how to help someone with day-to day tasks. The topic discusses language difficulties and challenging behaviour of dementia sufferers. The topic also outlines non-drug therapies.
9 – Physical Care Needs
Topic 9 describes how you can help people with physical care needs.
10 – Social and Emotional Needs
Topic 10 explains the importance of exercise and meaningful activity. You will learn about the need for social interaction, and why sex and intimacy may still be important for people with dementia. The topic also discusses people's need for independence, privacy, respect and freedom from fear.
11 – The Law and Dementia
The final topic identifies the articles in the Human Rights Act that are relevant to dementia care. It explains how the Data Protection Act applies in dementia care and points out other relevant UK laws.
Assessment
Once you have completed the eleven topics, you will be allowed to take the assessment. The course generates an assessment from question banks so that the questions change each time a candidate takes the assessment. This makes the training suitable for initial and refresher training.
There is no limit on the number of attempts at the assessment. In addition, the course gives informative feedback so candidates can learn from incorrect responses.
DISCOUNTS
Discounts Available For Bulk Purchases
No. of licences
per course
% saving
1 - 9
-
10 - 19
10%
20 - 49
20%
50 - 99
25%
100 - 149
30%
150 - 999
35%
For 200+ licences, please email us at sales@i2comply.com or call us on 0333 577 5016.
Course reviews