DISCOUNTS
Discounts Available For Bulk Purchases
No. of licences
per course
% saving
1 - 9
-
10 - 19
10%
20 - 49
20%
50 - 99
25%
100 - 149
30%
150 - 999
35%
Dementia Awareness Training Course
Certified by CPD
Audio voiceover
Approximate course duration of 2 hours
Downloadable certificate on completion
100% online training
This online dementia awareness training course explains what dementia is. It identifies several types of dementia and looks at the many different kinds of help that are needed by people with dementia.
Our dementia awareness course explains how people living with dementia can maintain a good quality of life. It covers tools that can help a person with memory problems and day-to-day tasks. It also outlines the importance of exercise, the need for social interaction and discusses the need for independence.
The approximate duration of this online training course is 2 hours. Since the course is online, you can complete the training at a time which is suitable for you. You may also read and study the materials for as long as you need to before sitting the assessment.
What is dementia?
Dementia is not a disease. It is a set of symptoms caused by a range of diseases, such as Alzheimer's disease and vascular dementia. These symptoms include memory loss, confusion, mood swings and hallucinations. Dementia is a common cause of death for both men and women. It is more common in older people but can also affect someone as young as 30 or 40.
This loss of cognitive functioning will affect 1 in 3 people within their lifetime, according to Alzheimer's Association. Dementia can have severe physical, psychological, social and economic impacts, not only on people living with it, but also on carers and family members.
In our dementia awareness e-learning course, you'll gain an understanding of what dementia is, all the different types of dementia and a lot more. You can also view what the course covers in the course topics listed below.
Why is Dementia Awareness training important?
In 2021 around 900,000 people were living with dementia in the UK. One person will develop dementia every three minutes this year.
If you are a carer who supports people with dementia, you need an awareness of the condition so that you can show compassion and understanding. You are likely to experience behaviour that you find difficult to understand, so you need to know the best way to respond. With our online training, you'll learn how to respond appropriately.
If you are a care worker who does not work with dementia sufferers, then an awareness of the condition means you can spot early signs and discuss them with your manager. Our course covers what signs to look out for.
Who is Dementia Awareness training for?
This Dementia Awareness online training course is for everyone involved in Adult Health and Social Care. It covers part of the essential knowledge required by Care Certificate Standard 9 – Mental Health, Dementia and Learning Disability.
Whatever your role in health care, this course will give you the confidence to care for people with dementia. With training at just £15 per person, dementia awareness training will benefit almost anyone. There's a high chance you'll have a family member or friend with dementia who'll benefit from your increased knowledge of the condition.
What are the learning outcomes for the Dementia Awareness course?
After completing the course you will be able to:
Define dementia and outline the prevalence of dementia in the UK.
Describe 4 types of dementia and other conditions that cause the same symptoms.
Outline common approaches to medication for dementia.
Describe non-drug therapies for dementia.
Explain the physical care needs of a person with dementia.
Outline non-physical care needs.
Identify sources of support for people with dementia and their carers.
Describe the main laws that apply to dementia care.
When do I get my Dementia Awareness training certificate?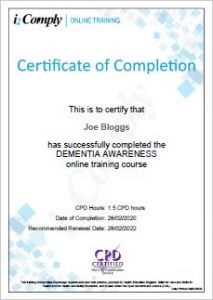 After you pass the online assessment, you'll receive your dementia awareness certificate immediately. You'll gain access to your certificate which can be saved, downloaded, and printed whenever you see fit.
Our dementia awareness course conforms to CPD guidelines. The CPD Certification Service has accredited the courses.
Your certificate will include the CPD Certification Service logo, so you can use it to provide evidence of Dementia Awareness training.

How long is the certificate valid for?
Your Dementia Awareness certificate has no expiry date. However, we recommend that refresher training should be taken every 2 years so that your knowledge of dementia is maintained to a high standard. This recommended renewal date will be on your certificate.
Example Screens from the Dementia Awareness course
Below are screenshots taken from the online training. The screens are simple, accessible, and designed so that the information is easy to digest.
(Click on the example screens below to view)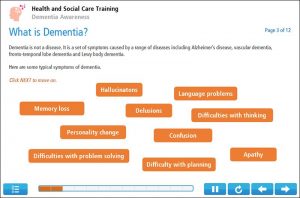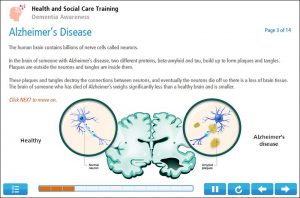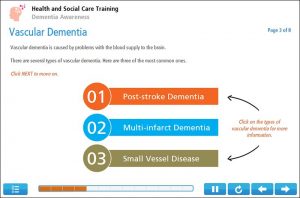 What does the Dementia Awareness course cover?
The Dementia Awareness training course contains the following 11 topics:
1 – What is Dementia?
The first topic explains why you need to be aware of dementia issues. It also identifies how many people in the UK have dementia. Finally, it describes symptoms that are common to most types of dementia.
2 – Alzheimer's Disease
The second topic is about Alzheimer's disease. It covers the prevalence, causes, symptoms and progression of the disease.
3 – Vascular Dementia
The third topic is about vascular dementia. It describes three types of this form of dementia.
4 – Frontotemporal Dementia
Topic 4 covers frontotemporal dementia. It also outlines the prevalence, causes and symptoms of this disease.
5 – Dementia with Lewy Bodies
Topic 5 describes Dementia with Lewy Bodies. The topic identifies the cause of the disease and outlines how it relates to Alzheimer's disease and Parkinson's disease. Finally, it also explains the symptoms of Dementia with Lewy Bodies.
6 – Other Conditions Related To Dementia
Topic 6 outlines other diseases that cause dementia symptoms. This includes conditions that can look like dementia but are treatable. Finally, the topic explains why it is important to recognise the early signs of dementia.
7 – Dementia Medication
Topic 7 describes two types of medicine that are often used to treat Alzheimer's disease. It also covers medicines used to treat other types of dementia.
8 – Other Dementia Support and Treatment
Topic 8 outlines the differences between the medical model and the social model of disability and describes person-centred care. You will learn about tools that can help a person with memory problems and how to help someone with day-to-day tasks. The topic also discusses language difficulties and challenging behaviour of dementia sufferers. Finally, the topic outlines non-drug treatments.
9 – Physical Care Needs for Dementia
Topic 9 describes how you can help people with physical care needs.
10 – Social and Emotional Needs for Dementia
Topic 10 explains the importance of exercise and meaningful activity. You will learn about the need for social interaction, and why sex and intimacy may still be important for people with dementia. The topic also discusses people's need for independence, privacy, respect and freedom from fear.
11 – The Law and Dementia
The final topic identifies the articles in the Human Rights Act that are relevant to dementia care. It explains data protection rules that applyies in dementia care. Finally it identifies other relevant UK laws.
Dementia Awareness online course assessment
Once you have completed the eleven dementia awareness course topics, you can take the assessment. The questions change each time you take the assessment. As a result, the training is suitable for both initial and refresher training.
You can take the assessment as often as you like. You will get feedback so you can learn from mistakes and grow your knowledge of dementia for the next attempt.
Dementia Awareness online course reviews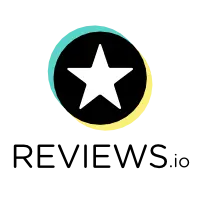 Our highly rated Dementia Awareness online course gets 4.4 out of 5 stars.
You are able to read our customer reviews by clicking on the stars just below the course title. These reviews should give you the confidence that you are buying quality training, from the right provider.
Want to leave your own feedback? We value feedback and take all comments on board, so if you would like to leave a review follow this link.
Other online Health and Social Care courses
i2Comply has a wide selection of online training courses available for businesses and individuals who are seeking relevant training and certification. We help businesses adhere to the legal guidelines for their industry.
Below you can see all the online health and social care courses i2Comply has to offer. Looking for information on a specific course? You can access the details below by clicking through to an individual course page.
You'll also find courses for health and safety, regulatory compliance, food hygiene and fire safety on our website.
Why online training is the best option
It doesn't matter how many employees you enrol onto our training courses, every staff member will receive the same training. This means you won't ever have to worry about consistency or reliability. Questions and meaningful activities maximise retention of course content, and the training is available to participants whenever they like.
As our dementia awareness course is only £15 per person, it's affordable for almost any business or individual. Discounts are available when you buy training courses in bulk. This information is displayed in the content block on the left-hand side.
Why i2Comply for dementia awareness training?
I2Comply's dementia awareness course is interactive, and truly engaging. The topic content thoroughly prepares you for the assessment. The course includes high-quality audio narration.
When you buy a course licence from us, it won't expire until it is used. There are many benefits that come with this, but the biggest is the opportunity to save money. You can take advantage of the bulk purchase discounts by buying multiple courses, and your staff can complete them at any time, even if this is weeks or months later.
Since the course is online, there are no set times to take the assessment. Staff members can learn on whatever days fit in with their daily work. This is very different to a classroom-based training course.
Questions on our dementia awareness course?
We encourage people with an interest in our courses to ask questions of our friendly team. If there's anything you've been wondering which isn't already covered in our course page, get in touch with us. We will be happy to answer anything regarding our dementia awareness course materials.
We've already answered a lot of recurring questions in our help & knowledge base section. Here you will find answers to questions about licences, account settings, payment and much more.
DISCOUNTS
Discounts Available For Bulk Purchases
No. of licences
per course
% saving
1 - 9
-
10 - 19
10%
20 - 49
20%
50 - 99
25%
100 - 149
30%
150 - 999
35%