The Control of Substances Hazardous to Health Regulations (COSHH) Act governs occupational health and safety in relation to hazardous chemicals. Yet, it is often not apparent who is legally responsible for incorporating and maintaining COSHH into work activities and regularly checking a company's compliance. The ultimate responsibility for implementing COSHH standards lies with the employer; however, employees must also understand their responsibilities and meet COSHH regulations.
To accomplish COSHH compliance, it is critical that everyone in a business understands their COSHH roles and responsibilities. In this article, occupational experts SafetyBuyer.com will look at the dangerous substances covered by COSHH that you may encounter at work, how to detect hazards related to hazardous substances, and lastly, the three primary control measures that every organisation should be aware of.
What are the seven hazardous substances?
COSHH laws oversee the following hazardous substance categories:
Chemicals (and products containing chemicals)
Fumes
Dust
Vapours
Mists
Gases
Germs
There are nine danger symbols used for COSHH labelling to signify that a substances is harmful. These are some examples:
Explosives
Gases
Flammable liquids
Flammable solids
Oxidising agents and organic peroxides
Toxins and infectious substances
Radioactive material
Corrosives
Miscellaneous dangerous goods
Who is legally responsible for COSHH in the workplace?
As established, it is the legal duty of the employer to adopt and maintain COSHH compliance in the workplace. This means they must ensure that all work techniques and storage solutions comply with COSHH regulations.
The employer must also ensure that all employees are aware of COSHH regulations and have the knowledge and competence to obey them. If an employee causes an accident because they are not aware of the hazards presented by a hazardous material, the company may still be held liable if it can be demonstrated that the individual was not appropriately trained or prepared for the risks provided by the hazardous chemical. As a result, it is vital that all employees on-site are aware of the hazards and appropriate control measures.
The three COSHH control methods that every employer should be aware of
The employer must ensure that three major compliance requirements must be met at the workplace, which includes:
Control measures
Depending on the substance or activity, hazardous chemicals must be handled, stored, and utilised with a variety of control techniques. The use of COSHH-compliant equipment guarantees that all applicable criteria are satisfied.
COSHH control techniques for hazardous substances aid in determining how they should be handled and stored in order to prevent the possibility of spills or other events, protect personnel from injury, and reduce the danger of harmful exposure. As a result, COSHH spill kits play a large part of ensuring that COSHH protocols are followed.
Working methods
The COSHH control procedures outline how personnel should handle hazardous chemicals in the course of their normal duties. All activities, monitoring, and training must fulfil COSHH's required safety requirements. Companies are obligated by law to protect their employees' health, but employees must also use their training and exercise caution when working with potentially hazardous substances.
Workplace behaviour of employees
After the control measures and processes are established, individuals on-site must follow them. Additionally, the individual(s) in charge of workplace safety must ensure that the control mechanisms and processes are adequate for the activities and chemicals used by the company. When a new hazardous material is introduced into work activities, the employer must examine current safety measures to ensure that the risks caused by the new substance are mitigated.
Recognising COSHH risks
The ability to recognise dangerous substances is the first step in monitoring your company's health and safety regulations. It is worthwhile to examine the various substances you may come across in your workplace – chemicals, including cleaning supplies – and determine whether they pose a potential threat based on any warning symbols or labels on their packaging – this will help you decide whether additional action is required to secure them against accidents.
Risk analysis
After you've determined whether anything offers a potential threat, you must determine how serious that hazard is. This evaluation should include elements such as how long individuals are exposed to the material, who is likely to be impacted by it, and what protective clothing or equipment may be necessary for safety. Therefore, having all of this information at your disposal might help you determine what measures to take next to safeguard employees from coming into contact with harmful substances.
Examine the health consequences
In addition to possible exposure levels, you should investigate the impact these substances may have on health, since this will help you assess the degree and type of any hazards connected with them. Further more, you should investigate any substances indicated on product labels or instructions to learn more about their toxicity levels, storage directions, and other handling considerations.
Control risks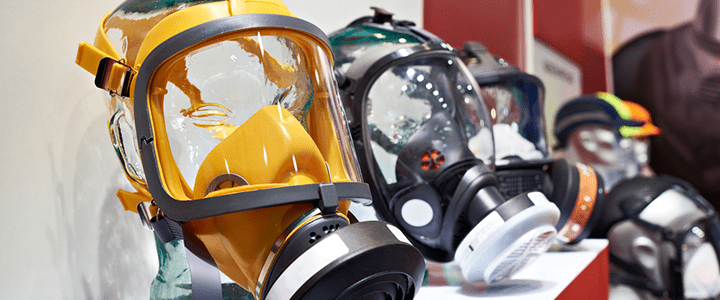 After you have determined the amount of danger associated with specific chemicals in your workplace, it's time to take action. There are several ways to mitigate these risks, including:
the use of appropriate ventilation systems
the provision of protective equipment such as masks or the covering of skin with appropriate clothing
the implementation of general hygiene rules such as hand-washing after use
the provision of information and training on safe handling procedures
Any of these choices (or some combination of them) can contribute to a safer working environment when it comes to hazardous chemicals.
A workplace must always satisfy the highest levels of control measures, which are achieved by employing COSHH-compliant storage, providing workers with personal protective equipment (PPE) when necessary, and establishing and following protocols that warn supervisors in the event of an emergency.
Looking for online COSHH training?
Our online COSHH training is essential for anyone whose work involves hazardous substances. It helps people to recognise hazardous substances and understand the risks associated with exposure. It also informs them of the importance of following correct work practices, including handling, storing and disposing of hazardous substances.
The Control of Substances Hazardous to Health (COSHH) Regulations 2002 states, every employer who undertakes work which is liable to expose an employee to a substance hazardous to health shall provide that employee with suitable and sufficient information, instruction and training. Therefore, online COSHH training not only complys with the COSHH regulations, but it is also a conveienant and cost affective way to training your workforce.
We offer the following online RoSPA-assured and CPD-certified course: