Why is Asbestos Awareness Training so important? In the UK about 20 trades people die every week of previous exposure to asbestos, and new exposures still occur. Asbestos-related diseases kill about 5000 people every year in the UK. Asbestos exists in around 300,000 non-domestic buildings according to HSE, and in many more homes.
The UK government banned the use of asbestos for new buildings in 1999. Despite this, any buildings already in existence at this time could have asbestos in them. This is why asbestos awareness training is so important.
What is asbestos?
Asbestos is a naturally occurring, fibrous substance, which consists of long thin fibres or needles. These fibres are crystals of one of six minerals. Asbestos is strong, flexible and very heat resistant which makes it really useful as a building material. Builders used it a great deal in the UK from about 1870 right through until the government banned it at the end of the 20th century.
Need an Asbestos Awareness course?
Our IATP-approved online Asbestos Awareness course complies with the Control of Asbestos Regulations 2012. The course explains what asbestos is, what to do if you discover asbestos and the dangers of exposure.
Your Asbestos Awareness course certificate can act as evidence for SSIP accreditations like CHAS.
The training is suitable for anyone who may come into contact with asbestos as part of their work.
This includes: Electricians, Telecommunication Engineers, HVAC Engineers, Painter & Decorators, Carpenters, Plumbers, Plasterers, Gas Fitters, Joiners, Roofers, Shop Fitters, Construction Workers, General Maintenance Workers.
What types of asbestos are there?
There are six types of asbestos. The types that commonly occur in buildings are white, blue and brown. The other three types are rarer but do occur occasionally.
Note, however, that you cannot tell the type of asbestos just by the colour, as it could be mixed with other materials which change its appearance.
What is the problem with asbestos?
If left intact, asbestos does not cause harm. When asbestos is damaged or broken down using tools, it gives off tiny particles that are easily inhaled and then settle in the lungs. It has no smell or taste so can be difficult to detect. Even very small amounts can be harmful. The fibres settle in the lungs and cause damage but the really serious problems sometime do not occur until many years later. The more asbestos you breathe in, the more likely you are to get ill.
Asbestos exposure causes mesothelioma, a usually fatal cancer that affects the lining of the lungs. Long-term exposure can cause asbestosis which scars the lungs and makes breathing difficult. Other asbestos-related diseases include various cancers around the body.
What was asbestos used for in non-domestic buildings?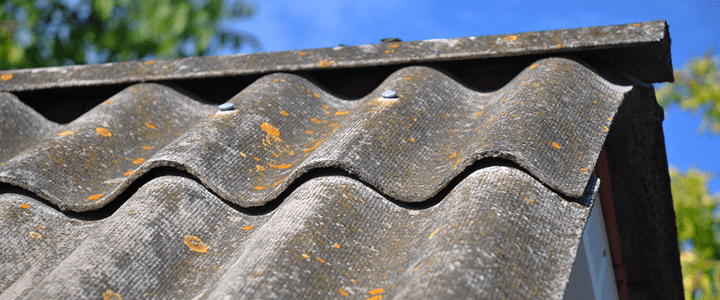 The construction industry used asbestosl extensively throughout the 20th century, in insulation, floor tiles, partition walls, roofs and a wide variety of other places in a building. Builders also added it to cement for use in both indoor and outdoor projects.
How long will asbestos be around for?
Asbestos will remain a hazard in older premises for decades to come.
On 21st April 2022 the House of Commons Work and Pensions Committee recommended that all non-domestic buildings should be free of asbestos within 40 years. The government has not yet responded to this recommendation.
What does the law say about asbestos in buildings?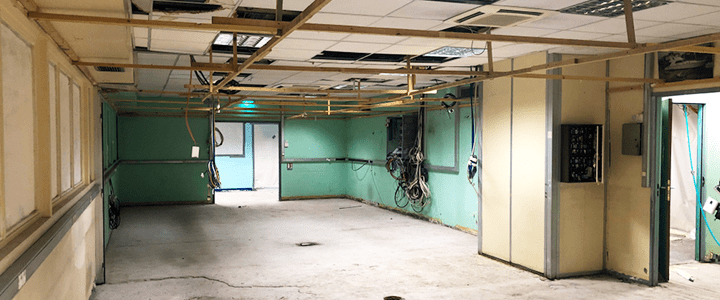 By law, anyone who has control over a workplace must ensure people are not exposed to health and safety risks – including those posed by asbestos. There are also specific laws about asbestos in commercial buildings. These laws are wide ranging. For example, employers must manage asbestos on a premises, assess the risks, and plan work accordingly. Laws about waste also relate to asbestos.
How do I reduce the risks associated with asbestos?
You should comply with all relevant procedures, policies and control measures put in place by your employer. Training is vital to increase awareness of asbestos issues. Don't work on a building until the building manager has confirmed that an appropriate person has assessed and managed any asbestos risks.
Who needs asbestos awareness training?
Anyone who may come into contact with asbestos as part of their work needs asbestos awareness training. They need to understand the dangers so they can avoid any work which may disturb asbestos.
Amongst many others this includes electricians, plumbers, decorators, builders, plasterers, roofers, demolition workers and IT installers.
What does Category A Asbestos training mean?
Category A Asbestos Training is awareness training. This is for workers who are likely to be come across asbestos at work, but who need to avoid any work that disturbs asbestos. If workers plan to carry out work that will disturb asbestos, they need other training.
How often should training be renewed?
HSE recommends asbestos refresher training every 12 months. This is to make sure people are up-to-date on the risks of asbestos.
Need Asbestos Awareness training?
We offer the following online IATP-approved and RoSPA assured course:
Online Asbestos Awareness Training