DISCOUNTS
Discounts Available For Bulk Purchases
No. of licences
per course
% saving
1 - 9
-
10 - 19
10%
20 - 49
20%
50 - 99
25%
100 - 149
30%
150 - 999
35%
Online Asbestos Awareness Course
Complies with the Control of Asbestos Regulations 2012
Approved by IATP
Assured by RoSPA Qualifications
Audio voiceover
Approximate course duration 2 hours
IATP downloadable certificate
100% online training
No time limits
This IATP-approved asbestos awareness online course explains what asbestos is, what to do if you discover asbestos, and the dangers that asbestos exposure can cause.
Asbestos is a serious danger to workers in the UK, so it is vital to take health and safety responsibilities seriously. Employers must provide asbestos awareness training for any staff who could be exposed to asbestos. They face heavy fines if they fail to do so and if there is an accident on site.
The law requires employers to take reasonable steps to safeguard the health and safety of all employees. In particular, Regulation 10 of the Control of Asbestos Regulations 2012 states that every employer must ensure that any employee who could be exposed to asbestos is given adequate training so they can protect themselves and other people.
This is a Category A Asbestos Awareness course, it does not allow you to work with asbestos or conduct asbestos removal.
The course duration is around 2 hours, although this is just an average. You can study the content for as long as you need to before you take the online assessment.
The importance of asbestos awareness training
Over 5000 asbestos-related deaths occur every year. Fatal diseases include mesothelioma, lung cancer and asbestosis. Asbestos was banned in 1999, but any building built before the year 2000 could still have asbestos in it. Once asbestos has been disturbed, it becomes very harmful as the fibres can be inhaled. Asbestos builds up in the body with every exposure, and there is no way to reverse the damage it causes. Therefore, the best advice is to avoid it at all costs. Awareness training helps to identify asbestos and understand the dangers of exposure.
We have created a separate page about the importance of asbestos awareness training. On this page you will find detailed answers to some of the common questions about asbestos.
Who is this asbestos awareness training course for?
The course is for anyone who may come into contact with asbestos as part of their work. They need to understand the dangers so they can avoid any work which may disturb asbestos. Due to asbestos being found in any building that was constructed before 2000, it affects almost everyone in the UK.
We have had individuals and workforces across almost every industry complete our asbestos awareness online training. Job roles include Electricians, Painter & Decorators, Carpenters, Construction Workers, Plumbers, Plasterers, Gas Fitters, Joiners, Roofers, Demolition Workers, Shop Fitters, General Maintenance Workers, Telecommunication Engineers, HVAC Engineers, Surveyors, Alarm installers, IT installers, Architects and Caretakers.
What are the learning outcomes for the Asbestos course?
At the end of the course you will be able to describe:
The types and properties of asbestos.
The history of asbestos in the UK.
Health effects of asbestos.
Additional risks of asbestos for smokers.
The use of asbestos in buildings and plant.
Key laws and regulations relating to asbestos.
The purpose of asbestos surveys and registers.
What to do in an emergency.
How to avoid the risks of asbestos.
When do I get my asbestos awareness course certificate?
As soon as you have passed the course, you can download and save your certificate. Your asbestos awareness certificate is available at any time to print and display after completion of the course.
The Royal Society for the Prevention of Accidents has assured the asbestos course as providing up-to-date, quality and content-approved training. IATP has audited this course to check competence and compliance with asbestos laws.
Your certificate will include both logos, therefore you can use it to provide evidence for compliance.



How long is an asbestos awareness training certificate valid?
An i2Comply Asbestos Awareness certificate has no expiry date.
How often does asbestos training need to be reviewed?
HSE recommend that refresher training should be taken every 12 months so that knowledge of the risks of asbestos is maintained to a high standard. This recommended renewal date will be on your certificate.
Can this training course act as evidence for SSIP accreditations like CHAS, SafeContractor and ConstructionLine?
Yes, you can use your asbestos awareness certificate as evidence of industry-related training, which is important for SSIP accreditations. Our training courses can help you to ensure all your workforce receive appropriate training and certificates to prove it. However, each individual accreditation body will decide whether our training courses are sufficient for your company's training requirements.
How many types of asbestos training are there?
Asbestos training falls into three categories:
Category A – Asbestos Awareness
Category B – Non-licensed Asbestos Training
Category C – Licensed Asbestos Training
I2Comply provides Category A training.
For more information on the different types of asbestos training, read our aticle How Many Types of Asbestos Training Are There?
What does Category A Asbestos training mean?
Category A Asbestos Training is awareness training. It is for workers who are likely to find asbestos in the course of their work but who need to avoid any work that may disturb asbestos. If workers must carry out work that will disturb asbestos, they need other training.
Example Screens from the Asbestos Awareness online course
Below this text you'll find three examples of screenshots from our online training course. Screens include text, images, and tables to display information. We've been told by previous course participants that our slides are informative and easy to learn from.
(Click on the example screens below to view)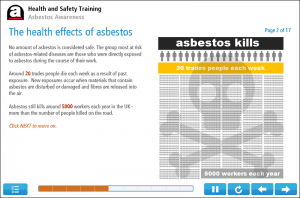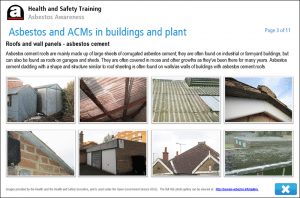 What does the Asbestos Awareness course cover?
Our asbestos awareness online course covers the following 8 topics:
1 – Asbestos types and properties
The first topic describes asbestos. You will learn about the colour, nature and name of three common types of asbestos. The topic also outlines the properties of asbestos.
2 – History of the use of asbestos in the UK
The second topic presents a short history of the use of asbestos in the UK. It identifies when asbestos harms became known and when asbestos use reached its peak. You will also learn about when the government banned different asbestos types.
3 – The health effects of asbestos
The third topic describes how asbestos affects health. It outlines the main cause of asbestos diseases and why there are increasing numbers of asbestos deaths. The topic explains why it can take decades for symptoms to appear. You will learn about the main diseases and about who is most at risk. The topic also covers the increase in risk due to smoking and secondary asbestos exposure.
4 – Asbestos and ACMs in buildings and plant
The fourth topic is all about asbestos-containing material (ACM). It identifies the difference between asbestos and ACMs. The topic describes the uses of ACMs in buildings and equipment. You will also learn about when ACMs were used, what is meant by friability and when various ACMs will release fibres.
5 – Important asbestos-related legislation
Topic five outlines the main laws that protect people in the workplace. The topic also describes specific asbestos-related law.
6 – Asbestos surveys and registers
Topic six is about asbestos surveys and registers. It outlines the purpose of surveys and identifies two types of survey. You will also learn about what a survey should include and where to record the information gathered in a survey.
7 – Dealing with an emergency
Topic seven is about emergencies. It defines what constitutes an asbestos emergency and how you can recognise it when it happens. You will learn about the general procedure to follow if you discover or damage a suspected ACM. You will also learn about what an organisation should do if there is a release of asbestos in the workplace.
8 – Avoiding the risks posed by asbestos
The last topic identifies what you can do to avoid the risks posed by asbestos.
Asbestos Awareness online course assessment
Once you have completed the eight asbestos awareness topics, you will be allowed to sit the assessment. The course generates an assessment from question banks so that the questions change each time a candidate takes the assessment. This makes the training suitable for initial and refresher training.
There isn't a limit on the number of attempts you can have to pass the assessment. In addition, the training course gives feedback so you can learn from any errors. Because we give feedback on your assessment answers, you will feel more confident if you have to give the assessment a second go.
What are the benefits of completing asbestos training online?
This course benefits anyone in the workplace, even if you do not directly work with asbestos-containing materials. If your role involves some understanding of building fabrics of a working environment, the course will help you know how to avoid risks. If you're looking to improve your company's understanding of risks, we offer a full range of fantastic Health & Safety Courses.
Asbestos Awareness online course reviews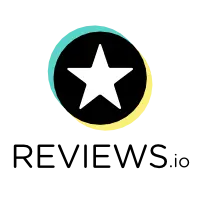 Our online asbestos awareness course has an average rating of 4.6 out of 5 stars. If you'd like to read the reviews previous course participants have posted, you can find them by clicking on the stars under the page heading.
Our feedback is extremely positive, with customers saying our course is "Clear and concise, the best asbestos awareness tutorial I have done so far!" and "A very useful and informative course, tasks were laid out in an easy-to-understand manner."
Why use i2Comply for online asbestos awareness training?
There's a reason i2Comply is one of the most popular online training providers in the UK. All our courses are engaging, interactive and easy to follow. You receive all the information and study resources you need to be successful in the assessment.
Once a course licence is purchased from us, you won't receive an expiry date. The licence will remain in your account until you or your staff member is ready to start studying.
All our resources are accessible online and totally digital. This means that our course can be studied and completed at any location that has an internet connection. Study at a time suitable to you.
Start the course today
Looking to start the online course today? Make the first move by adding the course to your basket via the Add to basket button at the top or bottom of the page. You can buy your course at any time and complete it later.
Frequently Asked Questions
Any questions?
If you are new to e-learning courses, you may still be unsure about signing up. If you have any questions or concerns, get in contact with a member of our dedicated team today. We'll be happy to answer any questions regarding our asbestos awareness course.
If you're new to the i2Comply website, you might be unaware that we have answered a lot of FAQs in our help and knowledge section. You'll find answers to questions regarding licences, certificates, course details and account settings in here.
DISCOUNTS
Discounts Available For Bulk Purchases
No. of licences
per course
% saving
1 - 9
-
10 - 19
10%
20 - 49
20%
50 - 99
25%
100 - 149
30%
150 - 999
35%