The latest 2021/22 figures from the HSE show working at height is the leading cause of workplace fatal injuries in Great Britain, with 29 workers losing their lives. Falls from height also accounted for 8% of the 51,211 employee-reported non-fatal injuries.
The most common causes of falls from height are using ladders incorrectly and falling through a fragile surface. As a leading provider of online construction courses, we help users understand aspects like working at height. In this article we'll review the topic and go through what anyone working at height needs to know.
What is working at height?
Working at height has a specific meaning in relation to health and safety at work. Here is a definition:
"Work in any place where, if there were no precautions in place, a person could fall a distance liable to cause personal injury."
A fall from height is different to a slip or trip. The HSE states:
"a fall from height has to involve a fall from one level to a lower level."
Working at height is therefore not just places above ground. It can be at or below ground level, if there is a risk of injury through a fall.
However, work at height does not include walking up and down a permanent staircase in a building.
Common Working at Height Hazards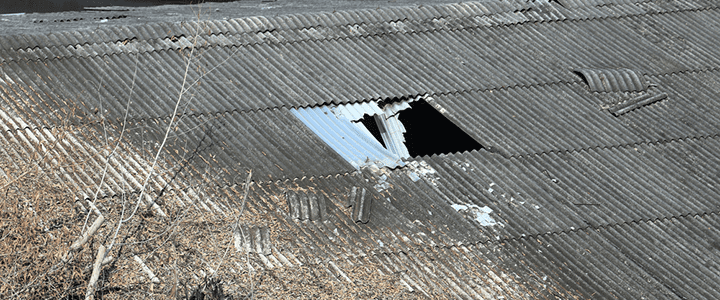 1. Weather
Changes in weather can create hazards. For example, rain can make surfaces slippery; strong or gusting wind can catch materials and make you lose your balance; hot or cold weather can increase discomfort and lead to fatigue.
2. Power lines
Contact with overhead power lines can be fatal and causes many injuries every year.
Injuries also occur when a person or object gets too close to a line and a flashover occurs.
The person controlling the work should check that the area you will work in is safe. However, you should not assume that everything is in order. Whether you are operating a Mobile Elevated Work Platform, setting up scaffolding or using a ladder there could be a risk of accidental contact with overhead power lines.
3. Falling Objects
Falling objects pose a significant risk to anyone in the zone below the work where the object might land. As a consequence, you should take all reasonable precautions to prevent objects falling from height.
Even if a person is not struck by a falling object, they can react to the event by jumping into the path of a hazard.
To prevent objects from falling, consider how you will transport and store materials and tools safely. If you are wearing a hard hat, wear a chin strap to prevent it from coming off. Power tools can be attached to safety lines, so if they are dropped, they won't fall into the work area below.
4. Fragile Roofing
Working on roofs is high risk. One of the most common causes of workplace fatality and serious injury is falls from roofs, through fragile roofs or brittle and weathered roof lights.
These accidents occur in construction, during roof repair or when cleaning roofs.
Roof work is high risk but accidents are preventable. The things to look out for are:
Roof lights
Liner panels on built-up sheeted roofs
Non-reinforced fibre cement sheets
Corroded metal sheets
Glass (including wired glass)
Rotted chipboard
Slates and tiles
5. Using ladders incorrectly
Another common cause of workplace injury is falls from ladders. Ladders are high-risk access equipment, but ladders can be a sensible and practical option for low-risk short duration tasks of no more than around 30 minutes.
The Provision and Use of Work Equipment Regulations 1998 place a duty on employers, the self-employed and contractors to carry out inspections of work equipment. Ladder pre-use checks are important to ensure they are safe to use. Using a ladder that is poorly maintained, damaged, wet, or dirty could result in a fatal fall.
To make sure the ladder angle is at the best position to work from, you should use the 1-in-4 rule. The ladder should be one unit of measurement out for every four units up i.e. a 75° angle.
You are more at risk of falling when you carry items up and down a ladder. You should always keep at least three points of contact with the ladder and make sure the ladder is in the best position for you to avoid overreaching.
Working at height control measures
Work at Height Regulations 2005 Regulation 6 specifies the control measures that you should take to avoid or minimise the risks that come with working at height. These control measures are known as the hierarchy of control.
When planning any activities which may involve working at height, you should consider the following:
AVOID the need to work at height
PREVENT a fall from occurring
MINIMISE the consequences of a fall
HSE have a step-by-step guide
To help you control the risks when working at height, follow this simple step-by-step guide.
Working at height regulations UK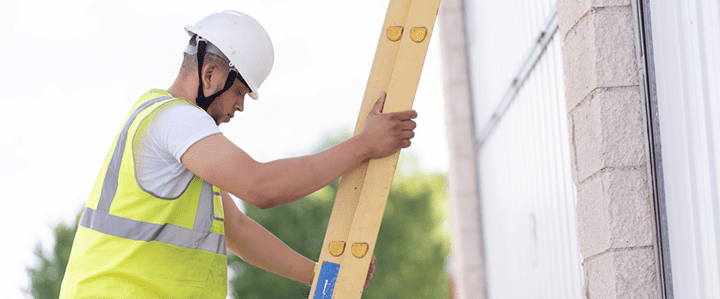 Work at Height Regulations 2005 place additional duties and responsibilities on employers, the self-employed and anyone else controlling work at height – such as factory owners, maintenance managers and contractors.
Employers and those in control of work at height must assess the risks involved before any work at height is carried out. They must make sure work is properly planned, supervised and carried out by people that have the skills, knowledge and experience to perform the task correctly and safely. A person who is being trained must work under the supervision of somebody who is competent.
Regulation 12 stipulates that the employer must ensure that all work at height equipment should be inspected regularly by a competent person.
The Work at Height Regulations also require duty holders to put a plan in place that explains how a person or people can be rescued if access equipment is stuck, or a person has fallen and their fall-arrest equipment has been deployed.
Depending on the type of work, your employer or the person controlling the work, might have to compile with other regulations.
Here are some examples:
Workplace (Health, Safety and Welfare) Regulations 1992
Management of Health and Safety at Work Regulations 1999
Personal Protective Equipment Regulations 1992
Provision and Use of Work Equipment Regulations 1998 (PUWER)
Lifting Operations and Lifting Equipment Regulations 1998 (LOLER)
Need a Working At Height training course?
We offer the following RoSPA-assured and CPD-certified online courses:
Working at Height Training Course
Ladder Safety Training Course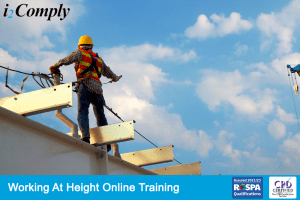 Need additional information on our online course?
If you have a question or require more information on any of our online training courses. Please contact us on 0333 577 5016 or [email protected] and we will be happy to help.