DISCOUNTS
Discounts Available For Bulk Purchases
No. of licences
per course
% saving
1 - 9
-
10 - 19
10%
20 - 49
20%
50 - 99
25%
100 - 149
30%
150 - 999
35%
For 200+ licences, please email us at sales@i2comply.com or call us on 0333 577 5016.
Ladder Safety Awareness Course
Assured by RoSPA Qualifications
Certified by CPD
Audio voiceover
Approximate duration of 1 Hour
Downloadable certificate on completion
This Ladder Safety Awareness online training course provides learners with an understanding of the simple, sensible precautions you should take to keep safe when you use ladders and stepladders in the workplace.
Employers are required by law to take reasonable steps to safeguard the health and safety of all employees. This includes raising awareness about the risks related to working at height.
This Ladder Safety online training only provides awareness education and does not qualify someone to use access equipment or safety equipment. Additional practical training will be required before a person is competent to work at height.
Who is Ladder Safety Awareness training for?
All employers need to comply with the risk assessment requirements set out in the Management of Health and Safety at Work Regulations 1999. Employers need to carry out a risk assessment on working at height tasks as specified in the Work at Height Regulations 2005.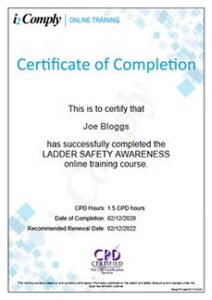 When do I get my Ladder Safety Awareness certificate?
When you have successfully passed the online course you will be able to download and print your certificate straight away.
All of our courses comply to the Continuing Professional Development (CPD) guidelines and are certified by the CPD Certification Service.
This Ladder Safety Awareness course is also assured by the Royal Society for the Prevention of Accidents through their RoSPA Qualifications Assurance System, as providing up-to-date, quality and content-approved training.
Your certificate will include both logos, therefore you can use it to provide evidence for compliance.

Example Screens from the Ladder Safety Awareness course
(Click on the example screens below to view)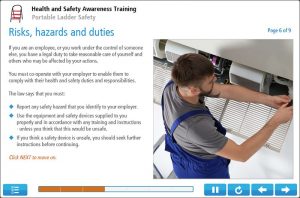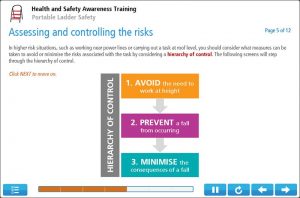 What does the Ladder Safety Awareness course cover?
The online course contains the following 5 topics:
1 – Portable ladders and steps
The first topic describes the common types of portable ladders and steps. It identifies advantages and disadvantages of these ladders. The topic also covers the different materials that ladders are made from and when to use the different types.
2 – Assessing and controlling the risks
The second topic is about ladder work and risk assessments. You will learn about when a risk assessment is needed and the factors to include in a risk assessment. The topic also covers hierarchy of control, collective protection and personal protection. It identifies control measures to reduce risks and also explains the use of three-point holds.
3 – Risks, hazards and duties
The third topic defines the term 'working at height' and explains UK legislation about working at height. It identifies the responsibilities of employers and employees and also describes common hazards when working on a ladder.
4 – Falling objects
Topic 4 identifies measures that you can take to reduce the risk of falling objects and also explains why drop zones are needed.
5 – Ladder pre-use checks
The final topic is about ladder pre-use checks. You will learn about ladder standards and labelling. You will learn important things to consider before you use a ladder. The topic covers when you should check a ladder and pre-checks for both leaning ladders and step ladders. The topic also outlines HSE guidance on ladder use.
Assessment
Once you have completed the five topics, you will be allowed to take the assessment. The course generates an assessment from question banks so that the questions change each time a candidate takes the assessment. This makes the training suitable for initial and refresher training.
There is no limit on the number of attempts at the assessment. In addition, the training course gives useful feedback so candidates can learn from incorrect responses.
DISCOUNTS
Discounts Available For Bulk Purchases
No. of licences
per course
% saving
1 - 9
-
10 - 19
10%
20 - 49
20%
50 - 99
25%
100 - 149
30%
150 - 999
35%
For 200+ licences, please email us at sales@i2comply.com or call us on 0333 577 5016.