According to the Cyber Security Breaches Survey 2022, 48% of small and 72% of large businesses in the UK identified a cyber attack in the last 12 months. Larger businesses are more likely to identify breaches or attacks than smaller ones. However, small businesses are more vulnerable to cyber attacks compared to large organisations.
So, why exactly are small businesses at higher risk of cyber security breaches? We have listed a few reasons as to why small businesses are more vulnerable to these threats and tips on how you could improve cyber security in your workplace.
What is Cyber Security?
In short, cyber security is the application of technologies, processes and controls to protect computers and networks from cyber attacks. It aims to reduce the risk of these attacks and protect against the unauthorised exploitation of computer systems.
Need a Cyber Security Training course?
Our CPD-certified online Cyber Security training course will help you to understand the potential impact of common cyber threats. The course outlines safe behaviour on the Internet and also identifies what steps you can take to protect yourself and your organisation from cyber attacks.
2 in 5 businesses have experienced cyber security breaches or attacks in the last 12 months? Therefore, investing in employees' training is crucial to keeping your employees and business safe from cyber threats.
Why are small businesses at higher risk of cyber attacks?
1. Lack of funds
Larger businesses spend thousands every year to protect themselves against cyber attacks. They usually have dedicated teams and well-developed detection and response systems to combat cyber security threats. On the other hand, small businesses usually do not have sufficient budgets to prioritise cyber security. They often focus their budget on immediate business operations. So, small businesses tend not to spend money on resources, staff training or consultants. Lastly, they use less complex technologies and do not implement effective cyber security measures.
Cyber criminals are aware that small businesses might not have the resources to spend on expertise and technical capability as would larger organisations. Therefore, this is what makes small businesses particularly vulnerable.
2. Attitude towards cyber security
Cyber Security Breaches Survey 2022 outlines that small businesses feel that a probability of them experiencing a potentially devastating impact of a cyber-attack is low. They believe that considering the scale and size of a business, they would not be a victim of a cyber security breach. So, small business owners often do not see the need to invest the time or money in cyber security measures.
However, cyber-attacks affect small business the most. They risk damaging their reputation and losing their business entirely due to their small size. This is why it is essential for small organisations to take the necessary measures to protect their business against cyber security threats.
3. Lack of training
Small businesses often neglect to train their employees in cyber security. This often increases the risk of cyber security breaches as human error is the leading cause for vulnerabilities and data breaches in small organisations. The Cyber Security Breaches Survey 2022 reveals that only 26% of small firms have had training or awareness raising sessions on cyber security in the last 12 months.
On the contrary, 61% of large firms have provided cyber security training to their employees. Staff who do not take cyber security training, do not recognise cyber security attacks or know what to look for to identify suspicious cyber activity. As a result, they can easily fall for social engineering scams and malware, or share passwords, sensitive data or other company and customer information.
Top tips on how to improve cyber security?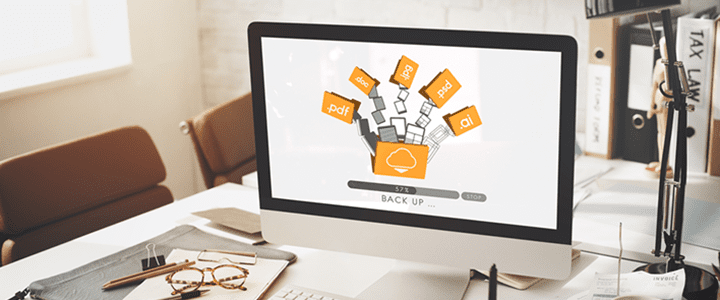 1. Backup data regularly
Backing up data is critical to any business. Data can often be compromised, deleted or stolen during cyber-attacks. So, saving data in more than one location, such as cloud storage or an external drive helps to mitigate the risks and allows business to keep going after a cyber security breach. Also, by having business data backed up and being able to recover it quickly, you would lower the possible damage to your business of a ransomware attack.
2. Use strong passwords
Protect your business devices using strong passwords and two-factor authentication for important accounts. It is an essential measure to fight against cyber threats. Using strong passwords lower the chances that a cyber-attack will be successful. The National Cyber Security Centre (NCSC) advises home users to create passwords using three random words. For example, you just put them together, like tealorrydragon or dresshouselizard.
3. Update software regularly
Keep your devices and software up-to-date. Cyber criminals can take advantage of security weaknesses in older versions of software. Update your software, such as antivirus programs, anti-malware and firewalls as soon as they become available. Also, set operating systems, programmes and apps to install automatic updates. If devices are outdated and no longer support newest updates, consider replacing it. This process is known as patching, and it is an essential step to protect your business against cyber security breaches.
4. Conduct regular risk assessments
Risk assessments help to prepare for a cyber security breach and identify business security weaknesses. Businesses can perform a risk assessment to determine what threats exist and also what measures you could take to strengthen business' cyber security.
5. Create a cyber security policy
Develop a cyber security policy that determines the actions that should be taken to protect a business from cyber attacks. It may include recording regular backups, password policy and access controls. Also, it should provide guidance and instruct employees of what they should do and who should they report to if they suspect a cyber-attack. Finally, it is very important to take required measures as soon as possible if you suspect a successful cyber-attack has occurred.
A cyber security policy can prepare your employees for an attack, help to minimise the damage of an attack and stop it quickly. These policies are in place to protect business data and intellectual property.
6. Train employees
Cyber security strategy would not be complete without employees' attitude to prioritise digital security. So, it is essential to promote cyber security culture among your employees and ensure that they are aware of current security practices to work safely online.
Train employees to:
Understand how human behaviour creates risks to cyber security.
Understand the potential impact of common cyber threats.
Recognise social engineering attacks such as phishing and how they can protect themselves from phishing attacks.
Learn how they can protect business against malware attacks.
Improve their passwords and also, to understand how to create a non-predictable password.
Need regulatory compliance training?
I2Comply supplies multiple CPD certified online regulatory compliance training courses for all types of workplaces.
View our most popular courses below:
1 – Cyber Security Online Training
2 – Data Protection and the GDPR Online Training
3 – Anti-Money Laundering Online Training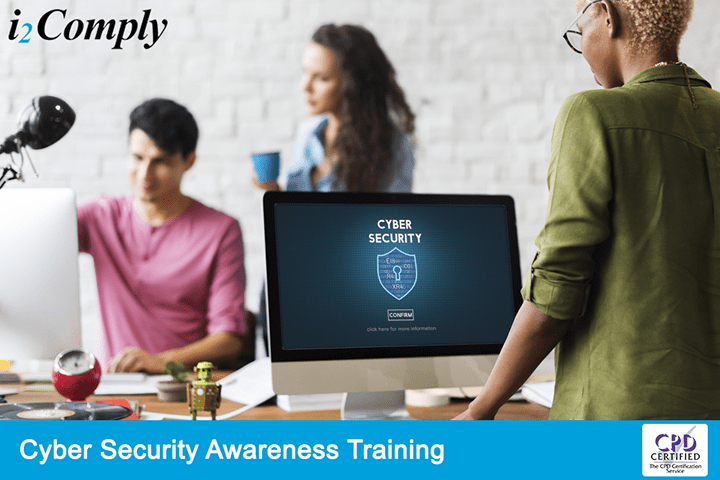 Need some advice?
Get in touch if you have a question and one of our team will be happy to help. You can get in contact at 0333 577 5016 or [email protected]. We are always here to help and answer any questions.