DISCOUNTS
Discounts Available For Bulk Purchases
No. of licences
per course
% saving
1 - 9
-
10 - 19
10%
20 - 49
20%
50 - 99
25%
100 - 149
30%
150 - 999
35%
Anti-Money Laundering Training Course
Approved by IIRSM
Certified by CPD
Audio voiceover
Approximate course duration 2-3 Hours
Downloadable certificate on completion
100% online training
No time limits
This Anti-Money Laundering training course explains the UK laws that were implemented to prevent money laundering.
By law, businesses in the regulated sector must put controls in place to prevent financial crime, money laundering and terrorist financing. The regulated sector includes banks, accountants, estate agents, law firms and casinos.
The UK is the second largest money-laundering hotspot in the world. Around £88 billion is laundered through UK organisations every year. This money funds terrorist activities and damages the UK economy, which affects all of us.
With our online anti-money laundering course, you can give yourself or your staff an understanding of how money laundering works and how to prevent it from happening in your company or organisation.
The approximate duration of this online training course is 2 to 3 hours. This is only an estimate based on previous course participants – you can take as long as you like to study the course slides.
What is Money Laundering?
Money laundering is the crime of processing dirty money (obtained through crime) through a legitimate business, or moving it into foreign bank accounts, to hide the fact that the money was illegally obtained. The 'cleaned' money can then be spent as if it was obtained from legal sources.
Money laundering is usually used to fund criminal/illegal operations. Money laundering can be linked to many activities such as fraud, drug trafficking, tax violations and embezzlement.
Read our article The 3 Stages of Money Laundering that explains money laundering process in more detail.
The importance of Anti-Money Laundering training
Money laundering costs the UK billions of pounds a year. Criminals, organised gangs, and terrorists use it to move funds and pay for assets.
No one wants money laundering happening in their business. There is a risk of loss of revenue and a loss of reputation.
This online Anti-Money Laundering (AML) and Counter-Terrorism Financing course makes employees aware of illegal practices and helps them to identify AML risks. It explains the relevant UK laws, and explains the controls that must be put in place to prevent money laundering and terrorist financing.
Who is Anti-Money Laundering training for?
Anyone will benefit from being educated on money laundering practices. The course is very popular with individuals in job roles that require them to handle and manage cash or finances. This applies whether the organisation is in the regulated sector or outside it.
What are the learning outcomes for the Anti-Money Laundering course?
At the end of the online Anti-Money Laundering course, you will be able to describe:
The terms money laundering and terrorist financing
Global efforts to tackle financial crime
The money laundering process
Key laws that address money laundering and terrorist financing
The role of the regulators
Who is responsible for compliance in a regulated firm
Compliance measures that the responsible person must take
What is meant by a risk-based approach to compliance
The role of risk assessment
Customer Due Diligence
Know Your Customer
Enhanced Customer Due Diligence
The essentials of a compliance programme
When do I get my Anti-Money Laundering certificate?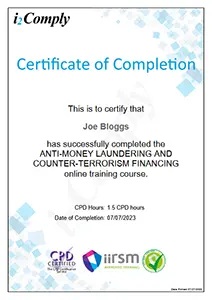 After completing i2Comply's online Anti-Money Laundering course, your certificate is available to view, save and print immediately.
All of our courses conform to the CPD guidelines and have been accredited by the CPD Certification Service. Therefore, your certificate will include the CPD logo and you can use it to provide evidence for compliance.
Our Anti-Money Laundering course has also met the standard of the International Institute of Risk and Safety Management Training Approval Scheme.
Your course certificate will include the IIRSM Approved Training logo and the CPD logo. So you are able to use your certificate as evidence for compliance.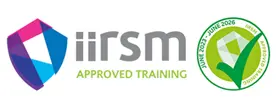 How long is the Anti-Money Laundering certification valid?
Our Anti-Money Laundering course certificate doesn't include an expiry date. Although your certificate won't expire, we recommend refreshing your knowledge every two years. The suggested date of renewal/refresher training is on your certificate.
Example Screens from Anti-Money Laundering course
Below are examples of what to expect from our online Anti-Money Laundering training. With years of experience providing training to businesses all over the UK, we've learnt how to keep slides straightforward and accessible.
(Click on the example screens below to view)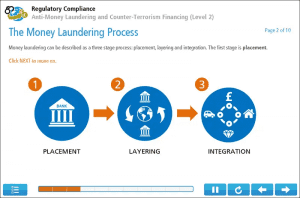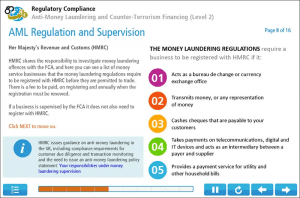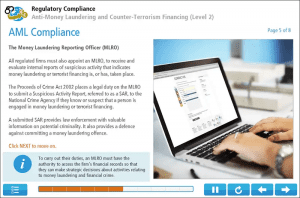 What does the Anti-Money Laundering course cover?
The online course contains the following nine topics:
1 – Background
The first topic defines the terms money laundering and terrorist financing. It also explores the consequences and the nature of these crimes. Finally, the topic outlines the role of the Financial Action Task Force.
2 – The Money Laundering Process
In the second topic you will learn about the three stages of money laundering.
3 – Legislation
The third topic outlines relevant UK laws and also describes the offences and penalties under the POCA.
4 – Regulations
Topic 4 identifies the main supervisory authorities in the UK and describes the work they do. It also explains the regulation of high value dealers and outlines the UK sanctions regime.
5 – Compliance
In topic 5 you will learn about the duties of the Money Laundering Compliance Principal and the Money Laundering Reporting Officer. The topic goes on to identify the importance of employee screening and internal audits. The topic also outlines the training and skills needed by employees, the MLCP and the MLRO.
6 – Risk-based Approach
Topic 6 defines the risk-based approach to compliance and outlines the purpose of an AML risk assessment. The topic also provides examples of risk factors in key regulated sectors and explains how to calculate a risk score. You will also learn about when and how to document risk assessments.
7 – Customer Due Diligence
Topic 7 explains the terms Customer Due Diligence and Know Your Customer. Next, it explains what you must do to establish a customer's identity and how to identify beneficial owners. You will also learn about due diligence checks for regulated and unregulated bodies and the duty to cooperate placed on customers.
8 – Enhanced due diligence
Topic 8 explains enhanced due diligence. Then the topic covers how to verify ID when a customer is not physically present and the concept of the Politically Exposed Person (PEP). Finally the topic describes enhanced due diligence checks for high risk countries and money service businesses.
9 – AML Compliance Programme
The final topic summarises money laundering requirements for UK businesses. The topic also focusses on the role of the MLCP and MLRO and AML risk assessments.
Anti-Money Laundering online course assessment
The assessment will contain 20 questions which the course will select from question banks. The questions change each time a candidate takes the assessment, so the course is suitable for initial and refresher training.
You can take as many attempts at the assessment as you need to pass. Knowing this helps participants relax and gain a better score without added pressure.
Anti-Money Laundering online course reviews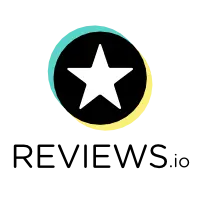 If you've read the anti-money laundering course details and still are unsure if the training suits you or your workplace, we'd suggest looking over our reviews section. This can be found by clicking the star icons under the page's title.
We provide a 5-star service to our customers.
The three stages of money laundering
Money laundering can be broken down and examined in 3 stages: placement, layering and integration. You can learn all about it in a useful blog we have provided. View the anti-money laundering blog here.
At i2Comply, we regularly post informative and educational blog posts in our knowledge centre. Keep an eye out for new articles.
Other online Regulatory Compliance courses
Are you looking for other regulatory compliance courses like our online Anti-Money Laundering training? i2Comply offer a range of courses from Equality & Diversity to GDPR.
Find a list below of all of our Regulatory Compliance courses. You can view additional information on each course by clicking the titles listed below.
Our range of online training courses is much more than just Regulatory Compliance. For example, we also offer courses on fire safety, health and safety, food hygiene and health & social care.
Book Anti-Money Laundering training today
Booking our Anti-Money Laundering course is simple and takes only a few clicks. Start by adding the course to your basket from the top right-hand side of the page before payment.
There is no set time in which you need to complete the course after purchase. You can buy the course now and start studying whenever you like. This means you can take advantage of our bulk buying option for your staff to complete later.
Questions about our Anti-Money Laundering course?
Have a few questions to get out of the way before you commit to buying our course licences? We totally understand, and we're here to help. Contact a team member who will be happy to answer any of your questions regarding the online course.
If you aren't aware, we have already answered some of the questions we've been asked in our help & knowledge base. Have a look to see if this section has previously answered your question. We've responded to questions on things like account settings, licences, certificates and payment.
DISCOUNTS
Discounts Available For Bulk Purchases
No. of licences
per course
% saving
1 - 9
-
10 - 19
10%
20 - 49
20%
50 - 99
25%
100 - 149
30%
150 - 999
35%