DISCOUNTS
Discounts Available For Bulk Purchases
No. of licences
per course
% saving
1 - 9
-
10 - 19
10%
20 - 49
20%
50 - 99
25%
100 - 149
30%
150 - 999
35%
For 200+ licences, please email us at sales@i2comply.com or call us on 0333 577 5016.
Fire Safety Awareness Course
Assured by RoSPA Qualifications
Certified by CPD
Audio voiceover
Approximate duration of 1 hour
Downloadable certificate on completion
100% online training
This Fire Safety Awareness course explains the conditions which promote fire. It also explains how to prevent fires from starting and what to do should a fire break out.
Training people in fire safety, makes them understand the importance of following fire safety measures and they are less likely to panic in an emergency. They are aware of how they need to act if a fire breaks out, so they can safely and quickly evacuate the premises.
The course ensures learners are compliant with the Regulatory Reform (Fire Safety) Order 2005, the Fire Safety (Scotland) Regulations 2006 and the Fire Safety Regulations (Northern Ireland) 2010.
The course takes about 1 hour to complete.
It is a legal requirement for every employee of every business in the UK to complete adequate fire safety awareness training. This should be taken when they are first employed and again whenever there are new or increased risks.
Other online Fire Safety Courses
The Importance of Fire Safety Awareness Training
Fires are extremely dangerous; every year there are thousands of workplace fires where people lose their life or get seriously injured. So staff in the workplace need to be able to react quickly and properly if a fire breaks out. Fire safety training helps to avoid the possibility of injury and death, as well as the loss of property.
People can make mistakes due to ignorance when it comes to fighting fires or escaping a dangerous situation. That's why fire safety knowledge can help staff to keep calm when a fire alarm sounds. If all employees are confident about what to do and where to go in the event of a fire, people will be safer. Fire safety awareness training can literally save lives.
Who is Fire Safety Awareness training for?
The law requires all employees to receive adequate fire safety training. Our training course is an effective way to train employees in any type of business, including office environments, schools, nurseries, GP practices and dental surgeries.
What are the learning outcomes for the Fire Safety course?
At the end of the course you will be able to describe:
You and your employer's key responsibilities
The essential components of a fire
How fires spread
The actions to take if you discover a fire and on hearing a fire alarm
What you can do to minimise injury from smoke or burning clothing
Good practice that will reduce fire hazards and help prevent fires
When do I get my Fire Safety certificate?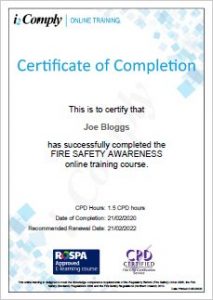 Your certificate will be available as soon as the training course has been passed. Once you return to the training system, click on the VIEW CERTIFICATE button to download or print your Fire Safety Awareness certificate.
RoSPA Qualifications have given this online course their stamp of assurance which provides reassurance to you that our training courses are of a high standard.
The Fire Safety course is also accredited by the CPD Certification Service, as it conforms to the Continuing Professional Development (CPD) guidelines.

Can this training course act as evidence for SSIP accreditations like CHAS, SafeContractor and ConstructionLine?
Providing evidence of industry-related training is important for all SSIP accreditations. Our training course certificates can be used as evidence that you have receive appropriate health and safety training. Please note as every company has different training requirements, it will be up to each individual accreditation body to decide if our online courses are sufficient for your needs.
Why choose i2Comply?
Our online Fire Safety Awareness course is engaging, interactive and self-paced, with professional audio narration accompanying the text and illustrations.
Our online training system only allocates a Fire Safety licence to a learner when they actually launch a training course, not when you create their training account. This means your licences remain in your account until you need them.
The Benefits of Online Training
Online training is available at any time and anywhere. The interactive content and assessment, maximises retention of course material. The same content is also delivered to everyone, which makes the training consistent and reliable. Everyone learns at different rates, online training allows your employees to learn at their own pace – so everyone gets as much as possible out of the training.
Online training can be very cost-effective as it helps you to reduce training centre and travel costs. When you need to train large numbers of employees, discounted prices will save you even more money.
Example Screens from the Fire Safety Awareness course
(Click on the example screens below to view)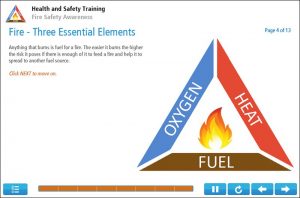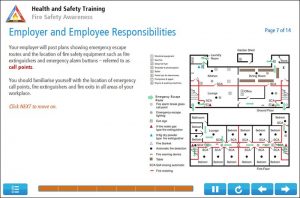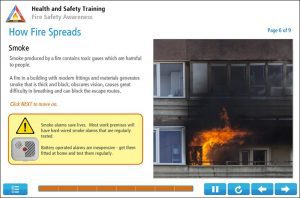 What does the Fire Safety Awareness course cover?
The course contains the following 6 topics:
1 – Employer and Employee Responsibilities
The first topic is about employer and employee responsibilities. It outlines the purpose of the fire safety regulations and the fire safety risk assessment. The topic identifies what is meant by the term responsible person. It also identifies what an employer must do, and what employees must do, with regards to fire safety.
2 – The Three Essential Elements of Fire
The second topic identifies the three essential elements of fire and it also describes what happens when you remove any one of these elements.
3 – How Fire Spreads
The third topic describes four ways that fire can spread. You will learn about why smoke is such a serious threat. The topic also identifies practices that increase the risk of fire and smoke spreading throughout a building.
4 – Raising and Responding to a Fire Alarm
Topic 4 is about raising and responding to a fire alarm. You will learn about the actions to take if you discover a fire. You will also learn when you should attempt to extinguish a fire. The topic covers three things you must NOT do if you hear the fire alarm sound.
5 – Minimising Injury
Topic 5 describes what you can do to minimise injury from fire. It identifies three ways to defend against smoke inhalation. You will also learn about the STOP, DROP and ROLL technique to use if your clothing catches fire.
6 – Fire Prevention and Best Practice
The final topic explores the difference between fire prevention and fire protection. It also presents examples of prevention and protection measures.
Assessment
The course assessment will consist of 15 questions generated from question banks. Each time the assessment is taken, the questions change and the answers are randomised. This makes the Fire Safety Awareness course suitable for initial and refresher training.
You can also learn from your own mistakes, as the course provides useful feedback for incorrect responses.
DISCOUNTS
Discounts Available For Bulk Purchases
No. of licences
per course
% saving
1 - 9
-
10 - 19
10%
20 - 49
20%
50 - 99
25%
100 - 149
30%
150 - 999
35%
For 200+ licences, please email us at sales@i2comply.com or call us on 0333 577 5016.