Did you know in 2021/22 10,000 workplace fires occured in England and 1,847 in Scotland? Most of these fires were due to the misuse of appliances and equipment.
If you are an employer or you own premises, you have a legal duty to make sure that your workplace or premises and the people who work there are kept safe from fire. That doesn't mean having to take complicated training. As a leading supplier of online fire safety courses, we know how to help businesses adjust to improved fire safety.
The following guide identifies some of the things you will need to consider when thinking about fire safety in the workplace.
This article will help you identifies some of the things you will need to consider when thinking about fire safety in the workplace, especially if this if your first time needing to do so.
Identify Hazards & Risks
First, you'll need to complete a fire risk assessment of your work premises, which must be frequently reviewed. The risk assessment will identify the potential fire hazards and the people who are at risk. You will then be able to evaluate your findings and work towards removing or reducing these risks. The ultimate goal is to prevent fire and keep people safe.
For more information on fire risk assessments, please read our article Who is responsible for completing a fire risk assessment?
Create an Evacuation Plan
After identifying potential fire hazards, you will need to create a fire emergency evacuation plan (FEEP). An evacuation plan aims to get everyone out of the building and away from possible danger, quickly and safely.
A fire evacuation plan is a written document. It should include the actions to be taken by staff, visitors or customers in an emergency. The plan's contents will depend on the fire risks and size of your premises.
Typically you should consider:
Evacuation strategy
Action on discovering a fire
Action on hearing the fire alarm
Who calls the emergency services
Identification of key escape routes
Fire wardens/marshals
Places of assembly and roll call
Fire fighting equipment
Staff Training
Nominated person to meet the emergency services
Once a plan is in place, clear and concise instructions of the routine to be followed should be prominently displayed around the building and your employees should be informed.
Fire escape plans could include schematic drawings and should clearly show marked routes to all exit doors. These routes should be as short and direct as possible. The plan might also show the location of fire extinguishers and fire alarm call points.
Finally, the plan will need to include assembly points outside the building. These are places where people should meet outside of the building after evacuating. This will allow fire marshals to do a head count and make sure that everyone makes it out of the building safely. If you don't a designated fire marshal yet, get someone in the business to take our speedy 2-hour fire marshal training course.
You may need to make special arrangements for people with mobility needs, for example to help wheelchair users navigate the stairs.
Practice Drills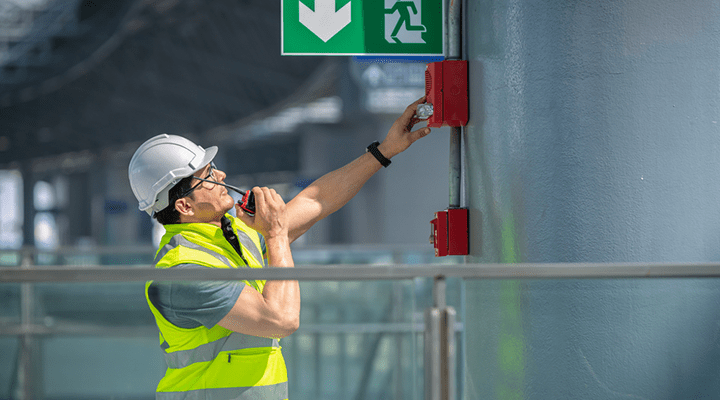 It's not enough to simply create an evacuation plan. You need to rehearse it as well. Conduct fire training drills for employees and do them on a regular basis.
You should conduct at least one fire drill annually and record the results. You must keep the results as part of your fire safety and evacuation plan.
It's also helpful to go over your evacuation plan regularly to ensure it stays up to date. Update your evacuation plan if you make any relevant changes to the building, like new exits or fire extinguishers.
Fire safety signs
You must ensure fire safety signs are displayed around the building and in the correct places. Make sure fire exit signs are in locations that make them easy to see during a fire. Ensure there are signs next to all fire call points and that the correct signs are next to fire extinguishers.
Signs need to be big enough so that people can see them from far away. Always illuminate your signs so that they're visible even if the power goes out. Also, make sure to include emergency lighting to help people find their way out of the building.
Fire detection and warning systems
Fire detectors, smoke alarms and fire alarm systems provide employees and customers time to leave the premises calmly and safely. However, automatic fire detectors do not remove the need to provide people with a manual way to raise the alarm.
You need to test your fire detectors, call points and alarm system often to make sure that it all functions properly. Any servicing and necessary repairs must be recorded to demonstrate compliance with the law.
Fire fighting equipment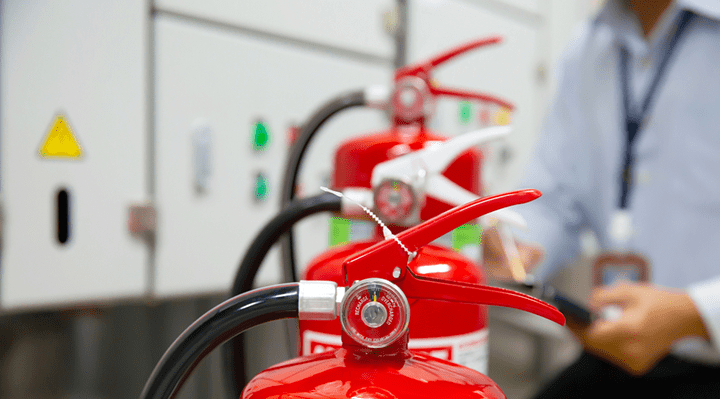 The type and amount of equipment you need will depend on your business premises.
Fire extinguishers should be placed by emergency exits or fire alarm call points. Fire extinguishers or equipment designed for special purposes must always be within reach of the specific hazard. For example, place a wet chemical extinguisher or a fire blanket close to a kitchen with cooking facilities. We highly recommend reading our advice on the different types of fire extinguishers you need in the workplace.
Staff can use fire extinguishers to extinguish small fires before they become more dangerous. However, your employees and others in the building should only use extinguishers if they are trained and when it's safe to do so. If this is something you lack or need help with, get a member of staff to take our fire extinguisher awareness course.
Maintenance and testing
Any fire fighting equipment must be properly installed, tested, and maintained.
You must carry out regular checks to make sure that:
fire alarm systems are working
all fire detectors are working
the emergency lighting is working
all fire call points are working
automatic fire doors close correctly
fire extinguishers are in working order
you record any faults in systems and equipment
Employee Training
Employee training plays a huge role in any fire safety plan and helps stop fires from ever starting. Train your employees on fire safety practices and evacuation plans so that everyone in the building understands exactly what to do during a fire.
Routine fire awareness training helps keep employees updated about fire safety methods and alerts them to any changes. When employees stay informed about fire safety, they remain calmer during a potential emergency.
Complying with the law
Your local fire and rescue authority is usually enforce fire safety legalisation. They can visit your premises to check that the fire risk assessment and fire prevention measures are appropriate.
The authority can act if they think your fire safety measures are inadequate. They can issue:
An informal notice – suggesting safety measures.
A formal fire safety notice – specifying the problem(s) and the required remedy.
If you ignore fire safety regulations, you could be fined or go to prison. Minor penalties can be up to £5,000. Major penalties can be unlimited fines and up to 2 years in prison.
Interested in Fire safety training?
We offer the following RoSPA-assured and CPD-certified online Fire Safety training courses:
If you have any questions about our training, or about our discounts, please get in touch at [email protected] or give us a call at 0333 577 5016. Our sales and support team will be more than happy to help.