DISCOUNTS
Discounts Available For Bulk Purchases
No. of licences
per course
% saving
1 - 9
-
10 - 19
10%
20 - 49
20%
50 - 99
25%
100 - 149
30%
150 - 999
35%
For 200+ licences, please email us at sales@i2comply.com or call us on 0333 577 5016.
Fire Marshal / Warden Training Course
Assured by RoSPA Qualifications
Certified by CPD
Audio voiceover
Approximate course duration 1-2 hours
Downloadable certificate on completion
This Fire Marshal / Warden training course is about the duties and responsibilities of a fire marshal. The course relates to the Regulatory Reform (Fire Safety) Order 2005, the Fire Safety (Scotland) Regulations 2006 and the Fire Safety Regulations (Northern Ireland) 2010.
It is a legal requirement for every employee of every business in the UK to complete fire safety awareness training. Therefore you should complete fire safety awareness training before you start this Fire Marshal course.
Other online Fire Safety courses
The responsibilities of a Fire Marshal / Warden
Fire Marshals need a good understanding of fire safety and also specific fire hazards in their workplace. There are two categories of Fire Marshal responsibilities, preventative day-to-day fire safety duties and duties required in the event of a fire. This online Fire Marshal training covers both of these categories.
Who is Fire Marshal training for?
The course is for anyone who is a Fire Marshal / Fire Warden. It is a legal requirement for every employer to nominate competent persons, usually referred to as fire marshals or fire wardens, to assist with fire evacuation. These fire marshals must be trained when appointed, and they must receive refresher training at regular intervals.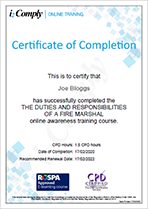 When do I get my Fire Marshal certificate?
When you have successfully passed the course you will be able to download and print your certificate straight away.
Your certificate will include the RoSPA logo and CPD Certification Service logo. Therefore you can use it to provide evidence for compliance.

Why choose i2Comply
Our online training courses are interactive, engaging and self-paced. Each topic includes questions that prepare you thoroughly for the final assessment, which can be taken as often as necessary. All courses include professional audio narration. Unallocated licences in your training account will not expire, they remain in your account you need to use them. This allows you to purchase multiple licences at discount prices.
The Benefits of Online Training
However many employees you have, online training courses deliver the same content to everyone, which makes the training consistent and reliable. The interactive content and assessment maximise retention of course material and the training is available anytime and anywhere. As people learn at different rates, well-designed online training allows employees to learn at their own pace – so everyone gets as much as possible out of the training.
Example Screens from the Fire Marshal training course
(Click on the example screens below to view)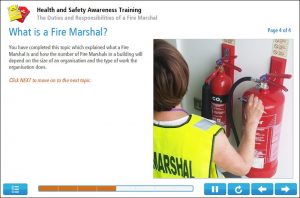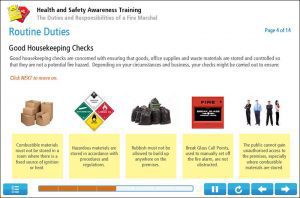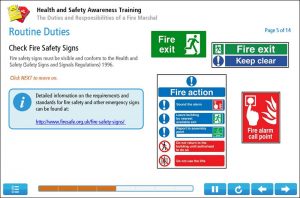 What does the Fire Marshal / Warden course cover?
This online training course contains the following 6 topics:
1 – Who is Responsible for Fire Safety
The first topic is about responsibility for fire safety. The topic also describes the legislation in place to reduce the risk of fire and the risk of harm. It identifies who is legally responsible for fire safety. It also outlines the requirements of fire safety risk assessments.
2 – What is a Fire Marshal?
The second topic defines the term fire marshal. It also outlines how the correct number of fire marshals in a building is determined, based on the size of the organisation.
3 – Routine Duties
The third topic covers the routine duties of a fire marshal. It also covers when to test emergency fire systems in the workplace.
4 – Emergency Duties and Drills
The fourth topic describes the role of a fire marshal in an emergency. It covers how the fire marshal can help other workers to evacuate safely. It also covers how to check that a building has been evacuated, and what to do once outside the building.
5 – Human Behaviour in Response to an Alarm
Topic five describes how people react when an alarm sounds. It also outlines how valuable time can be gained when people understand what they must do.
6 – Fire Causes
Topic six identifies the frequency of fires in non-domestic dwellings and also describes some of the causes of these fires.
Assessment
Once you have completed the six topics, you will be allowed to take the assessment. The course generates an assessment from question banks so that the questions change each time a candidate takes the assessment. This makes the training suitable for initial and refresher training.
There is no limit on the number of attempts at the assessment. In addition, the course gives useful feedback so candidates can learn from incorrect responses.
DISCOUNTS
Discounts Available For Bulk Purchases
No. of licences
per course
% saving
1 - 9
-
10 - 19
10%
20 - 49
20%
50 - 99
25%
100 - 149
30%
150 - 999
35%
For 200+ licences, please email us at sales@i2comply.com or call us on 0333 577 5016.