DISCOUNTS
Discounts Available For Bulk Purchases
No. of licences
per course
% saving
1 - 9
-
10 - 19
10%
20 - 49
20%
50 - 99
25%
100 - 149
30%
150 - 999
35%
Online Fire Marshal Training
Assured by RoSPA Qualifications
Certified by CPD
Audio voiceover
Approximate course duration 1-2 hours
Downloadable certificate on completion
100% online training
No time limits
This online Fire Marshal training course makes you aware of the duties and responsibilities of a fire warden / fire marshal.
The course covers the routine duties of a fire marshal (often referred to as a fire warden) and the role they play in emergencies. It includes how the fire marshal can help other workers to evacuate safely, how to check that a building has been evacuated, and what to do once outside the building. It is also important to understand how people react when an alarm sounds and how a sound knowledge of what to do will gain you valuable time in an emergency.
The Fire Marshal course relates to the Regulatory Reform (Fire Safety) Order 2005, the Fire Safety (Scotland) Regulations 2006 and the Fire Safety Regulations (Northern Ireland) 2010.
It is a legal requirement for every employee of every business in the UK to complete
fire safety awareness training
. Therefore you should complete fire safety awareness training before you start this Fire Marshal course.
What is a Fire Marshal?
A fire marshal, or fire warden, plays a key role in fire prevention and the safe evacuation of a building in an emergency.
Fires happen. If your workplace ever faces a fire emergency, having a designated fire warden, appropriately trained, could be key to a good outcome.
Although it is the employer's responsibility to ensure precautions are in place, it is the role of the fire marshal to run drills and undertake regular fire prevention checks.
For more information please read our article What is a Fire Marshal?
Who should take fire marshal training?
It is best to have a designated person in your business who can become a fire marshal. They'll need to be someone who can take on the responsibility of checks, understanding what to do in an emergency, and how to carry out a risk assessment.
This course is popular for supervisors, office managers & receptionists to take, but anyone in a business can take part if you're looking to have certified fire marshals in the workplace.
What are the learning outcomes for the online fire marshal training?
After completing the fire marshal course online, you will be able to describe:
The law that outlines the legal responsibilities for fire safety.
Who is responsible for fire safety in a work building.
The main steps in a fire risk assessment.
The relationship between the fire risk assessment and the duties of the Fire Marshal.
Examples of day-to-day duties of a Fire Marshal.
The purpose of evacuation plans and fire drills.
Typical Fire Marshal responsibilities in an emergency situation.
How people behave when a fire alarm is sounded.
Common causes of fire in work buildings.
When do I get my Fire Marshal training certificate?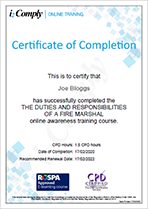 After completing the online Fire Marshal assessment, you'll receive your certificate right away! You'll gain access to your certificate which you can save, download, and print at your leisure.
The Royal Society for the Prevention of Accidents (RoSPA) have assured the training course through their Course Assurance scheme. This means the course meets their high standard and you can be confident that the course contents are relevant and of a high standard.
The training course also complies with the Continuing Professional Development (CPD) guidelines and is accredited by the CPD Certification Service.


How long is this Fire Marshal certificate valid for?
Your fire marshal training certificate includes a recommended renewal date rather than an expiry date. To maintain knowledge of your duties and responsibilities, we recommend a renewal period of 2 years.
If you purchase a new licence, you can retake the fire marshal training when the renewal date arrives. This will ensure that you are refreshed in all the learning outcomes and highly knowledgeable in fire marshal responsibilities. There is no set time to take the assessment – course participants can complete this at any time.
How long does it take to get a Fire Marshal certificate?
Our course takes approximately 1-2 hours to complete. Remember, we don't set a limit on assessment attempts to qualify, so there's no need to feel rushed or under pressure.
Can this training course act as evidence for SSIP accreditations like CHAS, SafeContractor and ConstructionLine?
Yes, you can use our online fire marshal training course certificate as evidence of industry-related training. This evidence is important for SSIP accreditations. The course helps you to ensure your staff all receive appropriate training and that you have the certificates to prove it. However, each individual accreditation body will decide whether our online courses are sufficient for your company's training requirements.
The responsibilities of a Fire Marshal
Fire marshals need a good understanding of fire safety and specific fire hazards in their workplace. There are two categories of fire marshal responsibilities: preventative day-to-day duties and duties required in the event of a fire. This online fire marshal training covers both categories.
Example Screens from the Fire Marshal training course
You will find three example screenshots from our online training course below. Screens include text, images and tables to display information and they contain professional audio. Our self-paced approach, along with our simple informative slides, makes our courses easy to learn from.
(Click on the example screens below to view)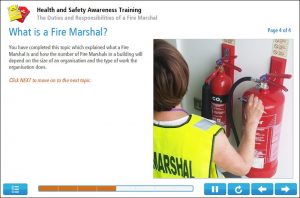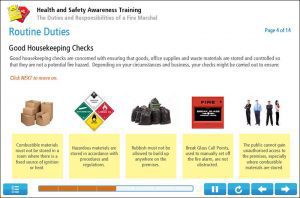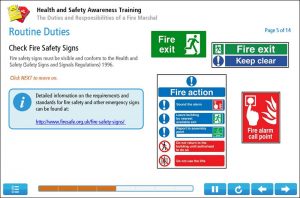 What does the online fire marshal training cover?
This online training course contains the following 6 topics:
1 – Who is Responsible for Fire Safety
The first topic is about responsibility for fire safety. The topic describes the legislation in place to reduce the risk of fire and the risk of harm. It also identifies who is legally responsible for fire safety and outlines the requirements of fire safety risk assessments.
2 – What is a Fire Marshal?
The second topic defines the term fire marshal. It also outlines how to determine the correct number of fire marshals for a building, based on the size of the organisation.
3 – Routine Duties
The third topic covers the routine duties of a fire marshal. It also covers when to test emergency fire systems in the workplace.
4 – Emergency Duties and Drills
The fourth topic describes the role of a fire marshal in an emergency. Then it covers how the fire marshal can help other workers to evacuate safely. It also explains how to check that a building has been evacuated, and what to do once outside the building.
5 – Human Behaviour in Response to an Alarm
Topic five describes how people react when an alarm sounds. It also outlines how a good understanding of what to do gains you valuable time in a fire emergency.
6 – Fire Causes
Topic six identifies the frequency of fires in non-domestic dwellings and also describes some of the causes of these fires.
Fire Marshal online course assessment
There are 20 questions in the assessment.  You can take the assessment once you have completed all six topics. The questions will be different each time you take the assessment.
There is no limit on the number of attempts at the assessment. Your staff can take the assessment as often as they need to. The course gives useful feedback so candidates can learn from any incorrect responses and grow their knowledge on the subject.
Fire Marshal online course reviews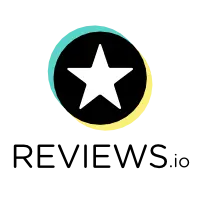 Our online Fire Marshal course has an average rating of 4.5 out of 5 stars. Read the reviews that previous course participants have posted. The reviews can be seen by clicking the stars under the page heading.
Feedback on this course is extremely positive, with customers saying our course is "informative and detailed", "straight forward, clear and easy to follow" and "excellent very informative and not too long".
Why i2Comply for online training?
Our online training courses are interactive, engaging, and self-paced. There are questions on each topic that prepare you thoroughly for the final assessment. All courses include professional audio narration.
Spare licences in your training account will not expire. They remain in your account until you need to use them. This allows you to purchase multiple licences at discount prices.
The course is 100% digital and online, so there are no set times to complete it. Your staff can study on their preferred days when it can fit in around their daily tasks and schedule. You don't get this benefit with traditional in-person fire warden courses.
The benefits of online training
No matter how many employees you have, online training courses deliver the same content to everyone. This makes the training consistent and reliable. The interactive content and assessment maximise retention of course material, and the training is available any time and anywhere.
People learn at different rates. Well-designed online training lets employees learn at their own pace – so everyone gets as much as possible out of the training. You can take as much or as little time as you need to, before doing the assessment.
Frequently Asked Questions
Your certificate will be available as soon as you have completed and passed the fire marshal online assessment. Just return to the training system and click on VIEW CERTIFICATE button within the Learning Zone.
Your certificates can be found in two places.  Learning Zone - My Results or Learning Zone – My E-Learning.  You will see a VIEW CERTIFICATE button.  If you click on that button a PDF document of your certificate is created, for you to save or print.
To keep the cost of our online courses down and give you best value for money, we do not post your certificates.  A PDF version can be downloaded as soon as you have completed your online course.  Allowing you to email a copy to your employeer or print a copy for yourself.
Have any additional questions?
Please let us know if you have any questions about our online training courses. Anything you'd like to ask out course experts that we haven't answered above? Get in touch with a team member today. You can reach our friendly team by email, enquiry form or on the phone.
We also have a detailed Help & Support Knowledge Base section. Here you will find more answers to questions about invoices, licences, and account settings.
DISCOUNTS
Discounts Available For Bulk Purchases
No. of licences
per course
% saving
1 - 9
-
10 - 19
10%
20 - 49
20%
50 - 99
25%
100 - 149
30%
150 - 999
35%