DISCOUNTS
Discounts Available For Bulk Purchases
No. of licences
per course
% saving
1 - 9
-
10 - 19
10%
20 - 49
20%
50 - 99
25%
100 - 149
30%
150 - 999
35%
For 200+ licences, please email us at sales@i2comply.com or call us on 0333 577 5016.
Safeguarding Children (Level 1)
Certified by CPD
Audio voiceover
Approximate duration 2 hours
Downloadable certificate on completion
Our Level 1 Safeguarding Children online training course explains what is meant by safeguarding children and how you can protect a child's right to live in safety, free from abuse and neglect.
For employers, it is an easy way to ensure that all employees are up to date with Regulation 13: Safeguarding service users from abuse and improper treatment of the Health and Social Care Act 2008 (Regulated Activities) Regulations 2014.
This Level 1 Safeguarding Children online training course has been certified by The Continuing Professional Development Certification Service (CPD).

Who is it for?
This Level 1 Safeguarding Children online training course is intended for everyone who works with, or has contact with, children and it covers the essential underpinning knowledge required by Care Certificate Standard 11 – Safeguarding Children.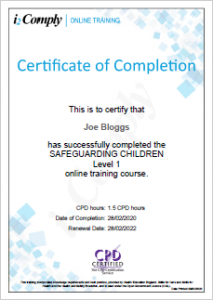 When do I get my certificate?
When you have successfully passed the course you will be able to download and print your certificate straight away.
As this Level 1 Safeguarding Children online training course has been accredited by the CPD Certification Service, your certificate will contain the CPD logo and can be used to provide evidence for compliance
Example Screens
(Click on the example screens below to view)

What does the course cover?
The Level 1 Safeguarding Children online training course contains the following 15 topics and includes an assessment:
Introduction to safeguarding children
What is meant by safeguarding children
Who abuses children
Examples of child abuse
Who is responsible for safeguarding children
Impact of child abuse
Legislation, policies and procedures
Fundamental human rights
The rights of a child
Legislation around the UK
What happens when abuse is reported
About parents and carers
How drugs and alcohol impact on parenting
The impact of stress in the family
Parental mental health issues
Physical abuse
Definitions of physical abuse
Physical abuse statistics
Effects of physical abuse
The signs of physical abuse
Emotional abuse
Definitions of emotional abuse
The prevalence of emotional abuse
Impact of emotional abuse
The signs of emotional abuse
Sexual abuse
Definitions of sexual abuse
The prevalence of sexual abuse
Impact of sexual abuse
The signs of sexual abuse
Neglect
A definition of neglect
The prevalence of neglect
Types of neglect
Domestic abuse
What is domestic abuse
The prevalence of domestic abuse
Impact of domestic abuse
The signs of domestic abuse
Human trafficking
A definition of human trafficking
Why children are trafficked
Trafficking and abuse
The prevalence of trafficking
The signs of trafficking
Radicalisation
What is radicalisation
Vulnerability to radicalisation
Signs of radicalisation
Bullying
What constitutes bullying
The prevalence of bullying
Impact of bullying
Signs of bullying
Online issues
Cyberbullying
Sexting
Online pornography
Online grooming
FGM
What is FGM
Where FGM happens
The prevalence of FGM
Impact of FGM
Signs of FGM
Special issues around disabled children
Increased risk of abuse for disabled children
Communication barriers
Isolation
Missing the signs
What to do about abuse
How to deal with disclosure
Recording the facts
How to report abuse
Assessment
The assessment is generated from question banks so that the questions change each time a candidate takes the assessment – making the training suitable for initial and refresher training.
There is no limit on the number of attempts at the assessment and informative feedback is given so candidates can learn from their incorrect responses.
DISCOUNTS
Discounts Available For Bulk Purchases
No. of licences
per course
% saving
1 - 9
-
10 - 19
10%
20 - 49
20%
50 - 99
25%
100 - 149
30%
150 - 999
35%
For 200+ licences, please email us at sales@i2comply.com or call us on 0333 577 5016.