DISCOUNTS
Discounts Available For Bulk Purchases
No. of licences
per course
% saving
1 - 9
-
10 - 19
10%
20 - 49
20%
50 - 99
25%
100 - 149
30%
150 - 999
35%
Modern Slavery Awareness Course
Certified by CPD
Audio voiceover
Approximate course duration 1-2 hours
Downloadable certificate on completion
100% online training
This Modern Slavery Awareness online training course explains forms of slavery, and identifies which countries and industries are vulnerable to slavery. It covers what companies should do about slavery and identifies steps people can take to help combat slavery. The course also outlines anti-slavery laws in the UK including the Modern Slavery Act 2015.
There were tens of millions of victims of modern slavery across the world in 2021. Over 10,000 of these victims were in the UK. The most common forms of exploitation reported in the UK were labour exploitation for adults and criminal exploitation for minors.
The training course duration is around 1 to 2 hours. This is an estimate of timing and in fact there is no time limit, you can take as long as you want to complete the training.
What is Modern Slavery?
Modern slavery is a mainly hidden crime that targets the most vulnerable people in society. The term modern slavery covers several different forms of exploitation including human trafficking, domestic servitude, and sexual, criminal and labour exploitation.
Modern slavery is often associated with individuals or businesses that carry out illegal activities and seek to exploit vulnerable people. However, many legitimate businesses and organisations have complex supply chains and slavery is often a component in these supply chains. For example, children are forced to mine for cobalt for use in mobile phones, and 20% of the world's cotton is produced by slave labour in China. These products are bought by major retailers in the UK and sold to you.
The importance of Modern Slavery Awareness training
In the UK, the number of potential modern slavery victims referred to the NRM (The National Referral Mechanism) has risen from 2,340 in 2014 to 10,613 in the last year.
Labour exploitation is the most common form of slavery for adults. It occurs in farms, construction, shops, bars, nail bars, car washes or manufacturing. Criminals force victims to do unpaid work, work for low wages or a wage that is kept by the owner. Victims are threatened or punished if they try to refuse.
Criminals also exploit minors for criminal activity. They force children to commit criminal activities such as shoplifting, pickpocketing, cannabis cultivation and drug dealing.
Modern slavery has a devastating impact on victims. It has severe consequences for physical and mental health. Victims sometimes carry out physically demanding work for long hours, in poor working conditions. This increases the risks of accidents, injury and death. Children may get involved in gangs, have mental health or substance misuse issues and be excluded from education. Also, the victims of modern slavery often experience poor mental health with high prevalence of post-traumatic stress disorder (PTSD), anxiety and depression.
Modern slavery awareness training is important to help people understand modern slavery, learn to spot the signs, build their confidence to speak up if they encounter anything suspicious and report any concerns. Awareness of the issues will encourage your businesses to look for modern slavery signs within your business and your supply chain. It will help you to ensure that you comply with the law, and maintain good business morale and reputation. Increased awareness and reporting of concerns helps law enforcement to track and tackle modern slavery activities. Most importantly, modern slavery awareness contributes to protecting and improving lives of the victims.
Who is Modern Slavery Awareness training for?
The course is for anyone in any business since modern slavery should be a concern to everyone. Awareness of slavery issues will help you contribute to your employer's initiatives to combat slavery. The training will help you to spot signs of slavery and trafficking. You will learn how to report cases.
What are the learning outcomes for the Modern Slavery course?
At the end of the course you will be able to:
Define slavery, and describe different forms of slavery.
Identify which parts of the world and which industries are most vulnerable to slavery.
Outline anti-slavery laws and policies in the UK.
Explain which companies must make modern slavery statements and describe the legal requirements associated with them.
Describe the recommended contents of a modern slavery statement.
List steps people can take to help combat slavery.
When do I get my Modern Slavery Awareness certificate?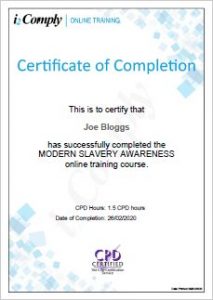 When you have passed the assessment you will be able to download and print your certificate straight away.
All of our courses conform to CPD guidelines. The CPD Certification Service has accredited the course. Your certificate will include the CPD logo so you can use it as evidence of compliance.

How long is this Modern Slavery Awareness certificate valid for?
I2Comply's Modern Slavery Awareness certificate does not expire. However, it may be useful to refresh the training from time to time to ensure that knowledge is still current, and that you and your staff remain vigilant.
Example Screens from Modern Slavery Awareness course
Look below to see example screens from our Modern Slavery Awareness course. Our courses are based on sound instructional design principles, therefore the course promotes efficient learning with engaging material, clear course objectives and interactive activities.
(Click on the example screens below to view Modern Slavery Awareness course slides)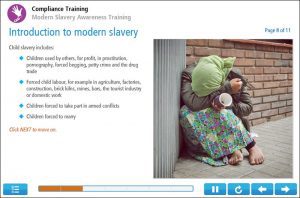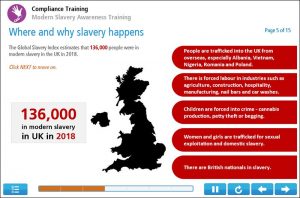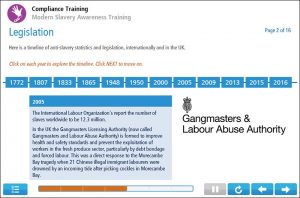 What does the Modern Slavery Awareness course cover?
The Modern Slavery Awareness online training course contains the following 5 topics:
1 – Introduction to modern slavery
The first topic defines modern slavery and human trafficking. Then it identifies different forms of slavery.
2 – Where and why slavery happens
The second topic identifies countries and industries that are vulnerable to slavery. It goes on to explain why slavery happens today and discusses the limitations of social auditing.
3 – Legislation and government measures
The third topic gives a timeline of slavery laws. It also outlines anti-slavery law around the UK.
4 – Modern slavery statements
Topic 4 explains which companies need to produce modern slavery statements. It also identifies two important legal requirements of these statements. Finally, the topic covers where the statement can be registered.
5 – What can you do?
The final topic identifies warning signs that indicate someone may be a victim of slavery or trafficking. Then it outlines what to do if you suspect someone is a victim. The topic also describes other things you can do about slavery.
Course Assessment
After you have viewed all five topics, you will be able to take the assessment. The assessment is built from question banks which makes it different each time you take it. This also means this Modern Slavery Awareness course is suitable as both first-time and refresher training.
Take the assessment as often as you need to. You will get useful feedback so you learn from any mistakes.
Course reviews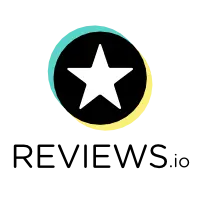 Want to see what other customers think of our online courses before you commit to buying? Our Modern Slavery Awareness online training course has an average rating of 4.5 out of 5 stars. To read what other participants have posted about this online course, click on the stars under the page heading.
Feedback is important to us, so if you are able to leave a review, we would really appreciate it.
Other online Regulatory Compliance courses
If you would like to learn more about the Regulatory Compliance courses we offer, you can click on the course titles below.
I2Comply provides a wide range of online courses for individuals and organisations. You can view a full list of our courses here.
Are you ready to book Modern Slavery Awareness training?
Once you are ready to purchase the course, just click the 'Add to basket' button at the top right of the page, click on the basket icon and proceed to checkout.
If you are looking to purchase for your team, you may benefit from our 'group administrator' feature, which will allows you to add new users, track their learning progress and print their certificates after completion. Simply, add your details under the 'Administrator' when you check out.
Don't forget to take advantage of our bulk purchase discounts, starting from orders of 10 licences per course. Discounts are automatically applied at checkout.
Do you have any questions about Modern Slavery Awareness training?
If you have any questions about Modern Slavery Awareness course, you can call a member of our team on 0333 5775 017 or email [email protected]. We are always happy to help.
Also, you can visit our Help & Support page, where you will find the answers to the most common questions our team receive.
DISCOUNTS
Discounts Available For Bulk Purchases
No. of licences
per course
% saving
1 - 9
-
10 - 19
10%
20 - 49
20%
50 - 99
25%
100 - 149
30%
150 - 999
35%