Ladders are a convenient and inexpensive option when you need to work at height. They are versatile and a vital piece of equipment, which can be used for a whole range of jobs. However, many people injure themselves by falling from a ladder because they don't know how to safely use one. Falls from height can result in a serious or even fatal injury even when the fall is less than 2 meters.
The Health and Safety Executive (HSE) states that falls from working at height remain the most common cause of workplace fatality in the UK, accounting for 24% of all worker deaths over the year and 8% of all non-fatal workplace injuries, with many involving a fall from a ladder.
Telescopic ladder safety
Considering how hazardous working at height is, we would expect that all access equipment, including ladders, sold in the UK market meet the minimum safety requirements.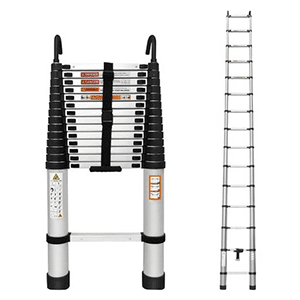 However, the Ladder Association conducted research and tested telescopic ladders bought from online retailers such as Amazon, eBay, and OnBuy.com. They found that 100% of the telescopic ladders they tested were non-compliant and dangerous and failed the required EN 131-6 safety tests. Also, they discovered that some manufacturers of these unsafe products misled consumers by claiming they did meet the required standards and some even displayed false compliance labelling.
Ladder safety checks
Getting to grips with ladders doesn't need to be a box-ticking exercise, especially with the simple to follow ladder training courses we provide. With that in mind, if you're going to using a ladder frequently, or have situations where staff employ regular use or ladders, here are 5 things you should do before you use a ladder to ensure you can work safely.
1. Consider if you can complete a task without using a ladder
When you need to work at height, ladders can be a sensible and practical option for low-risk, short-duration tasks of no more than 30 minutes. Keep in mind that there is always a risk of falling when you use a ladder. Therefore, you should never work from a ladder if there is a safer way of doing the job, such as by using a scaffold or suitable working platform, using extendable tools from ground level or using a drone or pole camera for inspections, so you don't need to climb a ladder.
If you're going to have staff moving stock and equipment around, it may be worth getting them to take part in online manual handling training.
2. Ensure you are competent to use a ladder
Although using ladders looks like a straightforward process, working at height always carries risks. So you must be competent to use them, which means that you must have the necessary skills, knowledge and experience to use a ladder safely.
Being competent with a ladder should see you:
understanding how to assess the risks of using a ladder
knowing when it is right to use a ladder and when it is not
knowing which ladder to use for the work you will carry out
understanding how to use a ladder safely
being able to apply what you have learned in your workplace
Our Ladder Safety Online Course will equip you with the knowledge and understanding you need to use ladders safely at work.
3. Choose the right ladder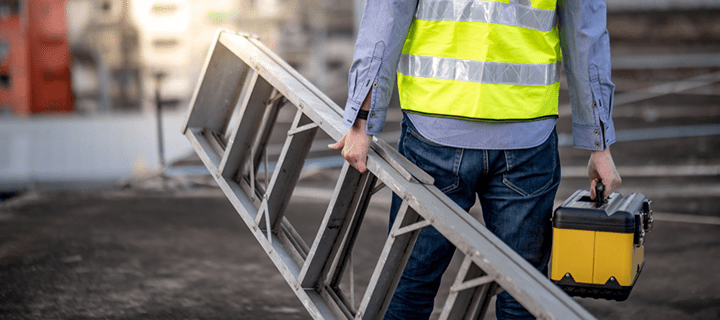 To make sure you are safe it is important that you use the right ladder for the job. Here are three things you should consider when choosing a ladder for your work:
3.1 Choose the right type
Each type of ladder has a specific purpose and a unique set of safety features to keep you safe when you climb or stand on a ladder. Not understanding the limitations of each type of ladder and using the incorrect type of ladder for a job, can result in a serious injury.
The most common types of ladders are stepladders, combination ladders, telescopic ladders, extension ladders, pole ladders and steps.
3.2 Choose the right height
To choose the correct height ladder for a specific task, you need to consider the height you will be working at and the height you will need to reach. Aim to use a ladder slightly higher than you might need, so you avoid the need to stretch to reach the work area, which could make you lose your balance and result in a fall or serious injury.
Also, when choosing the height of a ladder it is important to consider the type of ladder you will be using. Different types have different maximum standing heights. For example, the maximum standing height for an extension ladder or combination ladder is 4 rungs down from the top. The maximum standing height for a step ladder is 3 steps down from the top. You should not stand higher on a ladder as you may lose your balance and fall.
3.3 Choose the right material
The material of a ladder plays a bigger role in use than you might think. The most common materials used for ladders are steel, aluminium, fibreglass and wood. Each material has different properties, advantages and disadvantages in terms of its durability, strength, ease of use and suitability for the job.
Aluminium ladders are lightweight, rigid, durable, and rust and corrosion-resistant. However, they are not resilient, so you could easily dent or bend them. They are also highly conductive of electricity, so they are not suitable for use near power lines or other electrical hazards.
Steel ladders are very strong and durable, but they are heavy, conduct electricity and may corrode in wet conditions.
Fibreglass ladders are lightweight and do not conduct electricity, so you can use them if you are working with or near electricity. However, they can lack rigidity.
Wooden ladders are rigid and do not conduct electricity, so you can use them for electrical work. However, they are heavy, and you cannot store them outside because they split and rot more easily in wet conditions (fixings may become loose, and the ladder can lose its strength).
Consider these advantages and disadvantages of ladder materials when choosing a suitable ladder for a task.
4. Check the ladder labelling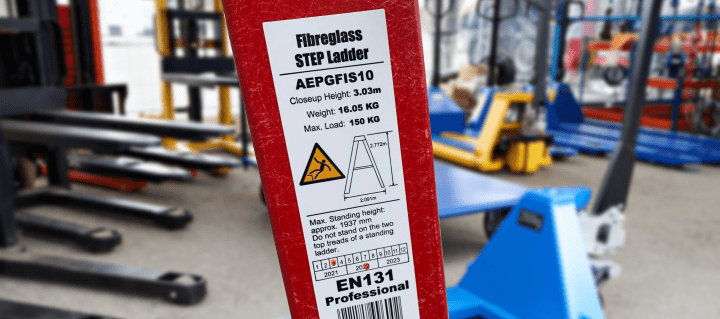 Before using a ladder, make sure it has a label to show it conforms to EN 131 standards. EN 131 standard ensures a ladder meets minimum safety requirements.
The standard has two classifications:
EN 131 Professional ladders are specifically for use in the workplace, but can also be used for work at home. They are more durable than Non-Professional ladders, so they may be heavier and more costly.
EN 131 Non-Professional ladders are only for use by domestic users, and they are not suitable for use in the workplace.
All new ladders must now conform to the current EN 131 standard only, so they should have an EN 131 standard label on them. Older ladders may have a label to show they conform to the earlier British Standards BS1129 or BS 2037. If you have ladders that were compliant with the earlier British Standards, you may continue to use them if you are certain they are in good condition.
You should not use a ladder that does not have a label to show it conforms to EN 131 or the earlier British Standards.
5. Inspect the ladder
Under The Provision and Use of Work Equipment Regulations 1998 (PUWER), your employer, must carry out regular inspections of any work equipment, including ladders to ensure they are safe to use. Employers should assign a competent person who regularly completes detailed visual inspections following the manufacturer's instructions. Your employer should keep a written record of inspections.
Although your employer is legally responsible for ladder inspections, before starting a task, you should always check a ladder yourself to see if there are no obvious visual defects and that it is safe for use. This is known as a pre-use check and it should be carried out at the beginning of the working day or before starting a task and repeated after something has changed, such as a ladder has been dropped or moved to a different area. Ladder pre-use checks don't need to be recorded, but if you spot any defects or issues, do not use the ladder and notify your employer.
Ladder pre-use check should include:
the stiles – check that they are not twisted, bent or damaged, as the ladder could buckle or collapse.
the feet – make sure they are not missing, worn or damaged as the ladder could slip.
the rungs – ensure they are not cracked, bent, worn, missing or loose. If they are, the ladder could fail.
any locking devices – if they are worn or damaged, the steps could collapse. For telescopic ladders, make sure that the mechanisms that lock each section are working properly.
the stepladder platform – make sure it is not split or buckled as the ladder could become unstable or collapse.
the steps or treads on stepladders – if there is any dirt on the steps, they could be slippery. If the step fixings are loose, they could collapse.
Need a Ladder Safety training course?
We offer the following RoSPA-assured and CPD-certified online courses:
If you have a question or require more information on any of our online training courses. Please contact us on 0333 577 5016 or [email protected] and we will be happy to help.