DISCOUNTS
Discounts Available For Bulk Purchases
No. of licences
per course
% saving
1 - 9
-
10 - 19
10%
20 - 49
20%
50 - 99
25%
100 - 149
30%
150 - 999
35%
For 200+ licences, please email us at sales@i2comply.com or call us on 0333 577 5016.
Manual Handling Awareness Training Course
Assured by RoSPA Qualifications
Certified by CPD
Audio voiceover
Approximate course duration of 2 hours
Downloadable certificate on completion
100% online training
This online Manual Handling Awareness course provides learners with the knowledge they need in order to reduce the chances of injury whilst manually handling loads in a work environment.
Injury to employees while handling, lifting or carrying something is one of the most common types of accident in the workplace every year. The majority of manual handling injuries last for at least three days. Many incidents cause damage to the back.
Employers must comply with the Manual Handling Operations Regulations 1992, as amended by the Health and Safety (Miscellaneous Amendments) Regulations 2002.
Employers are required by law to take reasonable steps to safeguard the health and safety of all employees. This includes raising awareness about the hazards related to manual handling and outlining what can be done to minimise risk.
This Manual Handling online training only provides awareness education. Face to face training would be needed in addition in order to complete the all-round skills and knowledge to be able to carry this forward practically in your organisation.
Other online Health & Safety courses
The importance of Manual Handling Awareness training
Manual Handling Awareness training reduces the risk of manual handling injuries occurring. It gives employees the knowledge to utilise correct manual handling techniques when moving loads in the workplace. Not only will manual handling training help increase employees' awareness of risks, but employees will also recognise that that their welfare is a priority. Fewer injuries mean fewer sick days and higher productivity. So, you save your organisation money when you ensure employees work safely and reduce the risk of injuries.
Who is Manual Handling Awareness training for?
All employers need to comply with the risk assessment requirements set out in the Management of Health and Safety at Work Regulations 1999 and they need to carry out a risk assessment on manual handling tasks as specified in the Manual Handling Operations Regulations 1992.
What are the learning outcomes for the Manual Handling course?
At the end of the course you will be able to explain:
What is meant by the term manual handling.
Health and safety regulations aimed at reducing musculoskeletal injuries in the workplace.
How the musculoskeletal system functions
Common musculoskeletal injuries.
The prevalence and potential severity of handling, lifting and carrying injuries.
The principles of Relative Weight Increase.
Potential risks during lifting and carrying tasks.
Common causes of handling, lifting and carrying injuries.
Measures for controlling manual handling risks.
The preparation required before lifting and moving a load.
Good and bad practice when pushing or pulling a load.
The hazards of lifting in a restricted space.
What is meant by psychosocial risk factors.
When do I get my Manual Handling Awareness certificate?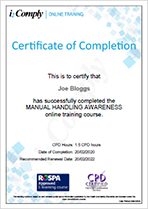 When you have successfully passed the online course you will be able to download and print your certificate straight away.
All of our courses conform to the Continuing Professional Development (CPD) guidelines and are accredited by the CPD Certification Service.
The Royal Society for the Prevention of Accidents through their RoSPA Qualifications Assurance System, have assured the training course, as providing up-to-date, quality and content-approved training.
Your certificate will include both logos, therefore you can use it to provide evidence for compliance.

How long is this Manual Handling Awareness certificate valid for?
Your Manual Handling Awareness certificate has no expiry date. However, to ensure knowledge of Manual Handling is maintained we recommend a renewal period of 2 years. This recommended renewal date will be on your certificate.
Can this training course act as evidence for SSIP accreditations like CHAS, SafeContractor and ConstructionLine?
Yes, you can use our Manual Handling Awareness certificate as evidence of industry-related training. This evidence of industry-related training is important for SSIP accreditations. The course helps you to ensure your staff all receive appropriate training and that you have the certificates to prove it. However, each individual accreditation body will decide whether our online courses are sufficient for your company's training requirements.
Example Screens from the Manual Handling Awareness training course
(Click on the example screens below to view)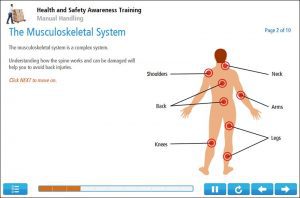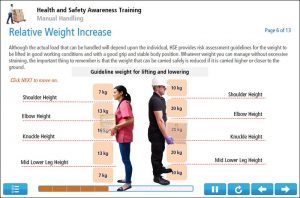 What does the Manual Handling Awareness course cover?
The online Manual Handling course contains the following 9 topics:
1 – What is Manual Handling
The first topic is an introduction to manual handling. The topic identifies common manual handling activities and injuries. You will learn about the frequency and causes of manual handling injuries. The topic outlines legislation that aims to reduce manual handling injuries in the workplace.
2 – The Musculoskeletal System
The second topic is about the spine, how it works and what can go wrong. You will learn about the parts of the spine and how discs absorb shock. The topic also explains the action of the facet joint and how injury can occur. It also covers the causes of musculoskeletal disorders and how to avoid them. The topic also explains what to do if you suffer a manual handling injury.
3 – Controlling the Risks
The third topic explains how to control the risk of manual handling injury. It also covers the most common cause of trips and falls and how to avoid them.
4 – Relative Weight Increase
Topic 4 outlines the factors that determine whether you can lift a load safely. You will also learn about relative weight increase and how risk changes depending on how you carry a load.
5 – Preparing for the Lift
Topic 5 is about preparation. You'll learn how to assess the risks, check routes, and consider travel distance and height. The topic also explains when to use PPE and mechanical aids, and when to get help from another person.
6 – Lifting Technique
Topic 6 is about how to lift, carry and place a load safely. You will also learn more about common causes of manual handling injuries.
7 – Pushing and Pulling
Topic 7 is about pushing and pulling. It covers accidents caused by pulling and pushing, and how to push a load safely. You will also learn about what happens if you overload a trolley and what to do if equipment is faulty.
8 – Handling in Restricted Spaces
Topic 8 explains risk due to restricted movement and working when seated.
9 – Psychosocial or Non-Physical Risk Factors
The final topic is about psychological risk factors. You will learn about how these factors increase risk and also how to reduce that risk.
Online Manual Handling Assessment
Once you have completed the nine topics, you will be allowed to take the assessment. The course generates an assessment from question banks so that the questions change each time a candidate takes the assessment. This makes the training suitable for initial and refresher training.
There is no limit on the number of attempts at the assessment. In addition, the training course gives useful feedback so candidates can learn from incorrect responses.
DISCOUNTS
Discounts Available For Bulk Purchases
No. of licences
per course
% saving
1 - 9
-
10 - 19
10%
20 - 49
20%
50 - 99
25%
100 - 149
30%
150 - 999
35%
For 200+ licences, please email us at sales@i2comply.com or call us on 0333 577 5016.