DISCOUNTS
Discounts Available For Bulk Purchases
No. of licences
per course
% saving
1 - 9
-
10 - 19
10%
20 - 49
20%
50 - 99
25%
100 - 149
30%
150 - 999
35%
For 200+ licences, please email us at sales@i2comply.com or call us on 0333 577 5016.
The Prevent Duty for Schools and Childcare Providers
Certified by CPD
Audio voiceover
Approximate duration of 1 hour
Downloadable certificate on completion
Our Prevent Duty for Schools online training course explains the main points of the Prevent duty and the measures that schools and childcare providers must take in order to comply with it.
Examples and scenarios will make you aware of the indicators that a child may be vulnerable to radicalisation and what to do if you believe a child is at risk.
For employers, it is an easy way to ensure that they comply with the legal responsibilities under Section 26 of the Counter-Terrorism and Security Act 2015.
The CPD Certification Service has certified this training course.

Other Schools Courses
1 – Data Protection And The GDPR For Schools Course (Level 1)
2 – Fire Safety Awareness Course (Schools And Colleges)

Who is Prevent Duty for Schools for?
This Prevent Duty online training course is relevant to anyone who works in a school or childcare provider.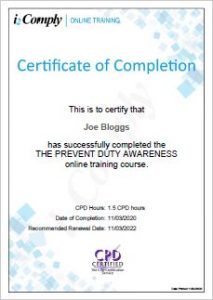 When do I get my Prevent Duty certificate?
When you have successfully passed the course you will be able to download and print your certificate straight away.
Your certificate will include the CPD Certification Service logo. Therefore you can use it to provide evidence for compliance.
Example Screens from Prevent Duty for Schools course
(Click on the example screens below to view)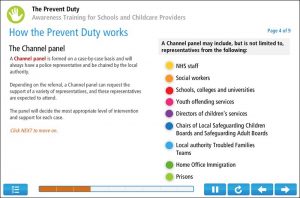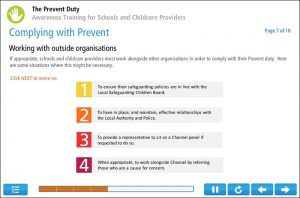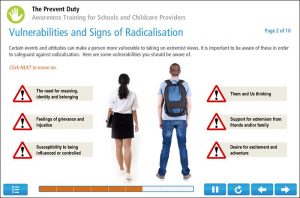 What does the Prevent Duty for Schools course cover?
The course contains the following 7 topics:
1 – Introduction to the Prevent Duty
The first topic explains the terms 'radicalisation', 'British values' and 'extremism'. It outlines the Prevent duty and explains the relationship between Prevent and safeguarding duties. The topic identifies which organisations must comply with the duty.
2 – How the Prevent Duty works
The second topic outlines the role of schools and childcare providers play in preventing radicalisation. It describes the counter-terrorism scheme called Channel and the role this plays in safeguarding young people.
3 – Complying with Prevent
The third topic identifies what a Prevent risk assessment covers and other organisations that schools must work with. You will learn about how the internet poses a risk for young people and what schools must do about those risks. The topic covers information sharing and record keeping. It also explains who is responsible for compliance and what happens if you do not comply with the Prevent duty.
4 – Legislation Relating to the Prevent Duty
Topic 4 describes the law that support the Prevent duty. This also includes requirements for school leaders and staff, sharing information and promoting British values.
5 – Vulnerabilities and Signs of Radicalisation
Topic 5 identifies vulnerabilities that can lead children to radical views and behaviours that are causes for concern.
6 – How to Respond to Extremism
Topic 6 proposes a procedure for reporting a concern and discusses the importance of responding proportionately. It gives examples of how to promote resilience to extremism.
7 – Accessing Support
The final topic provides some further sources of information about Prevent.
Assessment
Once you have completed the seven topics, you will be allowed to take the assessment. The course generates an assessment from question banks so that the questions change each time a candidate takes the assessment. This makes the training suitable for initial and refresher training.
There is no limit on the number of attempts at the assessment. In addition, the course gives informative feedback so candidates can learn from incorrect responses.
DISCOUNTS
Discounts Available For Bulk Purchases
No. of licences
per course
% saving
1 - 9
-
10 - 19
10%
20 - 49
20%
50 - 99
25%
100 - 149
30%
150 - 999
35%
For 200+ licences, please email us at sales@i2comply.com or call us on 0333 577 5016.