DISCOUNTS
Discounts Available For Bulk Purchases
No. of licences
per course
% saving
1 - 9
-
10 - 19
10%
20 - 49
20%
50 - 99
25%
100 - 149
30%
150 - 999
35%
Fire Safety Awareness Course (Schools and Colleges)
Assured by RoSPA Qualifications
Certified by CPD
Audio voiceover
Approximate duration of 1 hour
Downloadable certificate on completion
This Fire Safety Awareness Course (Schools and Colleges) identifies fire safety concerns and measures that apply in a school or college setting.
The course explains the conditions which promote fire, how to prevent fires from starting and what to do should a fire break out. It ensures learners are compliant with the Regulatory Reform (Fire Safety) Order 2005, the Fire Safety (Scotland) Regulations 2006 and the Fire Safety Regulations (Northern Ireland) 2010.
Training staff in fire safety helps them to understand the importance of following fire safety measures. After training people are less likely to panic in an emergency. They also know how to act if a fire breaks out and can quickly and safely evacuate the premises.
The online course takes about 1 hour to complete. You can however take as long as you like to complete the training. You can also complete it in several sittings, as your progress is saved at the end of each topic.
It is a legal requirement for every employee of every business in the UK to complete adequate fire safety awareness training, when they are first employed and on being exposed to new or increased risks.
Who is Fire Safety Awareness for Schools training for?
The law requires all employees to receive adequate fire safety training. Our training course is an effective way to train staff and volunteers, whether full or part time, temporary or permanent.
What are the learning outcomes for the Fire Safety in Schools and Colleges course?
At the end of the course you will be able to describe:
You and your employer's key responsibilities regarding fire safety.
The essential components of a fire.
How fires spread.
The actions to take if you discover a fire or on hearing a fire alarm.
What you can do to minimise injury from smoke or burning clothing.
Good practice that will reduce fire hazards and help prevent fires.
When do I get my Fire Safety for Schools course certificate?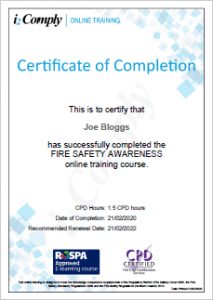 When you have successfully passed the course you will be able to download and print your certificate straight away.
Your certificate will include the RoSPA Qualifications logo and the CPD Certification Service logo, therefore, you can use it to provide evidence for compliance.

How long is my Fire Safety Awareness course certificate valid for?
Your Fire Safety Awareness for Schools certificate does not include an expiry date. However, due to the devastating effect a fire can have on a school setting and for the safety of pupils, we recommend the training is retaken annually. This is to ensure that the knowledge of Fire Safety is maintained and staff understand how to act if a fire breaks out.
For your convenience we have included the recommended renewal date on your fire safety online training course certificate.
Example Screens from the Fire Safety Awareness course
You will find example screenshots from our Fire Safety for Schools online training course below. All of our courses are designed to be simple but informative, to make it easy for you to learn. With the use of text, images, tables and professional audio, we display the information in easy to manage chunks.
(Click on the example screens below to view)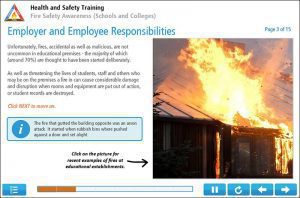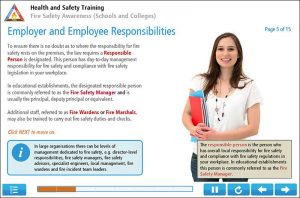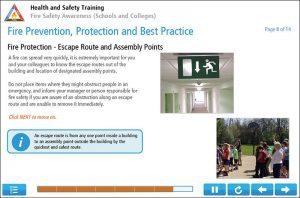 What does the Fire Safety Awareness course (Schools & Colleges) cover?
This Fire Safety Awarenesss for Schools online course contains the following 6 topics:
1 – Employer and Employee Responsibilities
The first topic is about fire safety responsibilities. It outlines the purpose of the regulations and risk assessments. The topic describes what employers and employees must do to reduce the risk of fire.
2 – The Three Essential Elements of Fire
The second topic identifies the three essential elements of fire and also describes what happens when you remove any one of these elements.
3 – How Fire Spreads
The third topic describes four ways that fire can spread. You will learn about why smoke is such a serious threat. The topic also identifies practices that increase the risk of fire and smoke spreading throughout a building.
4 – Raising and Responding to a Fire Alarm
Topic 4 is about raising and responding to a fire alarm. You will learn about the actions to take if you discover a fire. You will also learn when you should attempt to extinguish a fire. The topic also covers three things you must not do if the fire alarm sounds.
5 – Minimising Injury
Topic 5 describes what you can do to minimise injury from fire. It identifies three ways to defend against smoke inhalation. You will learn about the STOP, DROP and ROLL technique to use if your clothing catches fire.
6 – Fire Prevention and Best Practice
The final topic explores the difference between fire prevention and fire protection. It presents examples of prevention and protection measures.
Fire Safety Awarenesss for Schools online course assessment
Once a candidate has completed the six topics, they can take the assessment. The course generates an assessment from question banks so that the questions change each time a candidate takes the assessment. This makes the online training suitable for initial and refresher training.
There is no limit on the number of attempts at the assessment. In addition, the training course gives useful feedback so learners can learn from incorrect responses.
Fire Safety Awarenesss for Schools online course reviews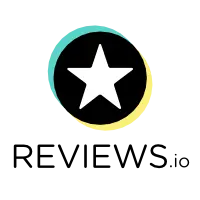 Our Fire safety for Schools online training course has an average rating of 4.5 out of 5 stars. If you want to check and see what other people have said about our training click on the stars under the page heading.
Your feedback is very important to us and we take your comments seriously, so if you leave a review we would be very grateful.
Other online courses for Schools
We offer a wide range of courses suitable for school staff. Book your training today and ensure that you and your staff are confident to protect the wellbeing and safety of pupils and others at work.
You will find further information about the individual courses by clicking on each title.
i2Comply supply a wide range of online training courses, a full list can be seen here.
Is online training for your school?
Online learning has a host of benefits over in-person training. The list below are some of the biggest advantages to learning online.
No time restrictions – There is no pressure for learners to complete their training by a specific time or date. The assessment can be taken whenever you feel confident and ready.
Consistent information to all – Every member of staff who takes our online Fire Safety training will read and study the same information.
No travelling involved – Learn at your desk, save time and money by removing the need to travel.
Low cost – Most of our online training courses cost £15 per person, which is a lot less than face-to-face courses. We also offer discounts for bulk purchases.
Learn at a convenient time – Unlike face-to-face training there is no set date or time for the learning to take place. Staff can take their training at a time that is suitable to them.
Have a question or require further information?
If you have question or require further information, you can email [email protected] or call our friendly team on 0333 577 5016 during office hours. You can also use our contact us website form.
Finally, our help & knowledge base area, contains answers to frequently asked questions.
DISCOUNTS
Discounts Available For Bulk Purchases
No. of licences
per course
% saving
1 - 9
-
10 - 19
10%
20 - 49
20%
50 - 99
25%
100 - 149
30%
150 - 999
35%