DISCOUNTS
Discounts Available For Bulk Purchases
No. of licences
per course
% saving
1 - 9
-
10 - 19
10%
20 - 49
20%
50 - 99
25%
100 - 149
30%
150 - 999
35%
Food Allergen Awareness Training Course
Assured by RoSPA Qualifications
Certified by CPD
Audio voiceover
Approximate course duration 1-2 hours
Downloadable certificate on completion
100% online training
No time limits
This Food Allergen Awareness online course helps learners identify fourteen food allergens. It describes the common signs of an allergic reaction. It also covers what people who work in the food business must do to protect people from harm due to allergens in food.
You can give you and your staff the knowledge required to stop food allergy incidents from happening by completing this 100% online course.
This course will take individuals around 1 to 2 hours to complete, which means you can purchase the course now and be food allergy awareness-certified on the same day. Remember, this is just an estimated time – you can take as long as you want to read the materials before the online assessment.
The importance of Allergy Awareness training
In the UK around 2 million people have a food allergy and this number is rising by 5% every year.
All food business have a legal responsibility to ensure that the food they serve is safe for the consumer to eat. They must provide correct allergen information to their customers. All pre-packed food must be labelled and include a full ingredients list, with allergenic ingredients emphasised.
A food allergy can trigger a severe reaction called anaphylaxis. This can be fatal.
Food Allergen Awareness training informs learners of fourteen food allergens. It also describes the common signs of an allergic reaction and helps them to understand why foods containing allergens must be handled carefully. This information can save lives.
Our short article on Why is Food Hygiene Training Important? outlines the benefits of Food Hygiene and Safety training for your business.
What is anaphylaxis?
Anaphylaxis is a severe and potentially life-threatening reaction to a trigger such as an allergy. The body's immune system overreacts and releases a flood of chemicals that can cause you to go into shock.
This causes your blood pressure to drop suddenly and your airways to narrow, making it hard to breathe. Common food triggers include: nuts, milk, fish, shellfish, eggs and some fruits. Anaphylaxis requires medical treatment and can be fatal if not treated immediately.
In our online food allergen training course, you will learn about anaphylaxis and about life-threatening allergies.
Who is Food Allergen Awareness Training for?
Basic food allergy knowledge can go a long way to keeping the people around you safe from allergic reactions to food.
Anyone can take the course but participants are very often from hospitality industries. Whether you work in a restaurant, bar, canteen, café, or ice cream van, the course provides the information required to operate safely.
If you need any further information about our food allergy course and who it is appropriate for, get in contact with a member of staff and we will be happy to answer your questions.
Everyone would benefit from learning about food allergies, as there's always a risk that someone has an allergic reaction to food. If someone suffers from a food allergy, you'll know how to respond correctly after finishing the course.
What are the learning outcomes for the Food Allergens course?
At the end of the food allergy awareness course, you will be able to describe:
What an allergy is and a range of things that people can be allergic to.
The differences between food allergy, food intolerance and Coeliac's disease.
How many people have food allergies and how that is changing.
The main symptoms of food allergy, including anaphylaxis.
How to respond in an emergency.
The requirements of the Food Information Regulations 2014 and Natasha's Law.
How to reduce the risk of cross-contamination.
When do I get my Food Allergen Awareness certificate?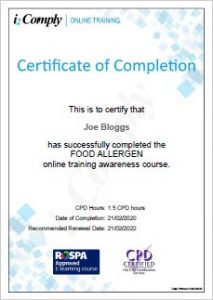 After passing the food allergen awareness training, you can immediately download and print your certificate.
Our courses conform to CPD guidelines and the CPD Certification Service accredit our courses.
This Food Allergen Awareness course is also assured by the Royal Society for the Prevention of Accidents through their RoSPA Qualifications Assurance System. This means you can be sure the training is up-to-date and high quality.
Your food allergen awareness certificate will include both logos, so you can use it to provide evidence for compliance.


How long is this Food Allergen Awareness certificate valid for?
Our food allergen awareness certificate doesn't have an expiry date. We recommend resitting the training after 2 years as a 'refresher'. The recommended renewal date will be on your certificate.
Example Screens from the Food Allergen Awareness course
Below are some samples of what to expect from our online course slides. After providing this course to businesses and individuals for many years, we've learned how to keep our course materials simple and easy to follow. This is reflected in our slides, which our customers praise for being straightforward and easy to understand.
(Click on the example screens below to view)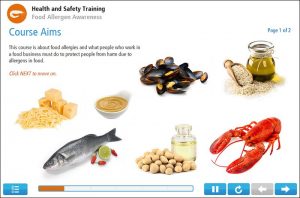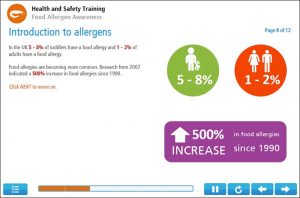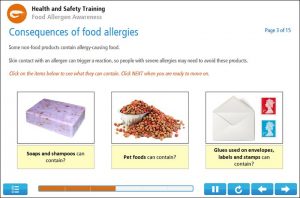 What does the Food Allergen Awareness course cover?
The online course contains the following 4 topics:
1 – Introduction to allergens
The first topic defines what an allergy is and describes what happens in your body when you are exposed to an allergen. It identifies the types of things people can be allergic to. You will learn about the difference between food allergy, food intolerance and Coeliac's disease. The topic also covers the prevalence of food allergies.
2 – Consequences of food allergies
The second topic identifies common allergy symptoms. It also describes what you should do in the event of anaphylaxis.
3 – Providing Allergen Information to Consumers
The third topic outlines UK food information regulations and the penalties for failure to comply with these regulations. It identifies how you should present information about pre-packed and non-pre-packed food to consumers. The topic also identifies 14 key allergens that you must inform consumers about.
4 – How to avoid cross-contamination
The final topic describes management strategies to reduce the risk of cross-contamination of allergens. It identifies staff training requirements. The topic also emphasises the importance of good storage, equipment cleaning and personal hygiene.
Food Allergen Awareness online course assessment
Once you have completed the four food allergy topics, you will be allowed to take the food allergen awareness assessment. The course generates an assessment from question banks so that the questions change each time a candidate takes the assessment. This makes the training suitable for both initial and refresher training.
Unlike traditional in-person training, you don't have a limited number of attempts when it comes to passing the assessment. We find that taking away this added pressure for course participants allows them to study the materials more comfortably. If you fail the assessment, there's no need to worry. We'll provide you with feedback on your incorrect responses – which will help you be successful on your next attempt.
Food Allergen Awareness online course reviews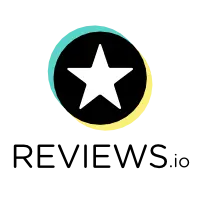 Need to look at some reviews to have the confidence to purchase? Our Food Allergen Awareness online training course has an average rating of 4.4 out of 5 stars. To see what previous learners have written, click the stars under the page heading.
Feedback helps us to measure whether we are delivering a successful course. It also gives other potential customers the information they need to decide whether this is the right course for them. Feel free to leave a review.
Other online Food Hygiene & Allergy courses
Did you know that i2Comply provides food hygiene courses for businesses and individuals? Below you'll find a list of all available food hygiene courses:
On our site, you'll also find courses for fire safety, health and social care, regulatory compliance. View all our available online courses here.
Book a food allergen awareness course today
Booking a course with i2Comply is easy. Click the 'Add to basket' button at the top right-hand side of the page. After this, click the basket and proceed with the payment.
The timer doesn't start to complete the course after purchase. You can buy a food allergen awareness course today and start it on a date which suits you, in a few days or a few months. This allows you to take advantage of our bulk course purchases.
Questions about our online food allergen awareness course?
If you still have questions regarding our online food allergy course, don't hesitate to contact a team member. We've always got a member of staff on hand to help.
Make use of our help & knowledge base. Here you will find recurring questions our team members receive. It's the perfect place to find FAQs about our online courses. You'll see answers to licence, payment, and account settings questions.
DISCOUNTS
Discounts Available For Bulk Purchases
No. of licences
per course
% saving
1 - 9
-
10 - 19
10%
20 - 49
20%
50 - 99
25%
100 - 149
30%
150 - 999
35%