DISCOUNTS
Discounts Available For Bulk Purchases
No. of licences
per course
% saving
1 - 9
-
10 - 19
10%
20 - 49
20%
50 - 99
25%
100 - 149
30%
150 - 999
35%
Food Hygiene Course Level 1
Assured by RoSPA Qualifications
Certified by CPD
Audio voiceover
Approximate duration of 1 hour
Downloadable certificate on completion
100% online training
No time limits
This online introductory food hygiene course is for staff whose role involves handling food. The course provides knowledge of food hygiene so staff can work safely.
This training course will take approximately 1 hour to complete. However, you can take as long as you want to complete the online course, there are no time limits.
The importance of Food Hygiene training
The Food Safety and Hygiene (England) Regulations 2013 require all food handlers to be trained in accordance with their food work activity. Therefore, all food businesses must ensure that staff whose role involves handling or preparing food receive the appropriate training in food hygiene.
It is proven that best hygiene practice and food hygiene training help to reduce the risk of food poisoning.
For more information on this subject read our short article on Why is Food Hygiene Training Important?. It outlines the 4 Cs of food hygiene, the legal requirements for food safety and hygiene and the benefits of food hygiene and safety training for your business.
Who is this Introductory Food Hygiene Course for?
The law requires all food handlers to have a basic understanding of the principles of food hygiene and know how to work safely when handling pre-packaged low-risk foods.
The course is suitable for anyone to undertake, but is especially useful for workers within the hospitality industries. Whether it is a restaurant, bar, school canteen or café, we've provided the information required to operate safely.
If your role involves directly handling or preparing high-risk foods, then you will need to take a Level 2 Food Hygiene and Safety training course.
What are the learning outcomes for the Food Safety Level 1 course?
At the end of the course you will be able to describe:
The potential consequences of poor food safety
A range of food safety hazards
Groups of people who are vulnerable to food poisoning and other food hazards
Three laws that relate to food safety
The process of bacterial growth
The effect of temperature on bacteria
Common food pests and how to control them
Rules of personal hygiene for food handlers
The correct steps to wash hands effectively
Cleaning methods appropriate in food production
How to deal with food waste safely.
When do I get my food hygiene certificate level 1?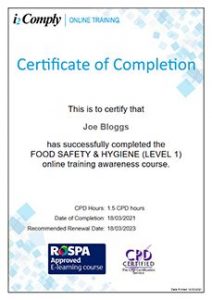 When you have successfully passed the online course you will be able to download and print your certificate straight away.
All of our courses conform to the Continuing Professional Development (CPD) guidelines and are accredited by the CPD Certification Service.
This Food Hygiene course is also assured by the Royal Society for the Prevention of Accidents through their RoSPA Qualifications Assurance System, as providing up-to-date, quality and content-approved training.
Your Food Hygiene certificate will include both logos, therefore you can use it to provide evidence for compliance.


How long is this Food Hygiene certificate level 1 valid for?
Our Level 1 Food Hygiene certificate doesn't have an expiry date. We recommend resitting the training after 2 years as a 'refresher', to ensure knowledge of food safety is maintained. The recommended renewal date will be on your certificate as a reminder.
Example Screens from Level 1 Food Hygiene Course course
We have provided a few sample slides from our online course. In order to help with the retention of information, our course materials have been kept simple and made to be easy to follow.
(Click on the example screens below to view)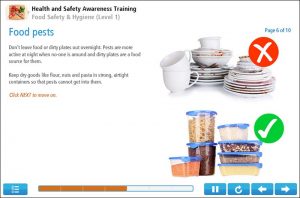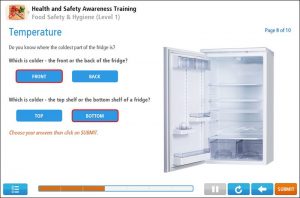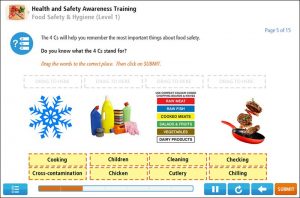 What does the Food Hygiene (Level 1) course cover?
The course contains the following 5 topics:
1 – Why food safety is important
The first topic is about the importance of food safety. It outlines UK laws that relate to food safety. The topic identifies who needs to know about food safety and the consequences of inadequate food safety. You will learn about four types of food contamination and which groups of people are most vulnerable to food poisoning.
2 – Temperature
The second topic is about food and temperature. You will discover how bacteria grow and what happens to bacteria at various temperatures. The topic covers how to refrigerate, freeze and hot hold food safely.
3 – Food pests
The third topic is about food pests. It identifies animals that can contaminate food. You will learn how to spot the signs of food pests and how to deal with them.
4 – Personal Hygiene
Topic 4 is about personal hygiene. It covers the importance of hand washing and rules of personal hygiene for food handlers.
5 – Cleaning Methods
The final topic outlines the standard cleaning process for food preparation areas. You will learn how and when to clean surfaces and equipment.
Food hygiene online course level 1 assessment
Once you have completed the five topics, you will be allowed to take the assessment. The course generates an assessment from question banks so that the questions change each time a candidate takes the assessment. This makes the training suitable for initial and refresher training.
There is no limit on the number of attempts at the assessment. In addition, the course gives useful feedback so learners can learn from incorrect responses.
Food hygiene online course level 1 reviews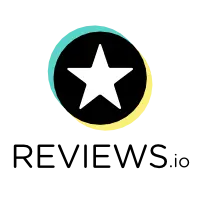 Our Level 1 Food Hygiene online course has received positive reviews from our customers and has an average rating of 4.6 out of 5 stars. If you are not sure whether you want to purchase this course, why not read some of our great reviews – just click the stars under the course title at the top of the page.
Some examples of our positive reviews are "Course was easy to understand and the assessment test was easy to do", "Very comprehensive level 1. But a pleasure to have done it" and "This was great very informative and interactive. Clear to access my account and easy to navigate ".
Looking for other Food Hygiene & Safety courses
I2Comply also provide additional Food Hygiene & Safety courses that can benefit your business. These online training courses include:
We do not only supply Food Hygiene courses. At i2Comply we have a range of courses across many categories including health & safety, regulatory compliance, health & social care and fire safety.
Why complete the training course online?
Currently, the world is shifting to more remote methods of working and e-learning has very significant advantages when it comes to growing your staff's knowledge of food allergies. We have outlined the most important benefits below:
There's no need to worry about time limits. With traditional in-person training, often, a one-size-fits-all approach is taken. With online training, you go at a pace that's comfortable for you.
When you enrol staff members on to our food allergen awareness training, we can guarantee consistency as everyone learns from the same materials.
Costs will be lower. You won't have to spend money getting staff members to a destination to receive training. With an online course, anywhere can be their classroom.
Our food allergy awareness course starts at just £15 per person. This is a great bargain if you compare it to in-person alternatives.
You can study whenever you want. Fit the training in at a time that's convenient for you. There's no need to adjust to a lecturer's schedule.
Have a question about our Food Hygiene course?
If you have a question on this or any of our courses please don't hesitate to contact a team member on 0333 577 5016.
You can also make use of our help & knowledge base. You will find many questions have already been answered by our team. You'll see answers to billing, licence, invoicing, and account settings questions.
DISCOUNTS
Discounts Available For Bulk Purchases
No. of licences
per course
% saving
1 - 9
-
10 - 19
10%
20 - 49
20%
50 - 99
25%
100 - 149
30%
150 - 999
35%