DISCOUNTS
Discounts Available For Bulk Purchases
No. of licences
per course
% saving
1 - 9
-
10 - 19
10%
20 - 49
20%
50 - 99
25%
100 - 149
30%
150 - 999
35%
For 200+ licences, please email us at sales@i2comply.com or call us on 0333 577 5016.
Food Hygiene and Safety Course (Level 1)
Assured by RoSPA Qualifications
Certified by CPD
Audio voiceover
Approximate duration of 1 hour
Downloadable certificate on completion
This online introductory Food Hygiene course is for staff whose role only involves handling food. The course provides knowledge of food hygiene so staff can work safely.
If your role involves directly handling or preparing high-risk foods, then you will need to take a Level 2 Food Hygiene and Safety training course.
Other online Food Hygiene Courses
Who is this Introductory Food Hygiene Course for?
The law requires all food handlers to have a basic understanding of the principles of food hygiene and know how to work safely when handling pre-packaged low-risk foods.
What are the learning outcomes for the Food Safety Level 1 course?
At the end of the course you will be able to describe:
The potential consequences of poor food safety
A range of food safety hazards
Groups of people who are vulnerable to food poisoning and other food hazards
Three laws that relate to food safety
The process of bacterial growth
The effect of temperature on bacteria
Common food pests and how to control them
Rules of personal hygiene for food handlers
The correct steps to wash hands effectively
Cleaning methods appropriate in food production
How to deal with food waste safely.
When do I get my Food Hygiene certificate?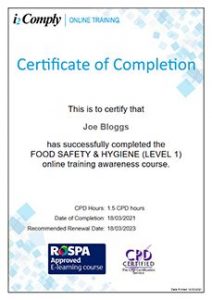 When you have successfully passed the online course you will be able to download and print your certificate straight away.
All of our courses conform to the Continuing Professional Development (CPD) guidelines and are accredited by the CPD Certification Service.
This Food Hygiene course is also assured by the Royal Society for the Prevention of Accidents through their RoSPA Qualifications Assurance System, as providing up-to-date, quality and content-approved training.
Your Food Hygiene certificate will include both logos, therefore you can use it to provide evidence for compliance.

Example Screens from Food Hygiene and Safety course
(Click on the example screens below to view)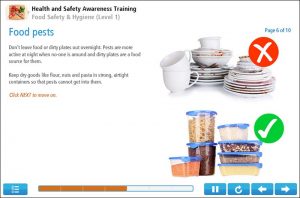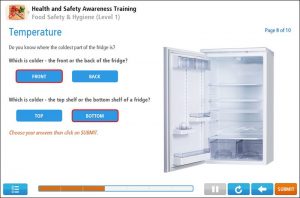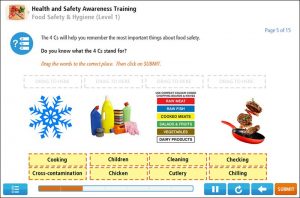 What does the Food Hygiene (Level 1) course cover?
The course contains the following 5 topics:
1 – Why food safety is important
The first topic is about the importance of food safety. It outlines UK laws that relate to food safety. The topic identifies who needs to know about food safety and the consequences of inadequate food safety. You will learn about four types of food contamination and which groups of people are most vulnerable to food poisoning.
2 – Temperature
The second topic is about food and temperature. You will discover how bacteria grow and what happens to bacteria at various temperatures. The topic covers how to refrigerate, freeze and hot hold food safely.
3 – Food pests
The third topic is about food pests. It identifies animals that can contaminate food. You will learn how to spot the signs of food pests and how to deal with them.
4 – Personal Hygiene
Topic 4 is about personal hygiene. It covers the importance of hand washing and rules of personal hygiene for food handlers.
5 – Cleaning Methods
The final topic outlines the standard cleaning process for food preparation areas. You will learn how and when to clean surfaces and equipment.
Assessment
Once you have completed the five topics, you will be allowed to take the assessment. The course generates an assessment from question banks so that the questions change each time a candidate takes the assessment. This makes the training suitable for initial and refresher training.
There is no limit on the number of attempts at the assessment. In addition, the course gives useful feedback so learners can learn from incorrect responses.
DISCOUNTS
Discounts Available For Bulk Purchases
No. of licences
per course
% saving
1 - 9
-
10 - 19
10%
20 - 49
20%
50 - 99
25%
100 - 149
30%
150 - 999
35%
For 200+ licences, please email us at sales@i2comply.com or call us on 0333 577 5016.