DISCOUNTS
Discounts Available For Bulk Purchases
No. of licences
per course
% saving
1 - 9
-
10 - 19
10%
20 - 49
20%
50 - 99
25%
100 - 149
30%
150 - 999
35%
For 200+ licences, please email us at sales@i2comply.com or call us on 0333 577 5016.
Fire Marshal / Warden Training
Assured by RoSPA Qualifications
Certified by CPD
Audio voiceover
Approximate duration 1-2 hours
Downloadable certificate on completion
This Fire Marshal / Warden online training course ensures that anyone that passes the final assessment is aware of the duties and responsibilities of a Fire Marshal according to the Regulatory Reform (Fire Safety) Order 2005, the Fire Safety (Scotland) Regulations 2006 and the Fire Safety Regulations (Northern Ireland) 2010.
Fire Marshal Training should only be undertaken once Fire Safety Awareness training has been received. It is a legal requirement for every employee of every business within the UK to undergo Fire Safety Awareness Training.
This Fire Marshal / Warden online training course has been assured by The Royal Society for the Prevention of Accidents (RoSPA) Qualifications and certified by The Continuing Professional Development Certification Service (CPD).

Other Courses
Who is it for?
It is for those nominated to the role of Fire Marshal / Fire Warden within a business. It is a legal requirement for every employer to nominate competent persons, usually referred to as Fire Marshals or Fire Wardens, to assist with the fire evacuation. These Fire Marshals must be trained when appointed and receive refresher training at regular intervals thereafter.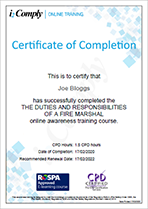 When do I get my certificate?
When you have successfully passed the course you will be able to download and print your certificate straight away.
As this Fire Marshal online training course has been accredited by the CPD Certification Service and assured by RoSPA Qualifications, your certificate will contain both logos and can be used to provide evidence for compliance
Example Screens
(Click on the example screens below to view)

What does the course cover?
The course contains the following 6 topics and includes an assessment:
Who is Responsible for Fire Safety
The legislation in place to reduce the risk of fire and minimise the risk of harm.
Who is legally responsible for fire safety.
Fire safety risk assessments.
What is a Fire Marshal?
What a Fire Marshal is.
How the number of Fire Marshals in a building will depend on the size.
Routine Duties
The routine duties of the Fire Marshal.
Testing the emergency fire systems of the workplace.
Emergency Duties and Drills
The role of the Fire Marshal in an emergency.
How the Fire Marshal can help other workers to safety evacuate.
How to safely check that a building has been evacuated.
What to do once outside of the building.
Human Behaviour in Response to an Alarm
How people react when an alarm sounds.
How valuable time can be gained when people understand what they must do.
Fire Causes
The frequency and causes of fires in non-domestic dwellings.
Assessment
The assessment is generated from question banks so that the questions change each time a candidate takes the assessment – making the training suitable for initial and refresher training.
There is no limit on the number of attempts at the assessment and informative feedback is given so candidates can learn from their incorrect responses.
DISCOUNTS
Discounts Available For Bulk Purchases
No. of licences
per course
% saving
1 - 9
-
10 - 19
10%
20 - 49
20%
50 - 99
25%
100 - 149
30%
150 - 999
35%
For 200+ licences, please email us at sales@i2comply.com or call us on 0333 577 5016.