DISCOUNTS
Discounts Available For Bulk Purchases
No. of licences
per course
% saving
1 - 9
-
10 - 19
10%
20 - 49
20%
50 - 99
25%
100 - 149
30%
150 - 999
35%
For 200+ licences, please email us at sales@i2comply.com or call us on 0333 577 5016.
Display Screen Equipment (DSE) Awareness Course
FREE Workplace Assessment
Assured by RoSPA Qualifications
Certified by CPD
Audio voiceover
Approximate duration 2 hours
Downloadable certificate on completion
This Display Screen Equipment (DSE) online training course provides learners with the knowledge they need in order to work comfortably and avoid unnecessary aches and strains whilst using DSE in their work environment.
For employers, it is an efficient way to ensure that all employees are up to date with current health and safety regulations.
DSE online training only provides awareness education. Face to face training would be needed in addition in order to complete the all-round skills and knowledge to be able to carry this forward practically in your organisation.
RoSPA Qualifications has assured this online training course and the CPD Certification Service has certified it.

Who is Display Screen Equipment for?
The Health and Safety (Display Screen Equipment) Regulations 1992 aim to protect the health of people who work with Display Screen Equipment. This training is suitable for anyone who uses Display Screen Equipment regularly as part of their working day.
When do I get my Display Screen Equipment certificate?
When you have successfully passed the course you will be able to download and print your certificate straight away.
Your certificate will include the ROSPA and CPD Certification Service logos. Therefore you can use it to provide evidence for compliance.
Example Screens from the Display Screen Equipment course
(Click on the example screens below to view)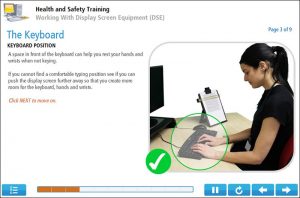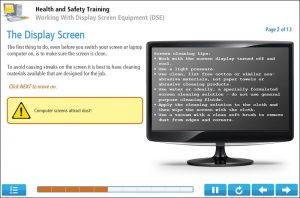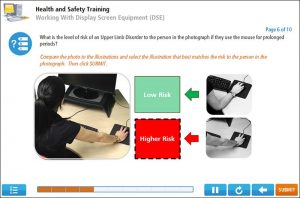 What does the Display Screen Equipment course cover?
The course contains the following 9 topics:
1 – Working with DSE – The Risks
The first topic identifies examples of DSE you are likely to find in your workplace. It outlines an employer's legal duties with regards to DSE and describes DSE assessments.
2 – The Keyboard
The second topic is about the keyboard. You will learn about when a separate keyboard is required. The topic describes good and bad keying technique and explains correct hand positioning.
3 – Mice and Other Point-and-Click Devices
The third topic describes good and bad practice when using mice and other point-and-click devices. You will learn about correct hand positioning and adjustments you might need to make to ensure devices are accurate.
4 – The Display Screen
Topic 4 is about the screen. It explains how to clean your screen and how to position the screen correctly. You will learn about good colour and font combinations and how to reduce screen glare.
5 – Your Workspace
Topic 5 explains the features of a well organised workspace. You will learn to improve a cramped workspace, how to optimise a workspace set-up and how to position your workspace to minimise glare.
6 – The Chair
Topic 6 describes the features of a chair suitable for Display Screen Equipment work. You will learn the correct sitting position and how to adjust your chair.
7 – The Environment
Topic 7 describes environmental factors that can contribute to upper limb disorders and how to minimise the risks of these factors.
8 – Changes in Activity
Topic 8 explains why it is important to take breaks and change the type of activity you are doing. It suggests suitable break-time activities and explains how to prevent fatigue at work.
9 – Eye Tests
The final topic identifies who is entitled to an eye test and when an employer must pay for glasses.
Assessment
Once you have completed the nine topics, you will be allowed to take the assessment. The course generates an assessment from question banks so that the questions change each time a candidate takes the assessment. This makes the training suitable for initial and refresher training.
There is no limit on the number of attempts at the assessment. In addition, the course gives informative feedback so candidates can learn from incorrect responses.
DISCOUNTS
Discounts Available For Bulk Purchases
No. of licences
per course
% saving
1 - 9
-
10 - 19
10%
20 - 49
20%
50 - 99
25%
100 - 149
30%
150 - 999
35%
For 200+ licences, please email us at sales@i2comply.com or call us on 0333 577 5016.