DISCOUNTS
Discounts Available For Bulk Purchases
No. of licences
per course
% saving
1 - 9
-
10 - 19
10%
20 - 49
20%
50 - 99
25%
100 - 149
30%
150 - 999
35%
Online PAT Testing Course
Assured by RoSPA
Certified by CPD
Audio voiceover
Approximate course duration 1.5 hours
Downloadable certificate on completion
100% online training
No time limits
Our online PAT Testing and Electrical Safety course is an introduction to PAT testing in any work environment. It is suitable for employees at any level of the business. Although there is no law in the UK that says organisations must do PAT testing, organisations are required to make sure their employees have a safe working environment.
Electrical safety is every employer's responsibility and PAT testing is an excellent way to ensure a safe environment and reduce accidents due to faulty electrical equipment.
Our PAT course is only £20 and is 100% online, so it can be taken any time and anywhere there is an internet connection. On average, it takes about 1.5 hours to complete.
What is PAT testing?
PAT stands for Portable Appliance Testing and refers to the process of checking electrical appliances to make sure they are safe to use.
Why is PAT testing important?
Almost every business uses electrical equipment. Every year there are fires in homes and workplaces due to electrical faults and a small number of deaths due to electric shock. Employers can prevent many of these incidents by regularly carrying out PAT testing. Businesses must assess the risks to decide how often to test their equipment. Employers should review their decisions regularly as part of ongoing risk assessment.
Does every business need PAT testing?
Yes, as almost all businesses use electrical equipment. The Electricity at Work Regulations 1989 require that any electrical equipment that has the potential to cause injury is maintained in a safe condition. Formal inspection or testing of electrical appliances is not in itself a legal requirement.
Typical appliances that should be PAT tested are:
Electric power tools
PCs
Irons
Kettles
Hairdryers
Extension leads
We have advice on choosing a PAT testing device, alongside the information in this course.
Do you have employees working from home?
If any of your home-working employees use portable electrical equipment (laptop computers, display screens or extension leads) then, as an employer, you are responsible for making sure equipment is safe and without risk of electric shock or fire.
What does the PAT Testing and Electrical Safety training course cover?
Our course explains how PAT testing can contribute to safety in every organisation. The course explains, in simple terms, how electricity works. It shows you how to prepare for PAT testing and describes how to carry out the three types of checks recommended by the Health and Safety Executive.
Who should take this PAT Testing online training course?
The course is useful for business owners, health and safety managers, those responsible for PAT testing, and users of electrical appliances.
If you have a team that needs to do the course, i2Comply offers bulk discounts of 10% to 35% on group orders – automatically applied at checkout.
What are the learning outcomes for the course?
At the end of our PAT testing course you will be able to describe:
Why PAT testing is important
What UK law says about PAT testing
The basic principles of how electricity works
How to prepare for PAT testing
How to carry out the three types of checks recommended by HSE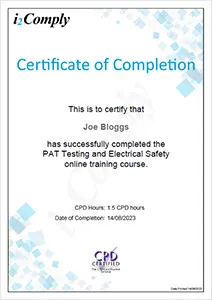 When do I get my PAT Testing online training course certificate?
Your certificate will be available as soon as the training course has been passed. You just need to click on the VIEW CERTIFICATE button to download or print your certificate.
The PAT Testing and Electrical Safety course is accredited by the CPD Certification Service, as it conforms to the Continuing Professional Development (CPD) guidelines.
The Royal Society for the Prevention of Accidents, through their RoSPA Qualifications Assurance System, has assured the PAT Testing online course as providing up-to-date, quality and content-approved training.


Example Screens from our PAT Testing and Electrical Safety online training course
Take a look at three example screens from the course. All of our courses are designed to be simple but informative. They are easy to understand and students can retain key information easily. The course screens are a mixture of text, images, animation and tables, and include professional audio.
(Click on the example screens below to view)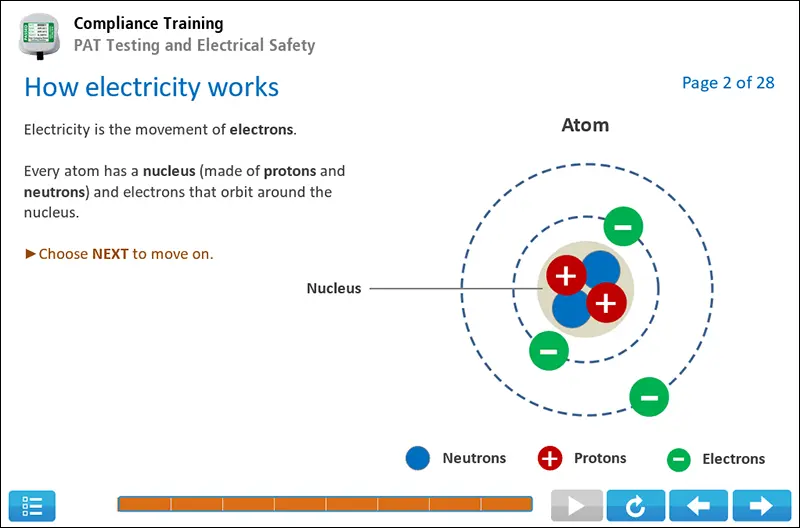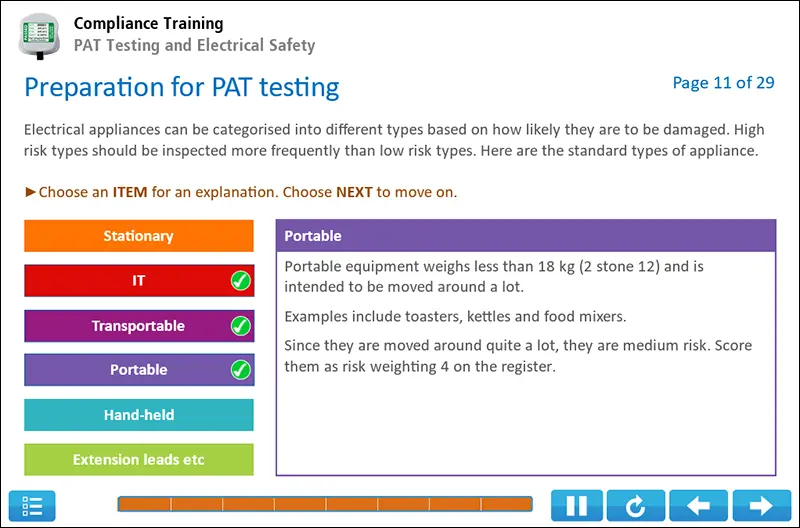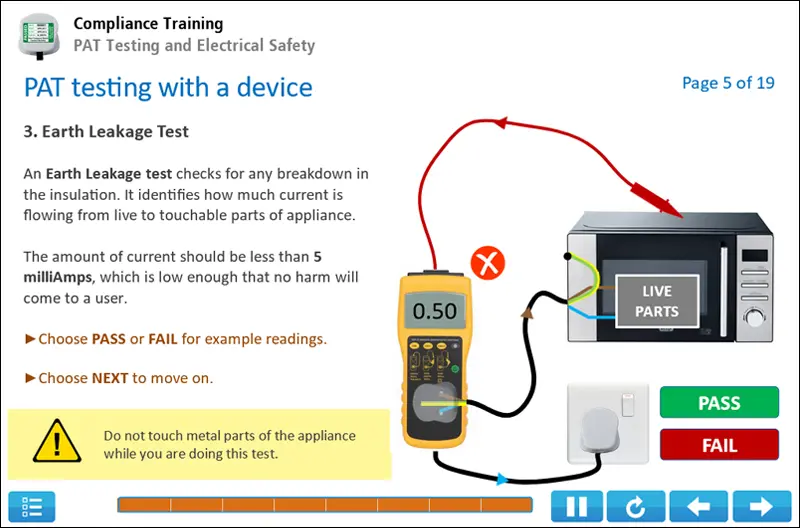 What does a PAT training course cover?
Our online course covers the following topics:
1 – Introduction to PAT Testing
The first topic introduces important concepts related to PAT testing and electrical safety. You will learn about what PAT testing means and why it is important. You'll also learn about the types of injury caused by electric shock and how to help someone who is being shocked.
2 – How Electricity Works
The second topic explains how electricity works. It describes voltage, current, resistance and power, and how these relate to each other. You will learn about the purpose of different wires in a circuit, and about safety devices commonly used with electric appliances.
3 – Preparation for PAT Testing
The third topic describes what you should do before you start PAT testing appliances. You'll learn about the three kinds of check recommended by HSE.  The topic identifies what items you need in order to get started and how to build a register of appliances.
4 – User Checks
The fourth topic describes the user checks that all staff should be encouraged to do regularly. You will learn about why these checks matter and what users should look for each time they use an appliance.
5 – Formal Visual Inspections
Topic 5 is about the formal visual inspection. It explains why these checks are essential and identifies what to look for in the appliance itself and in the cable, plug, environment and RCDs.
6 – Testing with a PAT Device
Topic 6 is about testing appliances using a PAT testing device. It outlines the purpose of four different tests and identifies which appliances need which tests.
PAT Testing online course assessment
The course assessment will consist of 15 questions generated from question banks. This means the questions will be different each time you take the assessment.
Useful feedback for incorrect responses is provided. Also, revision flags are displayed on the menu for any topics where you got questions wrong.
PAT Testing online course reviews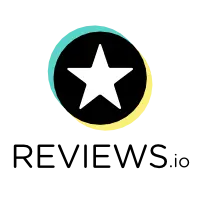 We pride ourselves in producing good quality courses and love to know what our customers think. So if you enjoy our courses, please let us know and provide us with a review. It also helps other people to see reviews before they commit to purchase.
Whether it is positive or negative, we value your feedback. We take all comments seriously. So please feel free to leave a review.
Our UK Fire Safety online courses
i2Comply has a range of fire safety courses which can help your business and staff to be more aware of fire safety within the workplace. Whether you require Fire Safety Awareness training or need to train Fire Marshal/Wardens, we have got you covered. Further information about the individual courses can be found on the course page, just click on each title.
i2Comply also supply a wide range of courses covering health & safety, health & social care and regulatory compliance. Take a look at our full list of online training courses.
Looking for answers that we haven't covered?
If you haven't found all the answers you require, then please contact us and a member of our team will be happy to help.
Finally, we also have our help & knowledge base area. This contains answers on certificates, invoicing, devices and lots more frequently asked questions.
DISCOUNTS
Discounts Available For Bulk Purchases
No. of licences
per course
% saving
1 - 9
-
10 - 19
10%
20 - 49
20%
50 - 99
25%
100 - 149
30%
150 - 999
35%