DISCOUNTS
Discounts Available For Bulk Purchases
No. of licences
per course
% saving
1 - 9
-
10 - 19
10%
20 - 49
20%
50 - 99
25%
100 - 149
30%
150 - 999
35%
Unconscious Bias Training Course
Certified by CPD
Audio voiceover
Approximate course duration of 1 hour
Downloadable certificate on completion
100% online training
This online Unconscious Bias training course explains the impact of unconscious bias on people and organisations.
The online course describes what unconscious bias is and how it can have a negative impact on the quality of your decisions and behaviour at work. It describes the different kinds of bias and what steps you can take to reduce the impact of bias at work and in your life in general. It also highlights the importance for organisations to design processes that prevent unconscious bias having a negative effect in the workplace.
What is unconscious bias?
Unconscious biases are associations that you hold subconsciously, and they affect the way you think and feel about others around you. Very often those associations will not be accurate or fair about the specific people you meet and work with.
Unconscious bias affects everyone. It is influenced by your background, personal experiences, societal stereotypes and cultural context. Unconscious bias can influence your attitudes and behaviours towards other people. Also, it can influence decision making in the workplace and contribute to inequality during recruitment, appraisals and promotions.
What are the benefits of Unconscious Bias in The Workplace Training?
Unconscious bias can harm both individuals and companies. This unconscious bias in the workplace training will help you and your employees to achieve the following benefits:
Unconscious bias training helps to make people aware that unconscious bias exists and helps them understand their own biases. This allows them to take steps to slow down their decision-making process and reduce the likelihood that bias will influence their decisions at work or in their personal life.
The training will enable employees to work towards inclusion and improve their workplace relationships and professional interactions. This will create a positive work environment and improve employees' morale.
The unconscious bias in the workplace training will help you and your employees to address bias in specific situations, such as recruitment and performance management. As a result, your company will acquire a wider pool of talent and maintain employees' motivation and enthusiasm. In fact, employees who perceive bias against them at work are more likely to be disengaged, plan to leave their jobs or withhold ideas and market solutions. This means that reducing bias in the workplace will encourage employees to stay and lead to increased business productivity and opportunities.
Who is Unconscious Bias training for?
The course is useful for employees in any work environment. It helps them understand the impact of unconscious bias on themselves, their colleagues and their organisation.
What are the learning outcomes for the Unconscious Bias course?
After completing the course you will be able to:
Define unconscious bias.
Outline how stereotypes can affect behaviour.
Describe the impact on businesses of unconscious bias.
Define, and give examples of, different types of bias.
Identify ways to reduce bias.
When do I get my Unconscious Bias course certificate?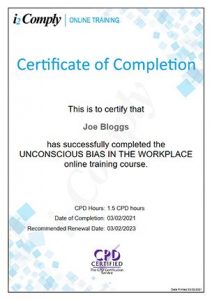 When you have passed the Unconscious Bias training course, you can download your certificate.
All of our courses conform to CPD guidelines and have been accredited by the CPD Certification Service. Your certificate will include the CPD logo so you can use it as evidence of compliance.

How long is this Unconscious Bias course certificate valid for?
Our Unconscious Bias in The Workplace certificate does not expire. However, we recommend refreshing the training after a 2 year period to ensure that you and your employees retain important information, can spot signs of unconscious bias in the workplace and know how to reduce bias.
Example Screens from the Unconscious Bias course
You can see below some sample screens from our Unconscious Bias in The Workplace training course. The course contains easy to follow material and interactive activities, which will keep you engaged throughout the training.
(Click below to view Unconscious Bias training example screens)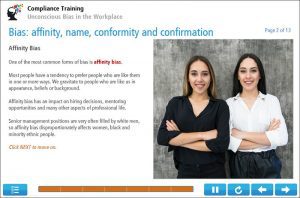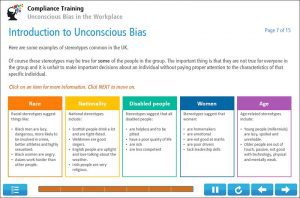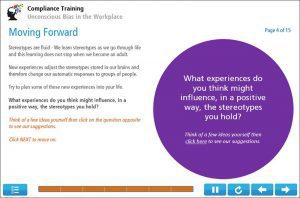 What does the Unconscious Bias course cover?
The online training course contains the following 5 topics:
1 – Introduction to Unconscious Bias
The first topic is about stereotypes and behaviour. It identifies the ways in which unconscious bias can impact your decisions. It describes how bias affects some groups more than others. Finally the topic describes the impact that unconscious bias can have on a business.
2 – Bias: affinity, name, conformity and confirmation
The second topic describes four types of bias – affinity, name, conformity and confirmation.
3 – Bias: performance, attribution, likeability and maternal
The third topic describes four more types of bias – performance, attribution, likeability and maternal.
4 – Three effects – halo, horns and contrast
Topic 4 describes three effects that increase bias – the halo, horns and contrast effects.
5 – Moving Forward
The final topic discusses the limitations of unconscious bias training. Then it identifies ways you can reduce your own bias. It also identifies ways that an organisation can reduce the impact of bias.
Unconscious Bias online course assessment
You can take try the assessment as soon as you have completed all five topics. The course creates the assessment from question banks so the questions vary every time you do the assessment. This means the training is suitable as initial and refresher training.
You can take the test as often as you need to. You will get feedback and learn from any mistakes.
Unconscious Bias online course reviews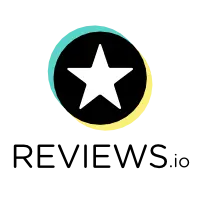 See what our customers think about our Unconscious Bias in The Workplace online course here. Our customers rated our Unconscious Bias course 4.4 out of 5 stars.
Want to leave a review? Your opinion is very important to us, so you are welcome to share your feedback.
Other online Regulatory Compliance courses
I2Comply provides a variety of online regulatory compliance courses both for individuals and organisations. Click on the course titles below to learn about our regulatory compliance courses or see a full list of courses here.
Are you ready to get started?
To book Unconscious Bias in The Workplace online training course simply click the 'Add to basket' button at the top right of the page, click on the basket icon and proceed to checkout.
If you are looking to purchase for your team, remember that our licences don't expire and are only used when a learner starts a course. Any unused licences stay in your account until you need to use them. So, take advantage of our bulk purchase discounts, starting from orders of 10 licences per course. Discounts are automatically applied at checkout.
Do you have any questions about Unconscious Bias training?
If you still have questions about Unconscious Bias in The Workplace training, don't hesitate to contact a member of our team by emailing [email protected] or call the support line on 0333 5775 017.
Also, visit our Help & Support page, where you will find FAQs about our online training courses.
DISCOUNTS
Discounts Available For Bulk Purchases
No. of licences
per course
% saving
1 - 9
-
10 - 19
10%
20 - 49
20%
50 - 99
25%
100 - 149
30%
150 - 999
35%