DISCOUNTS
Discounts Available For Bulk Purchases
No. of licences
per course
% saving
1 - 9
-
10 - 19
10%
20 - 49
20%
50 - 99
25%
100 - 149
30%
150 - 999
35%
For 200+ licences, please email us at sales@i2comply.com or call us on 0333 577 5016.
First Aid in the Workplace Course Online
Assured by RoSPA Qualifications
Certified by CPD
Audio voiceover
Approximate course duration 2-3 hours
Downloadable certificate on completion
This First Aid in the Workplace online training course will help you to recognise emergency medical situations and make you aware of the actions to take or avoid before a qualified First-Aider or professional medical help arrives on the scene.
This First Aid online training course does not qualify you to be a First-Aider or an Emergency First-Aider. The Health and Safety Executive website has guidance for selecting a provider
www.hse.gov.uk/pubns/geis3.htm
.
The importance of First Aid in the Workplace training
The workplace may seem like a safe place, but an accident can occur at any time and if it does, who in the workplace can help?
First aid training gives staff the confidence and ability to react immediately to an incident, injury or illness, before professional medical assistance arrives. By making first aid training part of employee training, employers can show their workforce that they care about providing a safe work environment. First aid training also helps employees learn to be more conscious of safety in the workplace, leading to a reduced number of accidents and injuries.
It is proven that first aid saves lives.
Who is First Aid in the Workplace training for?
The First Aid in the Workplace online training course is especially suited for nominated first aiders in smaller, low risk working environments. No previous first aid knowledge is required.
Everyone should be provided with basic emergency first aid knowledge, as there is always a risk of injury or falling ill at work and it is important that the casualty receives immediate assistance.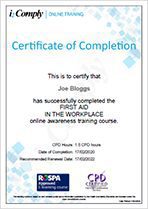 When do I get my First Aid in the Workplace certificate?
When you have successfully passed the online course you will be able to download and print your certificate straight away.
All of our courses conform to the Continuing Professional Development (CPD) guidelines and are accredited by the CPD Certification Service.
This First Aid in the Workplace course is also assured by the Royal Society for the Prevention of Accidents through their RoSPA Qualifications Assurance System, as providing up-to-date, quality and content-approved training.
Your certificate will include both logos, therefore you can use it to provide evidence for compliance.

Example Screens from the First Aid in the Workplace course
(Click on the example screens below to view)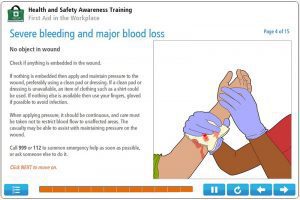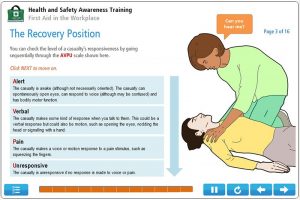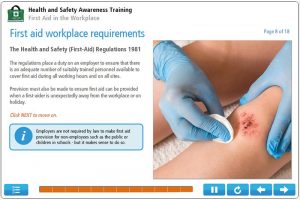 What does the First Aid in the Workplace training course cover?
The online course contains the following 10 topics:
1 – First-aid workplace requirements
The first topic is about first aid requirements in the workplace. It outlines the Health and Safety (First-Aid) Regulations 1981 and describes the minimum first aid provision at work. You will learn about what needs to be in a first aid box. The topic also covers RIDDOR and identifies when you need to report injuries and illness.
2 – The Recovery Position
The second topic is about the recovery position. The topic defines the term 'unresponsive' and explains how to check a person's level of responsiveness. You will learn about the importance of the recovery position and how you place a casualty in this position.
3 – Resuscitation (CPR)
The third topic is about CPR. You will learn how to give chest compressions and rescue breaths in the correct ratio. You will also learn when to stop CPR.
4 – Automated External Defibrillators (AEDs)
Topic 4 is about AEDs. You will learn about when and how to use AEDs.
5 – Shock
Topic 5 is about shock. It outlines common causes and the signs of shock. You will learn how to deal with anaphylaxis and what to do if you suspect a casualty is suffering from shock.
6 – Choking
Topic 6 is about choking. The topic explains why you might not realise a casualty is choking. You will learn about the sequence of actions to take if you think someone is choking. The topic covers when to summon the emergency services and what to do if the casualty becomes unresponsive.
7 – Minor injuries
Topic 7 shows you how to deal with minor bleeding, nosebleeds and bruising.
8 – Burns and Scalds
Topic 8 is about burns and scalds. The topic identifies the layers of the skin and identifies different types of burn. You will learn how to differentiate between superficial and serious burns. The topic covers first aid for burns, when the casualty should visit A&E, and how to deal with electrical and chemical burns.
9 – Severe bleeding and major blood loss
Topic 9 is about severe bleeding. You will learn how to slow or stop bleeding until professional help arrives. The topic explains what to do if there is an object embedded in a wound and how to use a tourniquet. The topic also covers the action to take if there has been an amputation.
10 – The Primary Survey
The final topic is about the Primary Survey. You will learn about when to do the Primary Survey and the sequence of steps that make up the survey. The topic also explains when to carry out a Secondary Survey.
Assessment
Once you have completed the ten topics, you will be allowed to take the online first aid assessment. The course generates an assessment from question banks so that the questions change each time a candidate takes the assessment. This makes the training suitable for initial and refresher training.
There is no limit on the number of attempts at the assessment. In addition, the course gives useful feedback so candidates can learn from incorrect responses.
DISCOUNTS
Discounts Available For Bulk Purchases
No. of licences
per course
% saving
1 - 9
-
10 - 19
10%
20 - 49
20%
50 - 99
25%
100 - 149
30%
150 - 999
35%
For 200+ licences, please email us at sales@i2comply.com or call us on 0333 577 5016.