DISCOUNTS
Discounts Available For Bulk Purchases
No. of licences
per course
% saving
1 - 9
-
10 - 19
10%
20 - 49
20%
50 - 99
25%
100 - 149
30%
150 - 999
35%
For 200+ licences, please email us at sales@i2comply.com or call us on 0333 577 5016.
Certified by CPD
Audio voiceover
Approximate duration 1-2 hours
Downloadable certificate on completion
Our Bribery Act 2010 online training course ensures directors, managers and employees in your organisation are aware of, and understand, the UK Bribery Act 2010 and the importance of conducting business in a non-corrupt way.
The CPD Certification Service has certified this training course.

Who is the Bribery Act 2010 course for?
Anyone working for a company, partnership or other commercial organisation that carries out all or part of its business in the UK. Companies failing to prevent bribery will face a possible unlimited fine, while directors and employees could also face possible jail sentences.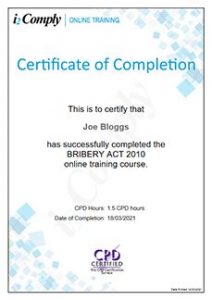 When do I get my Bribery Act 2010 certificate?
When you have successfully passed the course you will be able to download and print your certificate straight away.
Your certificate will include the CPD Certification Service logo. Therefore you can use it to provide evidence for compliance.
Example Screens from the Bribery Act 2010 course
(Click on the example screens below to view)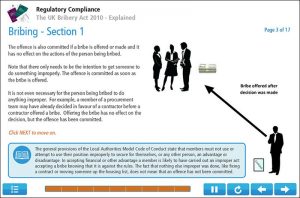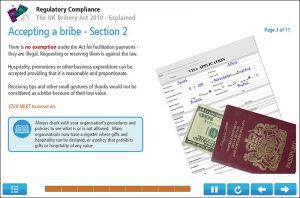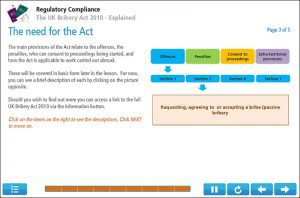 What does the Bribery Act 2010 course cover?
The course contains the following 7 topics:
1 – Introducing the UK Bribery Act
The first topic identifies the potential that companies and individuals have to commit bribery offences. It describes the main sections of the Bribery Act.
2 – The need for the Act
The second topic explains the purpose of the Act and identifies the key provisions.
3 – How does the Bribery Act affect you?
The third topic identifies who can commit the offences of bribery and receiving a bribe. It covers how and where an offence can be committed.
4 – Bribing – Section 1
Topic 4 covers the offence of bribing, an offence that an individual can commit.
5 – Accepting a bribe – Section 2
Topic 5 covers the offence of accepting a bribe.
6 – Bribing a foreign public official – Section 6
Topic 6 is about the offence of bribing a foreign public official.
7 – Failure of an organisation to prevent bribery – Section 7
The final topic covers the offence committed when an organisation fails to prevent bribery.
Assessment
Once you have completed the seven topics, you will be allowed to take the assessment. The course generates an assessment from question banks so that the questions change each time a candidate takes the assessment. This makes the training suitable for initial and refresher training.
There is no limit on the number of attempts at the assessment. In addition, the course gives informative feedback so candidates can learn from incorrect responses.
DISCOUNTS
Discounts Available For Bulk Purchases
No. of licences
per course
% saving
1 - 9
-
10 - 19
10%
20 - 49
20%
50 - 99
25%
100 - 149
30%
150 - 999
35%
For 200+ licences, please email us at sales@i2comply.com or call us on 0333 577 5016.