DISCOUNTS
Discounts Available For Bulk Purchases
No. of licences
per course
% saving
1 - 9
-
10 - 19
10%
20 - 49
20%
50 - 99
25%
100 - 149
30%
150 - 999
35%
Hand-Arm Vibration (HAV) Training Course
Assured by RoSPA Qualifications
Certified by CPD
Audio voiceover
Approximate course duration 1 hour
Downloadable certificate on completion
100% online training
No time limits
This training will advise you of the hazards posed by Hand-Arm Vibration (HAV) at work. It will also explain the precautions that you need to take to prevent permanent injury to your health through prolonged exposure to vibration.
According to the HSE, nearly 2 million people in the UK are at risk of developing Hand-Arm Vibration Syndrome (HAVS) at work. HAVS is preventable, but once the damage is done it is permanent. Therefore, employers must ensure that their employees follow strict health and safety practices to protect themselves against the health risks associated with hand-arm vibration.
Employers have a legal duty to take reasonable steps to safeguard the health and safety of all employees. Therefore, employers need to raise awareness about the risks associated with hand-arm vibration at work, and they need to outline how these risks can be minimised.
The course takes approximately 1 hour to complete. However you can complete the course in multiple sessions and take as long as you require.
What is Hand-Arm Vibration?
Hand-arm vibration is any vibration transmitted from work processes into hands and arms. It can occur when operating hand-held or handguided power tools, such as concrete breakers, grinders, chainsaws, powered lawnmowers and compactors. Also, vibration can be transmitted into hands and arms by holding materials that are being processed by machines such as when buffing workpieces or off-hand grinding using a pedestal grinder.
Why is Hand-Arm Vibration training important?
Regular exposure to vibration at work can cause a number of health issues. Vibration can have an adverse effect on nerves, blood vessels and joints, leading to a range of conditions collectively known as Hand-Arm Vibration Syndrome (HAVS). HAVS can cause tingling, pain and numbness in your hands and fingers, and you may not be able to feel things properly. Also, you may notice a loss of strength in your hands, which makes it difficult to grip and hold things. HAVS is preventable, however once the damage has been done, the condition is irreversible. When the condition develops, HAVS can limit the types of work you can do and prevent you from participating in some social activities or carrying out every day tasks.
The Hand-Arm Vibration training will help you to recognise the early signs of HAVS, will help you to understand when your exposure to vibration exceeds the safe limits and explain what can be done to reduce harmful exposure so you can take action before the damage becomes permanent.
Who is Hand-Arm Vibration training for?
The training is suitable for anyone who regularly uses vibrating tools and equipment, or handles vibrating materials in their workplace. It is ideal for employers, employees and the self-employed who work in construction, roads and railways building and maintainance, forestry, foundries, engineering, vehicle manufacture and repair, and public utilities.
What are the learning outcomes for the Hand-Arm Vibration course?
After completing the Hand-Arm Vibration online training course you will be able to describe:
The principal health risks associated with HAV
Legal duties and responsibilities relating to HAV
Vibration exposure action values and exposure limit values
How to easily find out your level of vibration exposure
When monitoring of vibration levels is necessary
HAV risk assessments
How to reduce the risk of Hand-Arm Vibration Syndrome and Carpal Tunnel
When do I get my Hand-Arm Vibration training course certificate?
You will be able to download and print your certificate immediately after you have successfully passed the online Hand-Arm Vibration course assessment.
All of our courses conform to the Continuing Professional Development (CPD) guidelines. The CPD Certification Service has accredited the courses.
The Royal Society for the Prevention of Accidents, through their RoSPA Qualifications Assurance System, has assured the training course as providing up-to-date, quality and content-approved training.
Your certificate will include both logos, therefore you can use it to provide evidence for compliance.


How long is this Hand-Arm Vibration training course certificate valid for?
Your Hand-Arm Vibration course certificate does not expire. However, to ensure that your knowledge of HAV is current and you are aware of the safe work practices when using vibrating tools and equipment or handling vibrating materials in your workplace, we recommend renewing this training every 2 years. The recommended renewal date will be noted on your certificate.
Can this training course act as evidence for SSIP accreditations like CHAS, SafeContractor and ConstructionLine?
Yes, you can use our Hand-Arm Vibration training certificate as evidence of industry-related training. This evidence is important for SSIP accreditations. This online course helps you to ensure all staff receive appropriate training and that you have the certificates to prove it. However, each individual accreditation body will decide whether our online training courses are sufficient for your company's training requirements.
Example Screens from the Hand-Arm Vibration online training course
You can see some example screens from our Hand-Arm Vibration online training course below. The course contains concise and simple to follow material, which will help you to easily understand and retain the essential information about Hand-Arm Vibration and reflect on how you could improve your work practices to protect your health.
(Click below to view Hand-Arm Vibration course example screens)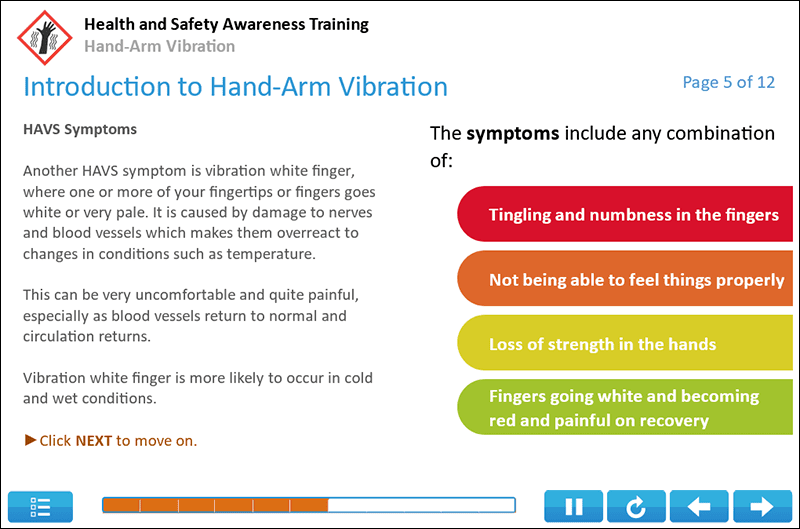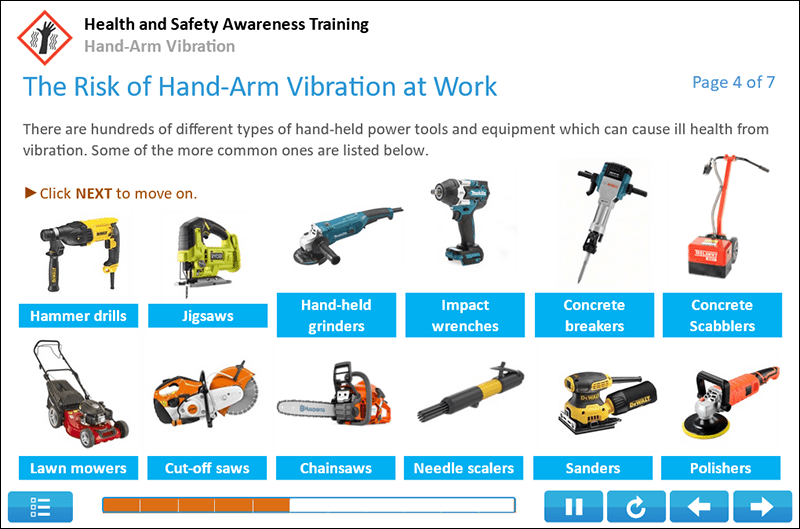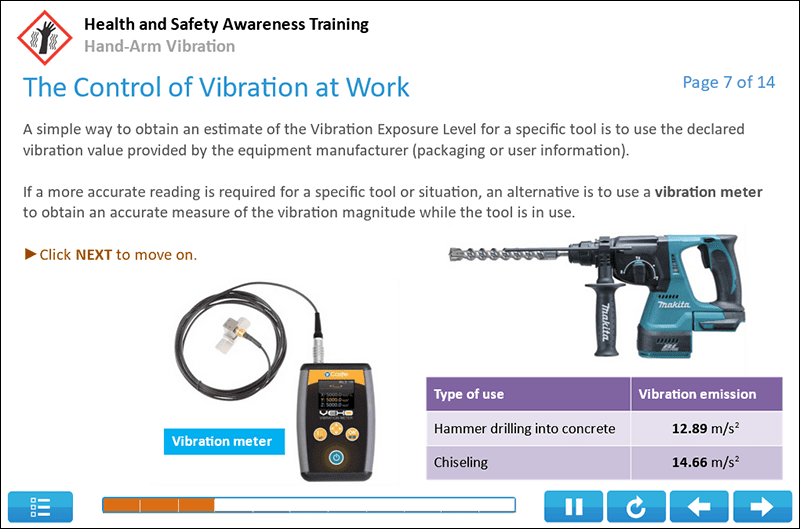 What does the Hand-Arm Vibration training course cover?
The online training course contains the following 4 topics:
1 – Introduction to Hand-Arm Vibration
The first topic explains what hand-arm vibration is and outlines what are the various sources of hand-arm vibration. The topic also identifies when HAV can be damaging to your health, outlines the symptoms of hand-arm vibration syndrome and explains how it can affect your health in the long term. This topic also looks at Carpal Tunnel Syndrome and outlines the incidence of HAVS and Carpal Tunnel Syndrome in the UK over the past decade.
2 – The Risk of Hand-Arm Vibration at Work
The second topic identifies the factors that increase your risk of developing Hand-Arm Vibration Syndrome and other health issues related to vibration. Also, the topic outlines the industries where the risk of developing vibration-induced health issues is highest and the equipment that can cause ill health from vibration. Finally, the topic will outline the factors that indicate whether you are at risk of developing Hand-Arm Vibration Syndrome.
3 – The Control of Vibration at Work
The third topic provides an overview of important legislation that aims to protect workers from vibration-related injury and ill health. This topic also outlines why it is important to assess the risk of injury from vibratory tools in the workplace and explains how vibration exposure is calculated.
4 – Managing HAV Risks
The final topic indicates the actions that employers and employees should take to reduce their exposure to hand-arm vibration and minimise the risk of developing HAVS. Also, this topic explains the purpose of risk assessment and health surveillance, and when these should be carried out.
Hand-Arm Vibration online course assessment
Once you have completed the four topics, you will be able to take the assessment. The assessment contains 10 multiple choice questions that are taken from question banks. This means the questions will change each time you take the assessment. Therefore, the training is suitable for both initial and refresher training.
There is no limit on the number of attempts at the Hand-Arm Vibration assessment, so you can take the assessment as many times as necessary. In addition, the online course provides useful feedback, so you can learn from incorrect responses.
Hand-Arm Vibration online course reviews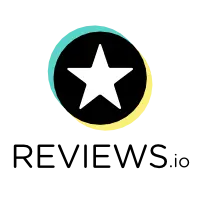 Take a look at what our customers have said about our online training courses here.
Your reviews are important to us. So, we would really appreciate if you could share your feedback on our Hand-Arm Vibration online training course. We pay close attention to your reviews and we work alongside you by continuously improving our training courses.
Other online Health and Safety courses
We offer a wide range of online courses that will help you to improve health and safety awareness in your organisation, reduce risks and make your workplace a safer place to work.
Click on the course titles below to learn more.
We also offer online training courses across different categories including regulatory compliance, food hygiene, health & social care and fire safety.
Are you ready to get started?
If you have decided that you are ready to start the Hand-Arm Vibration online training course, simply add the course to your basket by clicking the 'Add to basket' button, then click on the basket icon at the top of the page and proceed to checkout with your preferred payment method.
We will email your login details along with instructions on how to proceed. You can take the training anytime and any where that has an Internet connection.
Your certificate will be available for download as soon as the training has been completed.
Do you have any further questions?
If you have any questions, or if you are unsure how to proceed, our team is always ready to help. You can contact us on 0333 5775 017, email us at [email protected] or complete our enquiries form.
DISCOUNTS
Discounts Available For Bulk Purchases
No. of licences
per course
% saving
1 - 9
-
10 - 19
10%
20 - 49
20%
50 - 99
25%
100 - 149
30%
150 - 999
35%