DISCOUNTS
Discounts Available For Bulk Purchases
No. of licences
per course
% saving
1 - 9
-
10 - 19
10%
20 - 49
20%
50 - 99
25%
100 - 149
30%
150 - 999
35%
For 200+ licences, please email us at sales@i2comply.com or call us on 0333 577 5016.
Assured by RoSPA Qualifications
Certified by CPD
Audio voiceover
Approximate duration 1 hour
Downloadable certificate on completion
This Noise Awareness online training course makes you aware of the hazards posed by high levels of noise in the workplace. It also identifies the measures that can be taken to help you to avoid hearing damage.
Employers are required by law to take reasonable steps to safeguard the health and safety of all employees. Therefore, they are required to raise awareness about the hazards related to noise in the workplace, and need to outline what can be done to minimise risk.
RoSPA Qualifications has assured this online training course and the CPD Certification Service has certified it.

Who is Noise Awareness for?
The course is suitable for anyone who works in an industry that exposes them to high levels of noise.
The Control of Noise at Work Regulations 2005 states that "Suitable and sufficient information and training (must be provided) for employees, such that work equipment may be used correctly, in order to minimise their exposure to noise."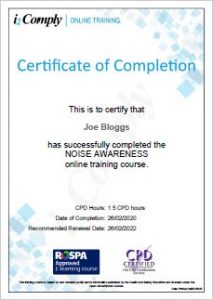 When do I get my Noise Awareness certificate?
When you have successfully passed the course you will be able to download and print your certificate straight away.
Your certificate will include the ROSPA and CPD Certification Service logos. Therefore you can use it to provide evidence for compliance.
Example Screens from the Noise Awareness course
(Click on the example screens below to view)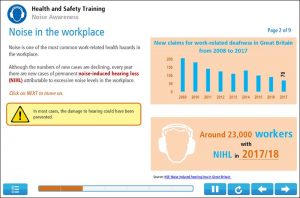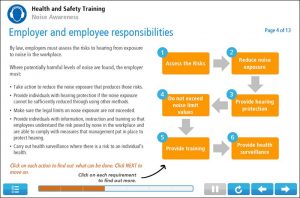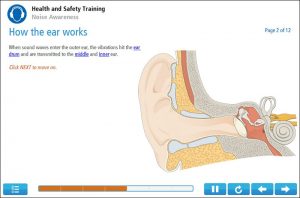 What does the Noise Awareness course cover?
The course contains the following 5 topics:
1 – Noise in the workplace
The first topic identifies how many people suffer from noise-induced hearing loss, and explains how serious this hearing loss can be. The topic describes short term and long term effects of loud noise. You will learn about how excessive noise leads to stress and how this can impact life at work and at home. The topic also identifies some early signs of noise-induced hearing loss.
2 – Employer and employee responsibilities
The second topic outlines the laws that protect people from harmful levels of noise at work. It identifies employer and employee responsibilities and the need for risk assessment. You will also learn about how an employer can estimate the levels of noise that employees are exposed to.
3 – How the ear works
The third topic describes the structure of the ear and how it processes sound. It explains how loud sounds damage your ear.
4 – How loud is too loud?
Topic 4 describes how sound is measured and what sounds are comfortable to hear. The topic covers lower and upper exposure action values, and when hearing protection and health surveillance must be provided.
5 – Controlling noise levels in the workplace
The final topic describes the hierarchy of noise controls and how to draw up a noise-control action plan. The topic explains how engineering controls help to reduce noise levels, and when to use PPE.
Assessment
Once you have completed the five topics, you will be allowed to take the assessment. The course generates an assessment from question banks so that the questions change each time a candidate takes the assessment. This makes the training suitable for initial and refresher training.
There is no limit on the number of attempts at the assessment. In addition, the course gives informative feedback so candidates can learn from incorrect responses.
DISCOUNTS
Discounts Available For Bulk Purchases
No. of licences
per course
% saving
1 - 9
-
10 - 19
10%
20 - 49
20%
50 - 99
25%
100 - 149
30%
150 - 999
35%
For 200+ licences, please email us at sales@i2comply.com or call us on 0333 577 5016.