DISCOUNTS
Discounts Available For Bulk Purchases
No. of licences
per course
% saving
1 - 9
-
10 - 19
10%
20 - 49
20%
50 - 99
25%
100 - 149
30%
150 - 999
35%
Lone Worker Online Training
Certified by CPD
Audio voiceover
Approximate duration of 1 hour
Downloadable certificate on completion
100% online training
No time limits
This Lone Worker online training course will make you aware of the hazards associated with lone working and identifies the simple, sensible precautions you should take to keep safe when you work alone. It describes how to carry out a dynamic risk assessment and explains why dynamic risk assessments are very important to lone workers.
Lone workers carry out some or all of their work activities by themselves, without any colleagues around. This makes it more difficult for lone workers to get help when they need it. So they must be able to recognise hazards and cope with unpredictable and unforeseen situations on their own. Lone worker training is an essential part of ensuring that lone workers stay alert to the hazards in their work environment and are able to manage the risks.
Our Lone Worker training takes around 1 hour to complete.
What is a Lone Worker?
A lone worker is defined as someone who works by themselves, without close or direct supervision.
The phrase lone worker does not always mean that they work alone, away from any other person. Instead, a lone worker is somebody who spends all or part of their working day without a co-worker or teammate present. People may work alone in fixed establishments or away from a fixed base.
Who is responsible for lone worker training?
The responsibility for lone worker training falls on the employer.
The Health and Safety at Work Act 1974 (HASWA) requires an employer to protect the health, safety and welfare of their workforce. As a part of this duty, employers must ensure lone workers receive appropriate information and training, and are competent to fulfil their work duties safely.
Who is Lone Worker training for?
Our online Lone Worker training applies to anyone, contracted or self-employed, who work by themselves without close or direct supervision. Typical examples include taxi drivers, delivery drivers, petrol station attendants, security staff, cleaners, shop assistants and engineers.
What are the learning outcomes for the Lone Working course?
At the end of the course you will be able to:
Outline what lone working means and the occupations that involve working alone.
Identify the hazards associated with lone working.
Outline your and your employer's responsibilities in regard to lone working.
Understand how to carry out a dynamic risk assessment to identify potential risks.
Outline practical safety measures and techniques you can use while lone working.
When do I get my Lone Worker training certificate?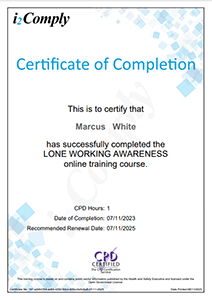 Your course certificate will be downloadable as soon as the training has been passed. When you return to the training system you will be able to download or print your certificate.
The CPD Certification Service has accredited the Lone Worker online training, as it conforms to the Continuing Professional Development (CPD) guidelines.

How long is this Lone Worker training certificate valid for?
Your Lone Worker course certificate does not include an expiry date. However, due to the hazards associated with lone working, we recommend the training is retaken every 2 years. This is to ensure that the knowledge of hazards and safety precautions required by Lone Workers is maintained.
Your training certificate will contain the recommended renewal date.
Example Screens from our Lone Worker online training course
You will find three screenshots from our Lone Worker online training course below. We design all our online courses to be simple but informative, using a mixture of text, images, tables and professional audio. This approach makes our courses easy to learn from and enjoyable.
(Click on the example screens below to view)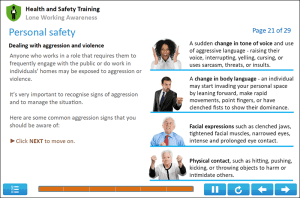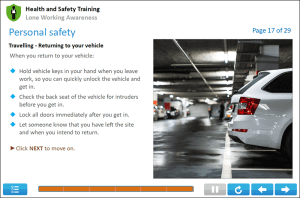 What does the Lone Worker course cover?
The course contains the following 4 topics:
1 – Introduction to lone working
The first topic explains what lone working means and gives examples of occupations that involve working alone. It also identifies the reason why lone workers are at a higher risk of harm and the risks involved in lone working. Finally, you will learn which high-risk activities workers should never carry out alone.
2 – Duties and responsibilities
The second topic explains the legislation that aims to protect lone workers and the employer and employee responsibilities with regard to lone working. It identifies when employers should conduct a risk assessment and how a hierarchy of controls is used to establish appropriate risk controls when carrying out a risk assessment. It also covers what is meant by the right to refuse unsafe work.
3 – Dynamic risk assessment
The third topic explains the purpose of a dynamic risk assessment and when a dynamic risk assessment is necessary. You will also learn the reason why dynamic risk assessments are important to lone workers and the 4 principal steps of a dynamic risk assessment. Finally, it covers how to conduct a dynamic risk assessment.
4 – Personal safety
The final topic you will learn about safety precautions a lone worker should use when they visit clients' homes, work alone in public, work on the same premises but out of sight and sound of a colleague, work outside normal working hours, work in isolated or rural areas, work from home, travel and encounter aggression or violence.
Lone Worker online course assessment
The course assessment is created from question banks and will consist of 15 questions. Each time the course assessment is taken you will get a new set of questions. Therefore, this Lone Worker training course can be used for initial and refresher training.
Lone Worker online course reviews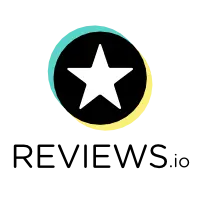 We value your feedback and it is not only extremely important to us, but it also helps new customers see what other people think of our training courses. So, if you have a spare couple of minutes, please leave us your thoughts.
We take all comments seriously, so feel free to leave a review on Reviews.io or leave a review on Google.
Have a question for us?
Members of our friendly support team are on hand to provide you with any course information you require. We will also help you with your account, no matter how big or small the task, please just contact us.
Finally, we also have our help & knowledge base area, which contains answers to a lot of previous and frequently asked questions.
DISCOUNTS
Discounts Available For Bulk Purchases
No. of licences
per course
% saving
1 - 9
-
10 - 19
10%
20 - 49
20%
50 - 99
25%
100 - 149
30%
150 - 999
35%